Sim-racing accessory manufacturer Fanatec has revealed (most) of its of Black Friday reductions: four peripherals will be on sale this weekend, starting Friday, November 24, including a secret sale that has yet to be announced.
If you're looking for more discounts during the biggest shopping season of the year, be sure to check out the rest of our Black Friday 2017 sim-racing deals!
ClubSport V3 Inverted Pedals: 40% Off
First up, the inverted ClubSport V3 Pedals are 40% off their usual price. If you've been waiting for a good deal to grab the V3 set, this weekend is as good a time as any.
USA: $299.95
EU: €359.95
Australia: 499.95AUD
Japan: 42,900JPY
ClubSport Universal Hub (XB One): Free Wheel Rim
The ClubSport discounts continue with the ClubSport Steering Wheel Universal Hub for Xbox One. This piece of hardware allows you to use your favorite Fanatec rim with the Microsoft console with no external peripheral required. If this sounds good, things get even better: purchases of the hub during the Black Friday promotion come with a free rim of your choice.
USA: $299.95
EU: €349.95
Australia: 499.95AUD
Japan: 43,900JPY
CSL Elite Wheel Starter Pack (XB One / PC): 40% Off
Fanatec's third deal focuses on those who may not own any of its peripherals yet. The CSL Elite Wheel Starter Pack for Xbox One and PC includes a CSL Elite Wheel Base, CSL Elite Pedals and CSL Steering Wheel P1 rim. Prospective buyers can save 40% on the usual listing price.
USA: $299.95
EU: €299.95
Australia: 399.95AUD
Japan: 39,000JPY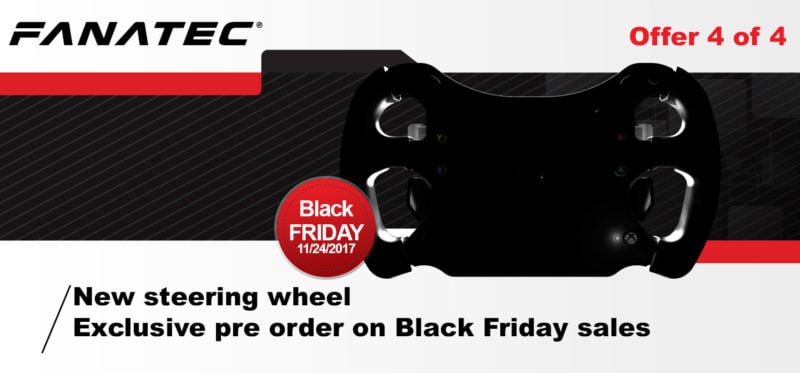 New Mystery Wheel Pre-Order
The last announcement made on the blog post is regarding a pre-order due to go up sometime this weekend. Not much information is shared: we know a new wheel will be up for preorder exclusively during the Black Friday window. We also know people tend to run for Black Friday deals, but Woking seems more appropriate for this one.
Keep an eye on the Fanatec website and our Sim Racing Hardware forums for more info!
See more articles on Black Friday 2017, Fanatec, and Fanatec CSL Elite.