The best Assetto Corsa and Assetto Corsa Competizione drivers in North America are set to fight it out for the last 12 places in the 2022 Ferrari Velas Esports Championship Regional Finals today, September 7.
With 12 drivers already booked in for the event later this month, the fastest online qualifiers from four hot-lap events across the past two months will be hoping to join them in tonight's event.
It's the final Regional Qualifier event, with the European bracket already decided following yesterday's races. At the conclusion of today's stream — which starts at 2045 EDT (0045 UTC) — all 48 spots, 24 from each region, will be taken.
As drivers are only permitted to enter one race in each of the two Regional Qualifier events in their region, we'll see 96 different names competing in the North American event — consisting of some new names and some who just missed out in June's first Regional Qualifier.
There are only 12 spots left up for grabs though, with only the top three players in each of this evening's four races earning their places.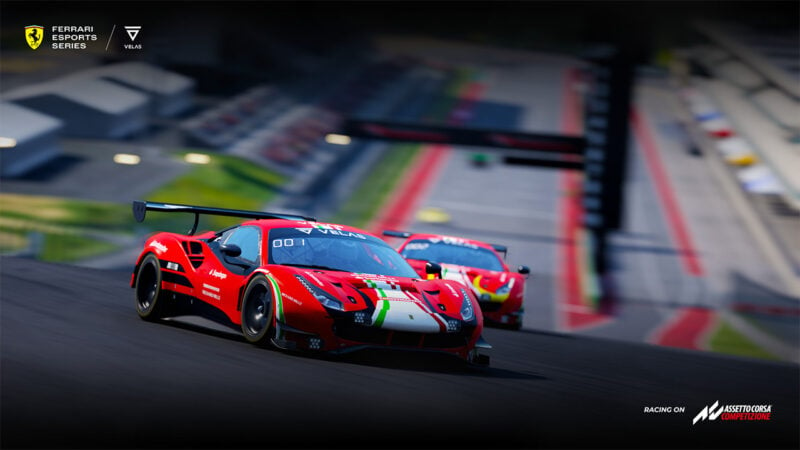 The schedule for the races is the same as the European QR2 event:
Race 5 – AC – Circuit de Barcelona-Catalunya – Ferrari 488 Challenge Evo
Race 6 – AC Competizione – Circuit of the Americas – Ferrari 488 GT3 Evo
Race 7 – AC – Circuit de Spa-Francorchamps – Ferrari 488 Challenge Evo
Race 8 – AC Competizione – Indianapolis – Ferrari 488 GT3 Evo
Paul Jeffrey will be back on presenting duties, alongside alongside NHRA top-end and SRO pit-lane reporter Amanda Busick, with Ferrari Driver Academy racer Dino Beganovic as a special guest during the stream. Registered viewers will be entered into a prize draw for Ferrari clothing goodies.
Once the racing has ended we'll know all 24 drivers representing the new North America region, along with the 24 finalists from Europe, for the Regional Final later this month.
That event, on September 13/14, will whittle down each region's racers to just three in a series of races. These final six will then advance to an in-person Grand Final event in Italy to be broadcast in October.
The Grand Final will decide the overall winner, who'll earn their spot on the Ferrari Velas Esports Team for 2023, just as 2020 champion Giovanni de Salvo and 2021 winner Kamil Pawlowski did.
You can tune into the Regional Qualifier from 2045 EDT (0045 UTC) on Wednesday September 7.
See more articles on Ferrari.