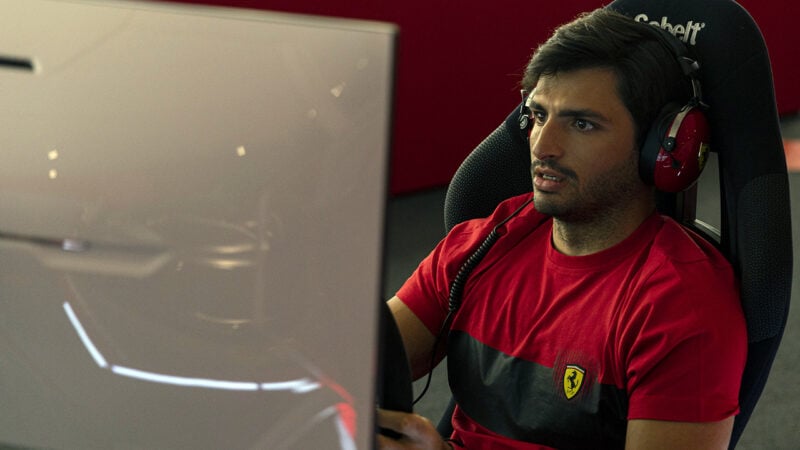 The first set of qualifying races for the regional finals of the 2022 Ferrari Velas Esports Championship will be streamed on Ferrari's Twitch channel next week, with the European races on Monday June 13 and the North American bracket on Tuesday June 14.
It's the third season of the official Ferrari series, with the unique prize of a place on the brand's own factory esports team on offer for the overall champion. This year the event is running on two continents for the first time, with drivers in North America (USA, Canada, and Mexico) now eligible, as well as racing in both Assetto Corsa and AC Competizione.
The Qualifier races will be the first of two sets of events ahead of the regional finals. Each will consist of four individual races, with top 24 drivers in each region's hot-lap events taking part in the corresponding race — and drivers can only qualify for one race in each set of Qualifiers.
That means we'll get to see 96 of the top drivers in each region battling it out, with only three from each race making it through to the regional finals in September. The four races in each Qualifier will be:
Race 1 – AC Competizione – Nurburgring – Ferrari 488 Challenge Evo
Race 2 – AC – Laguna Seca – Ferrari 488 Challenge Evo
Race 3 – AC Competizione – Zandvoort – Ferrari 488 GT3 Evo
Race 4 – AC – Monza – Ferrari 488 GT3 Evo
The European Qualifier broadcast will start at 1900 UTC on Monday June 13 (convert to your time here), and will see regular presenters Paul Jeffrey and Nicki Shields returning for their third season.
That'll be followed at 2100 ET on Tuesday June 14 (convert to your time here) by the North America Qualifier with NHRA top-end and SRO pit-lane reporter Amanda Busick taking hosting duties for the season.
Both broadcasts will also feature a special guest, with Scuderia Ferrari F1 driver Carlos Sainz, and viewers can also win Ferrari-themed prizes during each event. You'll need to register on the official website to be entered in a prize draw for a Scuderia Ferrari replica hoodie and hat, and Ferrari-branded t-shirt.
If you missed out on the first set of hot-lap events there's another four chances to get through to the second round of Qualifiers later in the summer. Although the tracks have yet to be announced, the final four hot-lap competitions run sequentially from June 20 to August 14, with the races themselves coming on September 6/7.
The schedule for that is as follows:
June 20 – July 3: Hot Lap Qualification 5 – AC – Ferrari 488 Challenge Evo
July 4 – July 17: Hot Lap Qualification 6 – ACC – Ferrari 488 GT3 Evo
July 18 – July 31: Hot Lap Qualification 7 – AC – Ferrari 488 GT3 Evo
August 1 – August 14: Hot Lap Qualification 8 – ACC – Ferrari 488 Challenge Evo
Drivers may only take part in one race at the Qualifiers, so with the top 24 times heading through from each hot-lap, there'll be 96 places available.
Following the two Qualifier rounds, there'll be two Regional finals, one for Europe and one for North America, with the 24 finalists on September 13/14. The top three in each region will then head to Italy for a Grand Finale, to be broadcast on October 2 with a new and as-yet unannounced format.
At the end of all that, the winner will join the Ferrari Velas Esports Team for the 2023 campaign, following in the footsteps of 2020 winner Giovanni de Salvo and 2021 champion Kamil Pawlowski.
See more articles on Ferrari.