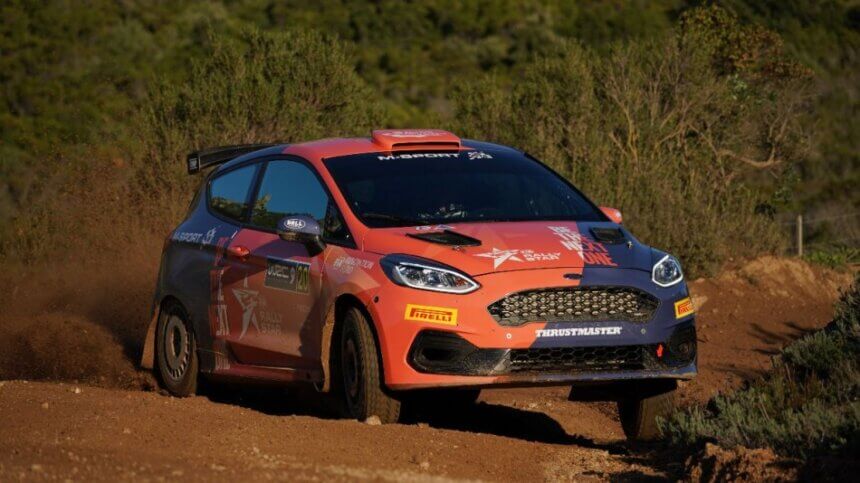 The FIA Rally Star competition announced last year will get underway in the coming weeks, with the hopes of finding a future World Rally champion via digital motorsport.
There's five phases to the FIA Rally Star event, culminating in two full seasons in the Junior World Rally Championship for three drivers in 2023 and 2024. The first phase is open to players and racers from 146 countries around the world, who will be eligible to take part in the various "detection events".
In total there's three different ways to take part in FIA Rally Star, two of which involve WRC 9. The first is the Rally At Home Challenge, and it's exactly what it sounds like.
Running every two weeks from February 13 through to August 5, WRC 9 will host a series of 12 in-game rally challenges. Players who've registered for the event can have up to a hundred free practice runs at the challenge, each of which takes place on a unique stage for the event, before five timed runs. The fastest time in each qualifies to the Continental Final in their home region.
In addition, local motorsport bodies (National Sporting Authority, or ASN) will host their own challenges if they choose to do so. These will be in the form of live events, with both a simulator-based "Digital Challenge" — again, using WRC 9 and equipment provided by Thrustmaster — and a real-world "Slalom Challenge". This will see drivers using an M-Sport-prepared Ford Fiesta road car to set times in an autocross environment.
Each ASN can select up to 15 competitors from their live events for the corresponding Continental Final, but for each five drivers selected one must be female. Thus far only Finland and Georgia have confirmed their events, but others are on their way soon. If all ASNs involved select 15 drivers, that could mean 2,202 finalists, with at least 730 women among them!
There's six Continental Final events, scheduled to take place later this year. They'll cover Europe, Middle East and North Africa, Africa, Asia-Pacific, North America, and South America. In addition to these six events, there's also a Womens Final, which will see six of the female drivers who qualified to the Continental Finals selected to take part in this additional event.
These events will then put their drivers through some real-world rally challenges, using XC LifeLive TN5 Cross Cars you can see above. The full format will be revealed later in the year, but ultimately the seven winners will advance to the next stage, called the "2022 Training Season".
As the name suggests, this is a full FIA training program for rally drivers, which also includes six rally events using an M-Sport Ford Fiesta Rally3, throughout the 2022 season. At the end of it all, the FIA Rally Star Committee will decide which four drivers will progress to the 2023 FIA Junior World Rally Championship — one of whom must be female.
That's not quite the end of the selection process however, as the committee meets again at the end of the 2023 season to cut one of the four. The three remaining drivers will go on to contest the 2024 championship, with the eventual hopes that one will win and guarantee a minimum of six rounds in the full World Rally Championship in 2025, using a Rally2 car.
It's a pretty busy competition, but it's open to all drivers aged 17-26, and the digital stages using WRC 9 are available on any platform. Good luck to all who enter!
More Posts On...