US automotive giant Ford is the latest car manufacturer to acknowledge the effect that video games have on brand recognition and vehicle sales, particularly in the 20-30 demographic.
In this November article in the New York Times, Ford cited research showing that the presence of their models in video games boosted brand awareness, brand loyalty and purchase intent by around a third, with gamers agreeing that certain models from the range were more fun to drive from their experiences in games alone. Since Ford's official gaming debut in 1995 – with Sega Rally – they claim over 250 million copies of games with Ford models featured have shipped and with Ford a permanent fixture of Gran Turismo since the second game, 54 million of those games are Gran Turismo games. Ford even merited a cover car, with the iconic GT adorning the boxes of Gran Turismo 4, and has recently increased its PlayStation presence with a virtual showroom on PlayStation Home.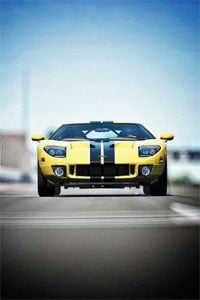 While the Times' article also cites Honda and General Motors sources, this certainly isn't the first time that Gran Turismo fans have heard car manufacturers citing games and Gran Turismo specifically for direct increase in sales. The first Gran Turismo game resulted in a six-fold increase in sales of TVRs in Japan while simultaneously being credited for the popularisation of the Subaru Impreza WRX and Mitsubishi Lancer Evolution in the USA, eventually leading to cars being exported to that market.
This is something of a double-edged sword for gamers, however. While we may be excited to see huge automotive corporations recognising the power of our hobby, it is merely as a marketing tool for them. Although many Gran Turismo fans clamour for the addition of older performance cars like the BMW E30 M3 or the Ford Escort RS Cosworth, buying old cars doesn't lead directly to sales – though it may boost brand recognition – and they may be less interested in licensing a classic in place of a 2012 model in their showrooms today. Still, the gamers can hope – in the words of Gene Reamer of General Motors:
"You can't buy your way into those games, you either have the cars they're looking for or you don't."
So long as gamers use resources like GTPlanet's Feedback section to let game manufacturers know what cars they want, the studios can licence the classics we desire alongside the new models the car companies want to sell to us.
GT5 Photomode images courtesy of RetroGiant.