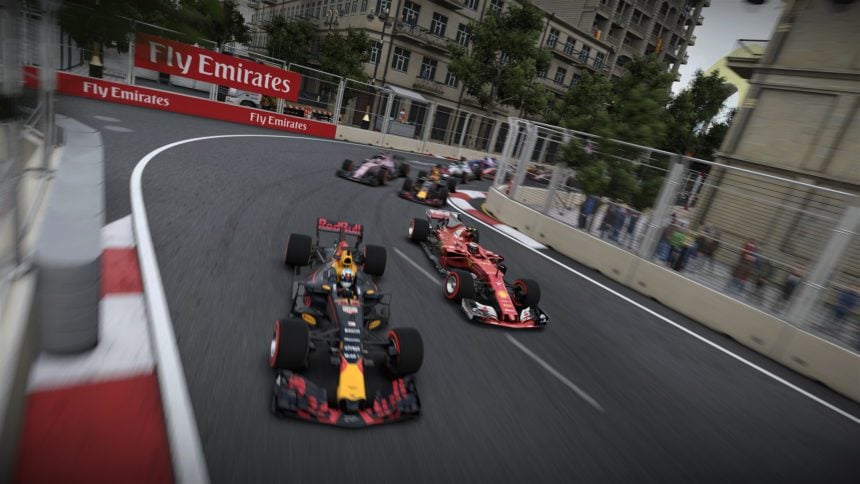 It appears Formula One also wants a slice of the esports pie and has announced a new series of its own. Partnered with Codemasters and UK-based esports company Gfinity, the inaugural season kicks off next month.
The launch of the competition compliments F1 2017, which releases later this week and will be available for all platforms. We just reviewed the game earlier today: we came away plenty impressed, and you can read it right here.
Participants in this new series will battle it out over the course of three stages until only one remains. A series of qualifying events will take place to determine 40 of the quickest drivers, beginning September 4.
Those advancing will head to the live semifinals events hosted at the Gfinity Arena in London on October 10–11. From there, the Top 20 will advance to the finals at the Abu Dhabi Grand Prix on November 24-25. The end of the series will crown the first Formula 1 Esports World Champion.
As you would imagine, there are perks to the title. The first of those is the 2017 winner automatically qualifies into the 2018 semifinals. And in addition to the title of "Formula 1 Esports Champion Expert" the following year, they'll become a character in F1 2018. But wait, it gets better! The first winner will have the opportunity of attending a 2018 Grand Prix as well.
Codemasters' CEO Frank Sagnier commented:
"Esports is one of the fastest growing sectors of gaming already attracting audiences in the tens of millions. We are delighted to be announcing this incredible racing series with Formula 1 for our upcoming F1 2017 game. The highly competitive nature and high-speed spectacle of the sport combined with the authenticity of our game will provide a thrilling experience for players and viewers across the world. We look forward to engaging more deeply with our loyal and passionate community, and to bring new fans to both our game and the sport itself."
Registration and further details are to follow. Keep an eye peeled to GTPlanet for more on the upcoming competition. F1 2017 is due out this Friday on the Xbox One, PS4 and PC platforms.
More Posts On...