Nissan 300ZX IMSA '94
To underline the performance credentials of the newly launched 'Z32' 300 ZX, Nissan expanded their North American motorsports effort to the competitive IMSA GTO class in 1989. The Japanese manufacturer tasked Clayton Cunningham Racing to construct and campaign the new V6-engined machines. Based in Southern California, this specialist company had previously been involved with Mazda's IMSA program.
Constructed to the very lenient IMSA GTO regulations, the new 300ZX was very much a silhouette racer. The car's bespoke spaceframe chassis was built from chromoly steel tubes. Suspension was by double wishbones and coil springs over dampers on all four corners. It was clothed in a carbon-fibre composite body that followed the design and profile of the production model. However, the only components actually carried over from the road-going 300ZX were the taillights.
Mounted virtually under the dashboard was a mildly modified version of the VG30DETT twin-turbo V6. Fitted with twin-cam, four-valve per cylinder heads, the engine was good for at least 650 bhp and as much as 800 bhp at the end of its career. The turbos were mounted relatively high on either side of the engine, while the intercoolers were located behind the front wheels. Mounted in unit with the differential was a bespoke five-speed gearbox using Hewland-sourced internals.
Tasked to drive the new 300ZX were the highly experienced Steve Millen and John Morton. The team struggled in the car's debut season against the hugely competitive Audi and Roush teams. The best result in 1989 was a third for Morton at Mid Ohio. The 1990 season started much better with a class victory for Millen at the second round at Miami. Millen scored two more victories that year and finished fourth in the driver's championship.
The successes continued in 1991 when Millen scored four victories and his team-mate Jeremy Dale added a further win to the Nissan's tally. Unfortunately, Millen faced a very consistent Pete Halsmer, who also won four rounds and rarely finished off the podium in the others with his Mazda RX-7. The Nissans on the other hand struggled with reliability issues and at the end of the season, Dale placed fourth and despite his four wins, Millen ranked only fifth.

Ahead of the 1992 season subtle changes were made to the regulations and the GTO class morphed into GTS. Nissan's chief rivals were once again Roush, who fielded Mustangs and Rocketsports with Oldsmobiles. Over the winter, the bugs had clearly been ironed out of the 300ZX and Millen scored wins at Miami, Mosport, Mid Ohio, New Orleans and Lime Rock Park. He was finally crowned champion at the end of the year, while Nissan topped the manufacturers' table.

The 1993 season started on a high with a class win at Sebring but an accident at Watkins Glen sidelined Millen for the remainder of the year. The team returned even stronger in what was the 300ZX's sixth season. The mighty V6-engined machine won Sebring and Daytona outright and placed fifth overall and first in class at Le Mans. Millen and Nissan were once again crowned IMSA GTS champions.

Such had been the dominance of the Cunningham-built Nissans that their twin-turbo V6 engine was banned from the start of the 1995 season. The team returned with a V8-engined version of the car, which promptly won the Sebring 12 Hours. Unfortunately a massive accident during the following round at Road Atlanta effectively ended Millen's career. The devastated Cunningham team ended the program at the end of the year, bringing a close to a remarkable seven-season career of the 300ZX IMSA
SPECIFICATIONS
OVERVIEW
• Manufacturer: Nissan
• Country: Japan
• Year: 1994
• Type: Race
• Division: Gr.X

ENGINE
• Engine: VG30DETT 90º V6
• Power: 750 HP / --- rpm
• Torque: 922 Nm / --- rpm
• Engine location: Front
• Displacement: 2960 cc
• Valvetrain: 4 valves / cylinder, DOHC
• Fuel feed: Fuel Injection
• Aspiration: Twin Turbo

PERFORMANCE
• 0-100 km/h (0-62 mph) Time: Unknown
• Top Speed: Unknown
• Power-to-weight ratio: 0.63 hp/kg

DRIVETRAIN
• Drive: Rear wheel drive
• Gearbox: Nissan / Hewland 5 speed Manual
• Clutch: Dual clutch

DIMENSIONS & WEIGHT
• Lenght: --- mm
• Width: --- mm
• Height: --- mm
• Weight: 1200 kg


https://www.ultimatecarpage.com/car/5983/Nissan-300ZX-IMSA.html
​
__________________________________________________________________________
Other GT cars are here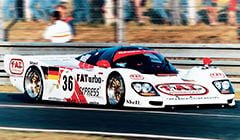 Last edited: