SPECIFICATIONS
OVERVIEW
• Manufacturer: Courreges
• Country: France
• Year: 2006
• Type: Street
• Division: Gr.X
ENGINE
• Engine: Electric motor
• Power: 201 HP / --- rpm
• Torque: --- Nm
PERFORMANCE
• 0-100 km/h (0-62 mph) Time: Unknown
• Top Speed: 180 km/h (112 mph)
• Power-to-weight ratio: 0.29 hp/kg
DRIVETRAIN
• Drive: ---
BATTERY
• Battery: Lithium-polymer battery
• Capacity: 70 Ah
• Voltage: 370 V
RANGE
• Range: 400 km
DIMENSIONS
• Lenght: Possibly 2780 mm
• Width: Possibly 1890 mm
• Height: Possibly 1350 mm
• Wheelbase: --- mm
• Weight: 690 kg
Best known as the head of the fashion house at which she succeeded her husband André Courrèges in 1996, Coqueline Courréges is lesser known as a creator of green transport. In 2002, she introduced her first electric car, the Bulle. In 2004, she created a second vehicle, the EXE, with over 400 km of autonomy and then in 2006, the Zooop, with a range of 450 km and a top speed of 180 km/h. A real car, but electric… See the awesome cars below.
THE ZOOOP
With The Zooop, Coqueline Courrèges wanted to develop a light, original, futuristic, fast and environmentally friendly way of transportation.
This vehicle is like no other with an engine of 200 hp (150 kW) and a lithium-polymer battery with a capacity of 70 A / h, with a voltage of 370V, which weighs about 100 kg.
The gearbox ensures direct transmission and a top speed of 180 km/h with a range of 450 km.
Its aerodynamic shape is a big advantage! It was exhibited at the Challenge Bibendum organized by Michelin in June 2006 in Paris.
It combines environmentally friendly technology, creative design, safety and performance.
This is what we all expect of a car now!
Measurements: length 2.78 m, width 1.89 m, height 1.35 m and a weight of 690 kg!
Links:
https://en.wikipedia.org/wiki/Courreges_ZOOOP
http://www.allcarindex.com/auto-car-model/France-Courreges-Zooop/
https://trendland.com/courreges-reinvent-the-car-thanks-to-coqueline/
https://newatlas.com/go/5844/
https://www.motor1.com/news/90803/courreges-zooop/
Other awesome cars are here!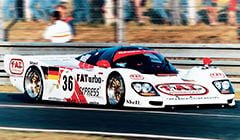 Last edited: