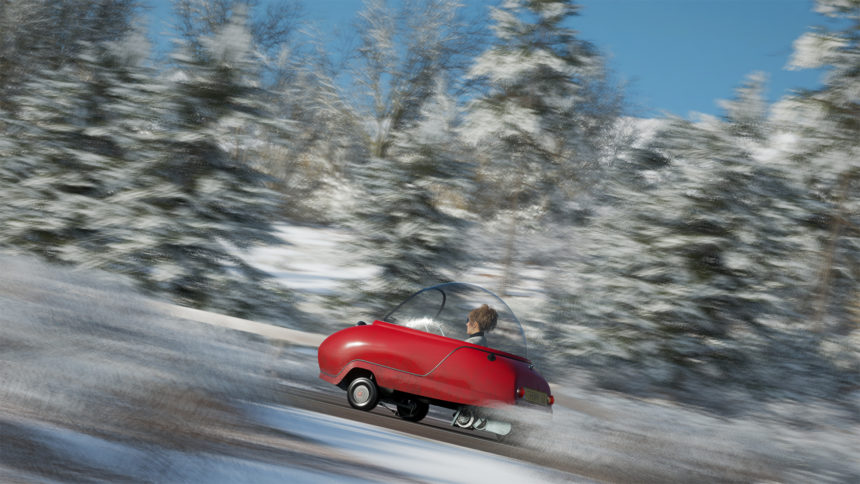 Two brand-new vehicles have arrived at the Horizon Festival this week. While the temperatures may have dropped, that doesn't mean all the fun goes with it. This week's pairing is an eclectic one, to say the least.
First up is the 1965 Peel Trident. We won't mince words here, the bubble car looks like something straight out of The Jetsons. It joins the infamous P50 as the second model in the Peel roster.
Unlike the P50, the Trident has enough room for two. Though with less than 10hp, it's best left to go at racing alone. If the pedestrian power values aren't to your liking, feel free to take things to the extreme. We'd highly recommend the all-wheel drive conversion, otherwise the Trident will spin like a dreidel. It may be festive and go with the current season, but it won't win any races.
Interesting to note that only one model remains in Peel's roster, the Viking Sport. Can FH4 lay claim to the Peel trifecta? Only time will tell but we'll keep an eye out in the meantime.
On the opposite end of the spectrum is the 2018 Chevrolet Silverado 1500 DeBerti Design. It's the second vehicle customized by DeBerti alongside the Ford Mustang. With over 1,000 rampaging ponies powering the rear wheels, it won't take much effort for the rear to step out. Make no mistake, that's exactly what you want: this is a drift truck after all.
If we had to sum up the DeBerti Silverado with one word, it would have to be "interesting". From the digital camouflage aesthetic, down to the green multi-spoke wheels, the Silverado stands out. Even the steering wheel rim is wrapped in a camouflage pattern. You'll find little use for either camo pattern as you'll be too busy standing out through drift zones.
Both cars are now available to Car Pass owners or as separate purchases on the Xbox store. Next week will see a Honda duo join the ranks.
More Posts On...