Every year thousands of vendors and about 70,000 people attend the SEMA show in Las Vegas, Nevada. This year, I had the opportunity to check out the show myself and was completely blown away by everything.
To say the SEMA show is simply big is like calling the sun mildly warm. It takes up the entire Las Vegas Convention Center plus the parking lots surrounding it. That's more than one million square feet of all things automotive.
People from across the globe attend the show too. They range from fabricators to CEOs of multimillion-dollar suppliers from China. My favorite: the middle-aged guy who probably visits Vegas once a year. He's in a bad polyester shirt, drenched in sweat, and asks every booth babe for a picture. It's one of the cringiest things to witness.
But enough of that. There's also a number of celebrities, racing drivers, and, this year, 30 of the best Gran Turismo racers in the Americas.
No matter what you're a fan of, there's something there for you as well. Like race cars? There's plenty. Off-roaders more your fancy? There's an entire floor dedicated to them. Have an affinity for tires? Then you're in luck, there's the World Expo of Tires featuring all things round and rubbery.
Below, I'm going to share a few of the experiences with you. However, it's only a small fraction of what I saw and experienced.
Feel the Need for Speed
The largest part of SEMA is the area containing all the performance parts. It takes over the entire Central Hall and most of the parking lots outside. It's a smorgasbord of all things fast and powerful.
Upon entering the Central Hall it's unlike anything I've ever seen before. From the sea of people to the hundreds, if not thousands of cars it's all a bit overwhelming. But as a gearhead, there's no place I'd rather be.
The first car I see is a rather clean looking E30 BMW M3. I make my way over to it and that's when I scope the engine bay. Instead of the usual 2.3-liter four pot, it instead has the 3.0-liter twin-turbo inline six out of the newest M3. The builder tells us its the first swap of its kind, and it's so clean you'd think it was a factory build.
This sets the tone for the rest of the Central Hall. From the grandaddy of sports coupes, I see cars like the Superformance Future GT Forty, the Ford GT Carbon, and the Speedkore Demon and Charger. There's also the record-setting Koniegsegg Agera RS just casually sitting there as well. It's not roped off, either: I can get right up close, even reading the various signatures on the engine from that run.
Also scattered throughout the Central Hall are many of the Gran Turismo Award winners. There's the crazy InZanity 240Z, the Road Rage Camaro, and even the 1,200hp Maverick that will find its way into a future GT title.
For fans of the show Roadkill, several of the show's creations were on hand as well. There was the Blasphemi — a 1955 Chevy with a 535ci Hemi V8 under the hood — and David Freiburger's F-Bomb Camaro.
The Roadkill machines are only some of the famous vehicles at SEMA. There's also plenty from Hoonigan including the brand new Hoonitruck, the 1,400hp Hoonicorn v2, a tasty-looking RS200, and the Formula Drift #530 HSV Maloo.
Another pair of cars that catch my attention are two Camaros sitting at the Chevrolet booth. The first one is a blue COPO drag car with a 427 LSX under the hood. However, that's not the one that really catches my attention. Instead, it's the eCOPO with GM's concept Electric Crate Engine.
I chat with a rep standing near the car and ask him if the concept will become a reality. He just smiles and says "we'll see". I'm hoping that means a tentative yes because being able to score an electric crate motor in the future is an interesting prospect.
That's not the only muscle car either. Venturing away from the Central Hall, I also get a glimpse at the Dodge Super Charger Concept with the brand new Hellaphant 426 engine. It's in stark contrast to the eCOPO and the GM Electric Crate Engine. However, it further reaffirms my belief that while electric motors are the new thing, internal combustion isn't going anywhere.
Finally, I venture into something called the Performance Pavillion. It's a makeshift tent out in one of the parking lots that holds even more exhibits. There I get a glimpse at the new Nissan Clubsport Concept and the Kicks Sound Machine.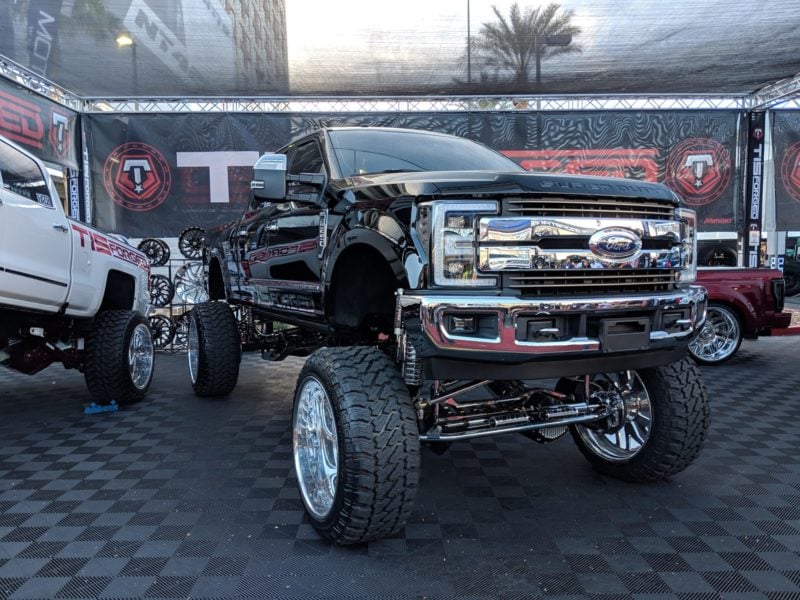 The Brodozer
If there was a theme for SEMA, it's the rather questionable "brodozer".
If you don't know what a brodozer is, let me explain. You start with a full-size truck from Ford, GM, or FCA then you lift it. Then you add oversized chrome wheels, low profile off-road tires, and lots of powder coating. For good measure, you then throw on a few hundred LED lights, illegal HID kits, and if you're truly an exceptional person, a train horn. Finally, you turn your 5000W sound system up while blasting Luke Bryant for everyone in Las Vegas to hear.
Think of them as an evolution of the import car craze from the early 2000s. You know, the ones with huge rear spoilers, tacky underglow lights, and mufflers that sounded like a blender. That's about the closest thing I can compare them too. They're all show and no go – especially when it comes to doing truck stuff.
The worst of the bunch is easily the trucks sporting the "Carolina Squat". This is where the owner lifts the front of the truck and lowers the rear. Don't ask me to explain it because I can't.
For whatever reason, these trucks are incredibly popular and tend to draw huge crowds around them. Due to this, it's little wonder why so many exhibitors use these trucks to showcase their products.
Proper Off-Roaders
Thankfully, there are several proper off-road rigs at the show to cleanse the palate. It starts with the surprisingly appealing Honda Rugged Open Air Vehicle. In addition to that, there are other trucks that caught my attention.
My favorite by far though sits at the Toyota booth. Ever since I can remember, I've been a fan of Ivan Stewart and his Trophy Truck. I clock a classic Ivan "Ironman" Stewart's Super Off Road arcade cabinet, only to turn my head and see his iconic T100 proudly on display. Being able to see it sitting there at the SEMA show was definitely a highlight for me.
Ironman's truck isn't the only Baja vehicle here either. Several of the big names in the sport are also on hand along with their rides. They even paradeddown the Las Vegas strip as they depart for the Baja 1000 qualifying.
It's quite the sight as these 900hp beasts came to life. Many even dp burnouts for the fans surrounding the trucks, filling the air with the smell of rubber and high octane fuel.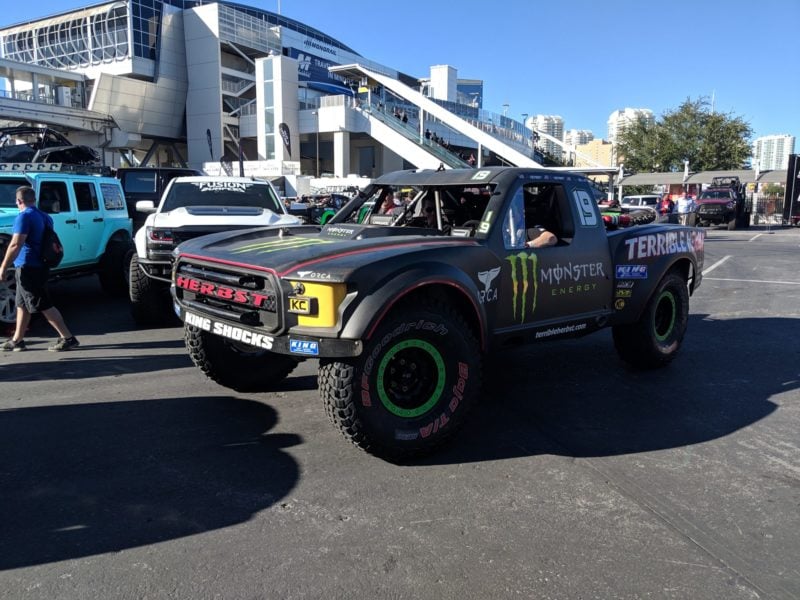 The coolest part of this is chatting briefly with Ryan Millen while he sat there in his #19 Terrible Herbst Motorsports truck. After wishing him luck, he lets his Ford sing as he makes his way out to the Strip.
Other rigs catch my attention too. These include the Toyota Tundra built by Expedition Overland, a Nissan Titan XD built for the Red Cross, and an old-schoo Ford F-250 from Rancho.
One of the other standouts is — not surprisingly — another Toyota. This time though it's an old FJ40 with a unique backstory.
Over the course of 20 days, the Expedition SEMA FJ traveled the Continental Divide Trail. This took it from Glacier, Montana, all the way down to Hachita Peak, New Mexico. Along the way, the FJ saw all sorts of cool sights as it made its way across the length of the US. It highlights the breadth of SEMA: from show-stand beauty queens to literal continent-crossing rides.
Leading the Way With Hot Wheels' 50th Anniversary
While Forza Horizon 4 and Forza Motorsport 7 both gained Hot Wheels cars this month, in Las Vegas the real deals are on display.
I knew over the years Hot Wheels had turned several of its scale models into life-sized vehicles. I didn't realize just how many it'd made though. Seeing them lined up, it takes me back to the days of racing them around on that car city rug I — and I'm convinced, everyone — had as a kid.
My favorite of the bunch is the Deora II. It's remarkable to see a car I loved as a kid come to life thanks to the work of Chip Foose. It's also entirely custom, unlike the original Deora which rode on a Dodge A100 chassis.
I also really like checking out the Twin Mill. After scoring it on FH4 recently, seeing it front in center was a neat way to relate it back to the game. I can only imagine how difficult it is to drive too, considering in the game it's a real handful.
Odd and Ends
In addition to all the cool cars, there are other outliers that didn't really fit into any one area. They all draw huge crowds though and even get me waiting in line to snap a quick picture and admire the details.
First up is this 1963 Volvo 122S Amazon. I'm somewhat of a Volvo nerd so it drew me in right away — I mean it's not every day you see an Amazon, especially an Amazon with a widebody kit. Then I look at the information plaque and find out nothing is at it seems.
Apparently, this 122S is really a C6 Corvette Z06 wearing an Amazon suit. It's also sporting a Lingenfelter-built LS3 V8 pumping out 600 ponies. To say I want it is the understatement of the century.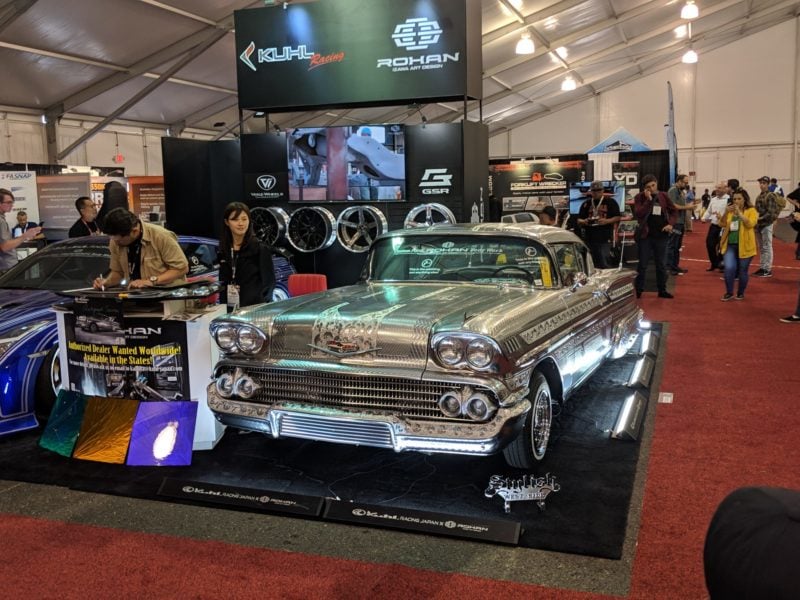 The next car up is a 1958 Chevy Impala lowrider from Rohan Izawa Art Designs. Lowriders are probably my favorite type of custom vehicle and I'll almost always stop to check one out. However, this one is a bit more unique than the standard lowrider cruising the boulevard.
It's entirely hand tooled to make all the details on the body 3D. It's remarkable to see just how much work went into it and it take a ton of commitment.
Other notable odds and ends include the recently rediscovered Bullitt Mustang, a KW-sponsored Honda Integra, and even the Funhaver that made an appearance in Project Cars 2.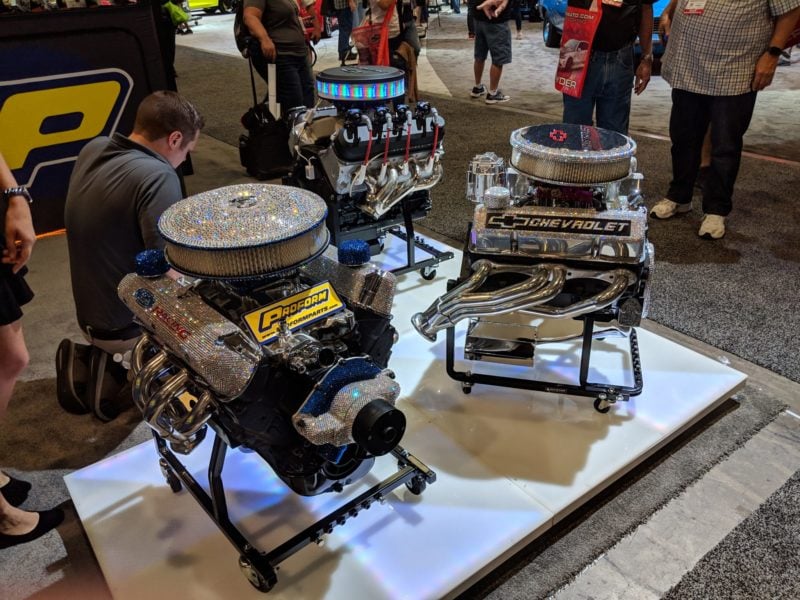 …But Why?
So now we reach the section of things I saw at SEMA that just boggled the mind. At least with a brodozer, I get their purpose. But for this stuff, I'm at a loss.
First up is a pair of V8s from Ford and Chevy. While that's nothing unusual, it's the bedazzling that covers the entire engine that makes me scratch my head. I honestly can't think of any reason this should exist, until it dawns on me. It got me to stop at the booth, didn't it? Guess it works at bringing people in, even if it's awful.
Next is the Toyota Tundra Pie Pro. Unlike its off-road cousin the TRD Pro, the Pie Pro isn't about tackling tough terrain. Instead, its sole purpose is to make pizzas in an automatic kitchen.
Finally, there is this burned out Mercedes-Maybach. Apparently, the crew at Forgiato Wheels found this in a junkyard with a price tag of $10,000. Being reasonable people, the Forgiato crew said that price was too high so they rented it from the yard for the week.
It's strange, and like the other two entries in this list, I'm not sure why it exists. But it certainly did draw a huge crowd and everyone wanted to know the story behind it.
More Posts On...