As Spring kicks off a new season in Forza Horizon 4, the pace is beginning to wind down for this week. Series 33 is now in the final stretch with one last push of fresh events.
There's no new content this week, but there is another opportunity to win a classic Alfa Romeo racer along with updated Playlist prizes for 50% and 80% completion.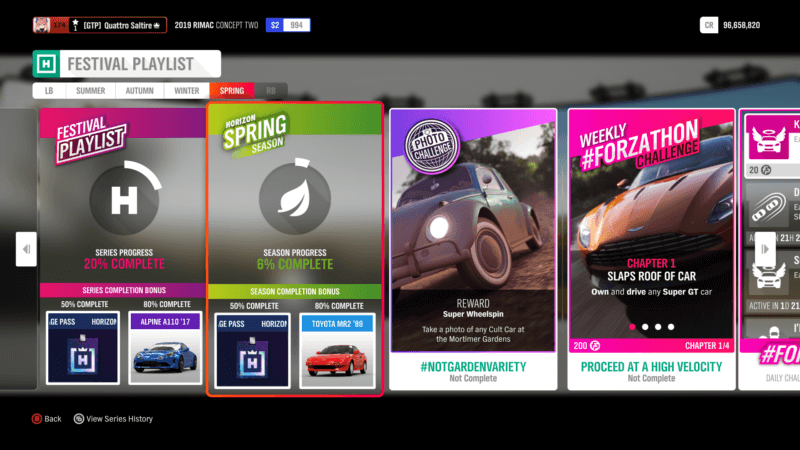 Easter Goes Hopping Mad
A humble sports car takes the reigns for this week's seasonal completion prizes. The 1989 Toyota MR2 SC was built as the first ever mid-engined Japanese sports car.
Despite targeting more fuel-efficient credentials, the wedge-like MR2 quickly became a cult hit. The AW11-generation shares its 1.6-liter engine with the Toyota AE86, but has been fitted with a supercharger. That results in a respectable 145hp, in a car weighing in at just over 2,600lb.
For those looking to top up their Backstage collection, a new Horizon Backstage Pass is also available.
Closing out the Photo Challenges for Spring is the return of #NotGardenVariety from Series 25. This challenge asks you to picture any Cult Car over at Mortimer Gardens. Seasonal championship prizes have a selection of Easter themed prizes including some Rabbit ears and a Rabbit Outfit.
If you're after a car, then there's the Alfa Romeo Giulia TZ2. Built to compete in sports car racing in the 1960s, the TZ2 focused on light weight and improved handling. Thanks to a fiberglass body, the featherweight TZ2 comes in at just under 1,400lb. That means the 1.6-liter engine only needs 170hp to produce a very fast machine.
You'll need to take victory in the "Wood Friday" championship to acquire the TZ2.
A new set of Super7 challenges help to close out Spring and Series 33. Complete each of the seven cards to recieve a Rossion Q1 as your prize.
The Spring events can be found below:
Scrambled Megs
Series: Dirt Racing Series
Cars: Renault Megane
Restrictions: 601-800 PI
Prizes: 15,000 CR, 25,000 CR, Renault 5 Turbo Forza Edition
Wood Friday
Series: Road Racing Series
Cars: Ford Super Deluxe Station Wagon, Morris Mini Traveller, Morris Traveller
Restrictions: D Class, 500 PI
Prizes: 15,000 CR, 25,000 CR, Alfa Romeo Giuila TZ2
Koenigsegg Hunt
Series: Street Scene
Cars: Koenigsegg
Restrictions: S2 Class, 998 PI
Prizes: 15,000 CR, 25,000 CR, Rabbit Ears
The Trial: Easter Buggy (Co-Op Championship)
Series: Cross Country Series
Cars: Offroad Buggies
Restrictions: B Class, 700 PI
Prizes: Rabbit Outfit
Spring Games – Series 33
Series: Playground Games
Cars: Retro Rally
Restrictions: B Class, 700 PI
Prizes: 2014 Ford F-150 Trophy Truck
Super7 – Spring
Completion Prize: 2010 Rossion Q1
Slate Quarry Speed Trap
Season Objective: 142 mph
Northbound Danger Sign
Season Objective: 738.2 ft
Nether End Speed Zone
Forzathon Events
Go out on a cruise in this week's Forzathon as Super GT cars are in the spotlight. Grab one of the stylish ballistic missiles to get started.
Next up, show off your superiority to your rivals by earning 10 Pass Skills during races. Afterwards, make some noise and some smoke, by earning a total of nine stars from Drift Zones.
Finally, put your foot to the floor and get three stars at the Princes Street Speed Trap to finish up the latest challenges.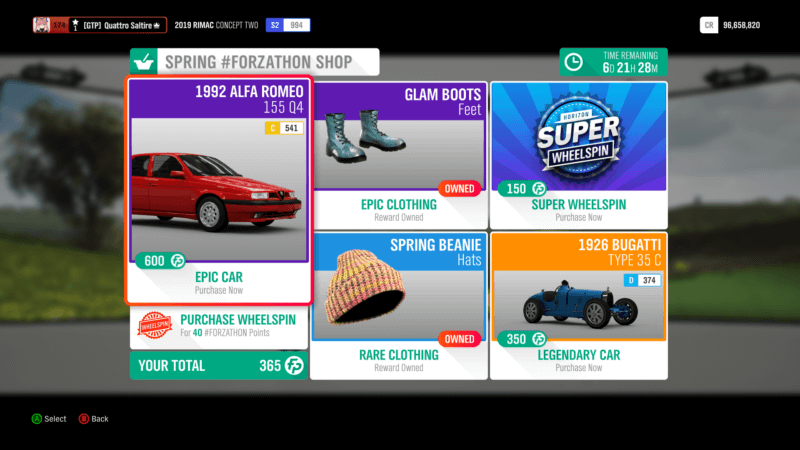 Forzathon Shop
Alfa Romeo leads the way in the shop lineup this week, with the humble but sporting 155 Q4.
Despite the ordinary looks, the 155 forged a successful competition career in touring car racing, and went on to win the 1994 British Touring Car Championship. Under the skin lies a 2.0-liter turbocharged engine putting out 187hp. Along with a Q4 all-wheel-drive system, the 155 is a rather brisk and capable sports sedan for all weather conditions.
You'll need to save a hefty 600 Forzathon Points for the 155. If you missed the Alfa when it first appeared in Series 30, this is your chance to snap one up.
Going back in time, we find the 1926 Bugatti Type 35 C. This tiny machine is Bugatti's most successful racing car in its history, including five consecutive wins at the punishing Targa Florio. Although the 2.0-liter supercharged straight-eight makes just 95hp, the Type 35 weighs less than 1,700lb, making for a surprising turn of speed. You'll need to have top skills to rein in the 1920s handling for the mighty Bug.
At 350 FP, the Type 35 can be considered a bargain. Buying one could save you from spending millions of credits in the Autoshow.
Clothing items up for grabs this week are the Glam Boots and the Spring Beanie hat.
Featured image courtesy of taz.
See more articles on Forza Horizon 4 Season Change.