Forza Horizon 4 is experiencing another cold snap as winter is once again upon us, bringing a new set of season events and rewards.
With Playground Games still working hard on the game's sequel, the events this week are recycled from earlier seasons, giving players a good chance to fill in any blanks on their collections.
This week the prizes include a car so good it was nicknamed — always a good sign — and a pair of highly reputable front-wheel drive machines.
A Birdcage in the Hand
One car usually stands out in the season offerings, and that's very much the case this week with the Maserati Tipo 61.
The famous Birdcage, named for its elaborate tubular spaceframe that wouldn't look out of place holding Tweetie Pie captive, was actually the second generation of Maserati's racer, sporting a 2.9-liter four-cylinder engine good for 250hp.
Strapped into a featherweight, 1,300lb chassis, the Tipo 61 was incredibly fast for its time, running at up to 170mph down the Mulsanne in 1960. However it was also catastrophically unreliable; despite leading at one point, none of the three cars entered even made it to half way before retiring.
Still, you don't need to be worried about that in Horizon, and you'll be able to pick the car up for this week's co-op team Trial event against unbeatable Drivatars.
Also on offer for success this week are the 1984 Honda Civic and 2016 Renault Clio RS. They may be separated by three decades, but both offer performance front-wheel drive antics of the best kind. The Civic will come to you for participation in the Winter Playground Games, while the Clio is a prize for the solo Renault Championship.
A final car on offer this week is the AMC Rebel. That's the prize for the White Knuckle Ride event, where you'll be racing retro muscle cars in a Street Scene series.
You've also got the chance to pick up three Super Wheelspins from this week's stunt events, flashing through the Lakeshore Speed Zone, the Aerodrome Speed Trap, and leaping the Northbound Danger Sign.
Pick up 50% of this week's completion and you'll score a Fox-body 1993 Ford Mustang, with a Hoonigan Fiesta coming in for 80% completion.
Lastly there's a new set of Super7 challenges, with a rare Shelby 1000 up for grabs if you can complete a full set of seven cards.
Don't forget the month-long events either, with both the Montly Rivals and the Online Adventure available through until Series 40, each counting towards your overall completion percentage in each season.
Events and prizes for Autumn are below:
The Trial: Snow Showdown (Co-Op Championship)
Series: Road Racing Series
Cars: Classic Racers
Restrictions: A Class, 800 PI, Italy
Prizes: Maserati Tipo 61
Winter Games – Series 39
Series: Playground Games
Cars: Retro Hot Hatch
Restrictions: C Class, 600 PI
Prizes: Honda Civic 1984
Renault Championship
Series: Road Racing Series
Cars: Renault
Restrictions: B Class, 700 PI
Prizes: 15,000 CR, 25,000 CR, 2016 Renault Clio RS
Bugging Out
Series: Dirt Racing Series
Cars: Offroad Buggies
Restrictions: A Class, 800 PI
Prizes: 15,000 CR, 25,000 CR, Ski Hat
White Knuckle Ride
Series: Street Scene
Cars: Retro Muscle
Restrictions: A Class, 800 PI
Prizes: 15,000 CR, 25,000 CR, AMC Rebel
Northbound Danger Sign
Season Objective: 221m/725ft
Aerodrome Speed Trap
Lakeshore Speed Zone
Super7 – Autumn
Completion Prize – Bentley Continental GT Forza Edition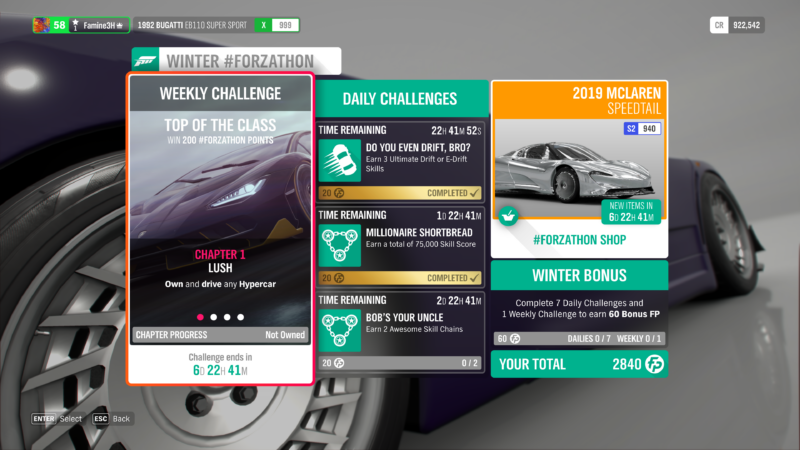 Forzathon Events
Forzathon this week takes a look at everyone's favorite way of going over the top: Hypercars. Pick up any of these straight line speed machines to complete the first task.
Next up, show off your car's pace, and score ten Pass Skills during any races by… well, passing your opponents. Then you'll need to beat the ultimate opponent — time — by hitting nine Speed Zone stars.
Your final hypercar challenge is a series win, by taking the checkered flag first at the Lakehurst Forest Sprint in the Road Racing Series.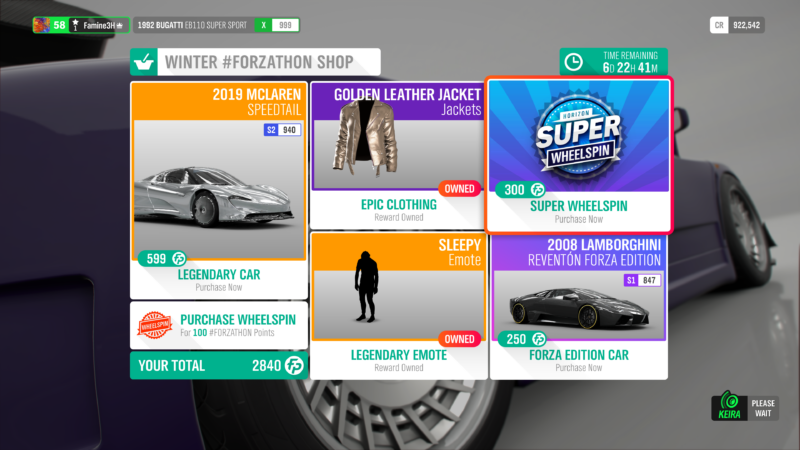 Forzathon Shop
Despite the snowy roads, the Forzathon Shop goes for speed this week. A lot of speed.
Headlining the store is the McLaren Speedtail, a 1050hp hybrid designed to go as fast as anything that's ever worn the brand's badge. 250mph is the claimed Vmax, and for 599FP you can find out for yourself just how true that is.
You can go almost as quick for less than half the price though, with the Lamborghini Reventon FE weighing in at 250FP. It's not only fast, it's frugal, as the Credit Boost perk gets you more cash each time you race it.
Elsewhere the store stocks the regular 100FP Wheelspin and 300FP Super Wheelspin, as well as the Epic Golden Leather Jacket, and the Sleepy emote.
Featured image courtesy of sebmugi.
See more articles on Forza Horizon 4 Season Change.