It's a busy time ahead for Playground Games and Forza Horizon 4. The studio has scheduled a new livestream for November 5 to celebrate the launch of FH4 on Xbox Series X and Series S, and PG will be broadcasting in conjunction with Forza Monthly.
To anticipate the next generation console launch on November 10, PG has also released the Series 29 game update early to ensure optimization for the Series X/S versions is ready. However, some clever detective work from the community has already unearthed the content that is set to appear in Series 29.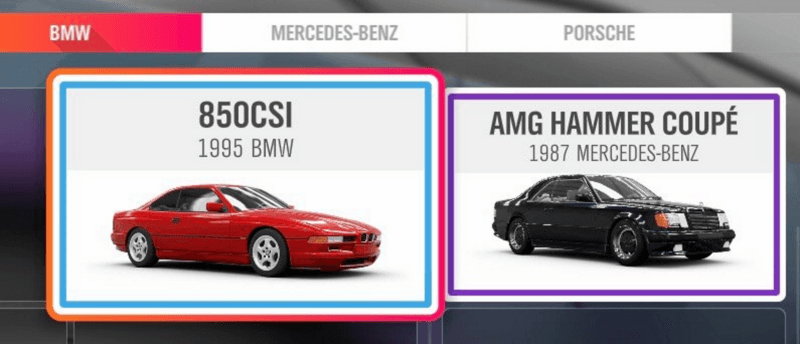 First up is the 1995 BMW 850CSi. This sleek coupe is regarded as one of the coolest BMWs ever made. The original 8 Series was also one of the most expensive BMWs in the lineup. Based on a standard 850i, the CSi brings a larger 5.6-liter V12, and a bump in power to 375hp. Despite sharing a similar engine designation to the McLaren F1, the S70 V12 in the 8 Series is not all that closely related to the McLaren's S70/2.
Joining it is 1987 Mercedes 300CE AMG. Designated as "The Hammer", this beefed up W124 coupe made the world take notice of AMG. Using a 500E sedan as a base, the Hammer features an up-rated 6.0-liter V8 that puts out 376hp. With performance to startle supercars, the Hammer is one of the coolest cars of all time.
Finally there's a classic Porsche 911. This particular 911 has been worked on by Singer and is called the DLS (Dynamics and Lightweighting Study). While it may look every inch an old fashioned 911 on the outside, underneath are some very modern mechanicals. With a 4.0-liter flat-six developed by Williams Advanced Engineering, the DLS puts out 500hp. With a curb weight of under a tonne, this is one classic 911 that can give young guns a real fright.
Be sure to tune in for the livestream at 1900 UTC on Youtube and Twitch. Series 28 is still currently ongoing too, and we will also be bringing our latest seasonal update for the upcoming Winter season.
More Posts On...