The seasons are a-changing, both in real life and in Forza Horizon 4. Today kicks off the week-long autumn chock full of new events, Forzathons, and prizes.
With the new autumn weather also comes a new challenge with driving. The temps are colder, the roads are wet, and the dirt tracks are now muddy. That means you'll need to think about your car selection carefully when venturing into races.
Lower horsepower and all-wheel drive will benefit here. But that doesn't mean you'll need to put away the supercar quite yet. Unlike the upcoming winter season, there's still plenty of nice days to let your high power cars run free.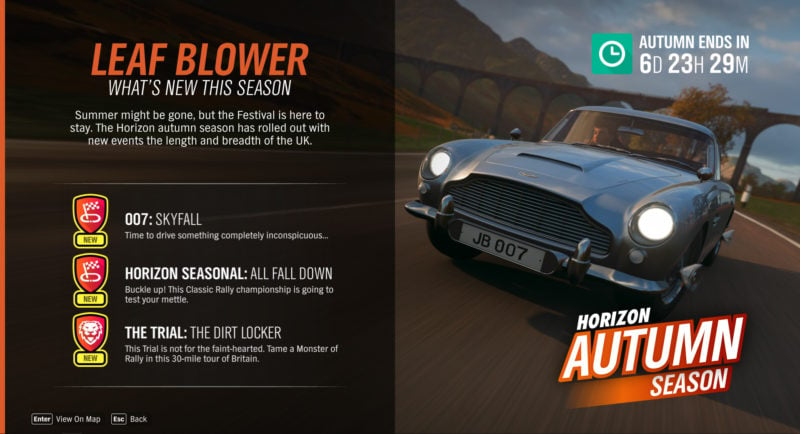 New Events
In total, we count seven new seasonal events making their appearance for the autumn season. For the most part, they focus in on rally cars to plow through the mud and muck.
At the forefront of the seasonal events is a new rally championship using Classic Rally cars. However, the real standout is "The Dirt Locker" event. According to the "Welcome to Autumn" listing, this will take drivers on a 30-mile tour of Britain.
This will also give us a taste of what some routes could be like once the Route Creator hits October 25. While this "Trial" isn't the full 40 miles offered up by the route creator, 30 is still plenty long to hold a pretty awesome race.
Finally, we see that there's a James Bond-themed event as well. Taking inspiration from Skyfall it's the perfect excuse to get your DB5 out of the shed.
Forzathon Events
This week's Forzathon events zero in on the 1992 Honda NSX. This mid-engine supercar is typically a fan favorite and should make several festival goers happy.
There are four different challenges to complete and thankfully, all are fairly easy.
The first and easiest is to merely buy and drive the NSX. Simply head over to the Auto Show and pick your favorite color or design.
The second is a little more difficult and requires you to take the NSX up to 175mph. The stock NSX will struggle with this so we recommend boosting your car up to at least S1. Fiddle with the gear ratios a bit and then head to the highway. Finally, put your foot down and hold on.
The third event requires you to win three Road Sprint races, which is pretty straightforward. Finally, it's capped off with performing 10 Air Skills, which should occur during your races.
There's also a smattering of daily challenges to help build up your Forza Point account. Also be sure and buy the Lake Lodge (free for VIPs) if you want to maximize your Forza Points, as it doubles the take.
Forzathon Store
With the new season, the Forzathon Store gets an update so you can spend all those hard earned points. There are of course the wheel spin options you can buy, but the real treats are the unique items for sale.
This week's featured car is the Ferrari 812 Superfast. With its 789hp screaming 6.5-liter V12 it sits right at the top of S1 class with a PI rating of 897. It will run you 200 FP though, so be sure to save up.
The Forza Edition Car this week is the Group B 1984 Peugeot 205 Turbo 16. While available during wheel spins, scoring it here might be a little easier for those who lack luck on the spins. It will run you 300FP though and comes in with a rating of A 703. It does have all the wild and crazy body modifications on it too.
Finally, for those who want a bit of style to their avatar, there's a new pair of kicks. Labeled "Sports-Luxe Trainers" they're a pair of tri-colored sneakers to help complete your look. They run 40FP.
Barn Find
The final addition for autumn is a new Barn Find rumor. You'll want to investigate this too since it contains a classic British car with Italian flair.
Finding the barn is a bit tricky and involves some off-roading through muddy fields. Bring a truck, SUV, or rally car to make it a bit easier. Happy hunting!
Featured image courtesy of turk1993.
More Posts On...