It's the final week of Forza Horizon 5's Ford-themed Series, offering players another set of events and reward cars for the Dearborn brand.
Series 16, or "#FORDzathon" as it's known, centers on the Blue Oval — which thankfully has one of the largest car rosters in the game, so there's plenty of variety in the machinery on offer.
If you're only now dipping into it, the entire four-week Series features events that almost exclusively require you to drive a Ford, and almost all of them offer up another Ford for completing them.
Curiously, that doesn't apply to the overall Playlist rewards, with all five new cars — one in each season and one for the whole Series — coming from MG and Renault. There's also an Evolving World accolade for collecting all five.
However Ford and Ford-derived cars — such as those from Formula Drift, Hoonigan, and Hot Wheels — are also available both as usable cars for the challenges and as prizes.
Series 16: #FORDzathon Rewards
Diligent players will already own both of the overall Series reward cars, with 160 points required to hit that target and 182 points available across the Series so far.
As usual, the new-to-series car sits in the lower, 80-point threshold spot. That's the MG6 XPower, which is in fact entirely new to Forza rather than just Horizon.
It's based on the standard MG6 sedan, but turned up somewhat. Not only does it borrow styling from the relatively successful MG6 TCR race car, it has a similar power output too.
That comes from a two-liter turbo petrol engine with an electric motor hybrid, delivering 300hp. As that's all going to the front wheels, it's a bit of a handful.
There's the most tenuous of links to Ford too; the car revives the "XPower" name, used on the Mustang-engined niche supercar that the then-British MG hoped would rescue the company somehow — decisions like that are indeed what killed it — and which was added to FH5 in Series 4.
For 160 points across the series, and with an ironic sense of timing, you'll pick up the Hoonicorn v2.
This car started out its existence as a first-generation Mustang, but it's fair to say it's been through a few changes since then. In fact the body shell is pretty much all that's left, and that's been seam-welded.
It surrounds a spaceframe chassis, into which is stuffed a twin-turbocharged, 6.7-liter V8 and a custom all-wheel drive system. That's somewhat necessary given the 1,400hp the Roush-built V8 delivers.
Vaugn Gittin Jr's RTR workshop built the car for Ken Block's Hoonigan brand — hence the name — and Block's untimely death earlier this month makes it an appropriate prize for the Series. FH5 will be further marking Block's life during Series 18 in March.
Neither vehicle is available to buy in the Autoshow, so it's worth aiming for the points to pick both up.
Series 16 Spring/Hot Season Rewards
It's another pairing of not-a-Ford and sort-of-Ford in this week's prizes, starting off with one of the best hot hatches that the 2010s could offer for your 20-point return.
Introduced in 2010, the facelifted, third-generation Clio RS was the last of the naturally aspirated sporting models.
Renault Sport waved its magic wand over the three-door Clio, and added a 197hp version of the two-liter, four-cylinder engine to make the most powerful front-wheel drive Clio made to that point in time.
Also available with the "Cup" chassis — Renault lingo for a heavily reworked suspension system — the Clio RS is often spoken of among the best drivers' cars of its era, including much more powerful machinery, despite the traditional disdain for front-wheel drive cars.
There's another hot hatch for 40 points, but this one is ever so slightly different.
Although it started out as a humble Ford Fiesta, the rather lengthily named "#14 Rahal Letterman Lanigan Racing GRC Fiesta" isn't exactly what you'll find in supermarket car parks (or crashed through a roundabout).
Instead it's a 600hp, all-wheel drive monster of a car, built by the RLLR team for the Global Rallycross Championship.
That means it has more than enough power to tear up any road, or even offroad tracks, as well as some serious maneuverability with that very short wheelbase.
Spring will run through to 1430UTC on Thursday February 2, bringing Series 16 to a close alongside it. They'll be replaced by Summer and Series 17, which will be revealed later today.
Series 16 Spring Playlist: Forzathon Events
There's another blast from the past in the Forzathon Events this week, with the legendary Ford Escort Mk2 rally car as the theme. Own and drive the 1977 RS1800 to get Rally Legend underway.
Take it to its natural habitat and win a Dirt Racing Series event of any kind to complete the second stage, and then it's all about showing off.
Firstly you'll need to earn three Ultimate Air Skills. You'll achieve this by getting all four wheels off the ground and keeping them in the air for several seconds before landing safely.
Finally earn five stars at Danger Signs to complete the event. We'd be tempted to save this until at least Monday to line it up with a Daily Challenge for the efficiency of it.
Once completed you'll earn five points and 80FP, with the Forzathon Points doubled if you own the La Casa Solariega player house near Teotihuacan.
Weekly Challenge: Rally Legend
Car: Ford Escort RS1800 '77

Chapter 1: Own and drive the Ford Escort RS1800 '77
Chapter 2: Win a Dirt Racing Series event in the Ford Escort RS1800 '77
Chapter 3: Earn three Ultimate Air Skills in the Ford Escort RS1800 '77
Chapter 4: Earn five stars at Danger Signs in the Ford Escort RS1800 '77

Reward: 5 points, 80FP
Your final seven Daily Challenges for the Series are all worth their usual one point and 10FP each, and you have seven days to complete each from the moment they land at 1430 UTC each day.
Start off with a Flash Fordward and take a photo of any Ford. You'll get this automatically if you also complete the Photo Challenge below, so no special effort is needed.
Play By The Rules next, and play any Event Blueprint created by another player. You can just browse to these through the menu, but if you actually want to have some fun rather than doing simple events created to quickly complete a challenge there's a bunch of good events in our Share Your Creations forum thread.
It's all about the Clean Energy on Saturday. Just earn three Clean Racing Skills — for passing a couple of checkpoints without hitting anything hard enough to lose your skill chain — in any race in any fully electric vehicle.
Next up, win a Street Race using any Vans & Utility vehicle to complete Next Day Delivery.
Prove you're Ready Ford This? by earning nine stars at any PR Stunts in any Ford. You can combine this with the Forzathon Event above or the three PR Stunts (all requiring Fords) this week below.
It's a Speed Stunt next. Just hit 200mph in the 2013 Shelby GT500.
Round out the Series by smashing any billboard — there's plenty lining the highway and the Baja Circuit — to show you're On Board.
Daily Challenges
January 26 – Flash Fordward: Take a photo of any Ford
January 27 – Play by the Rules: Play an Event Blueprint that was created by another player
January 28 – Clean Energy: Earn three Clean Racing Skills in any fully electric vehicle
January 29 – Next Day Delivery: Win a Street Race in any Vans & Utility car
January 30 – Ready Ford This?: Earn nine stars at PR Stunts in any Ford
January 31 – Speed Stunt: Reach 200mph in the Ford Shelby GT500 2013
February 1 – On Board: Earn a Skillboard Skill by hitting any billboard
Series 16 Spring Playlist: Season Events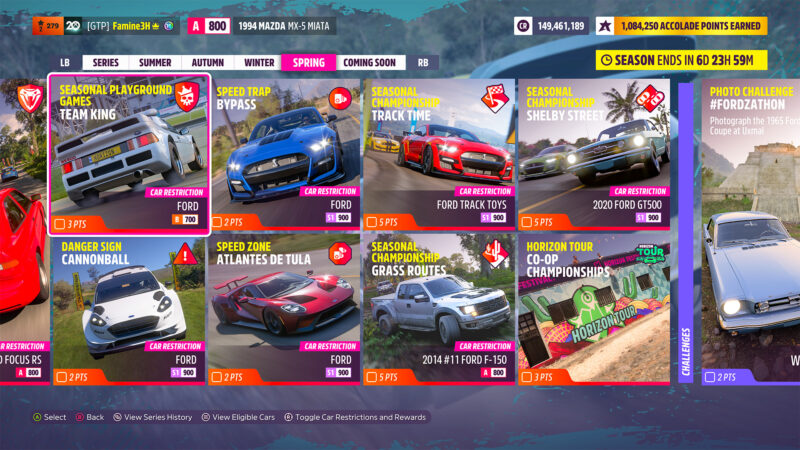 We're back to standard three-by-three this week, with three Seasonal Championships and three PR Stunts on the Playlist.
The PR Stunts stick to the Ford theme, this week allowing you to complete all three in just a single car if you wish as the only requirements are an S1 Class (801-900PI) Ford. There's two points and a Super Wheelspin for completing each.
You'll be aiming to hit exactly the three-star requirements for the Speed Trap and Speed Zone — 170mph and 140mph respectively — while the Cannonball Danger Sign target of 220m is just a little past the three-star target.
As usual the three Seasonal Championships each consist of a three-race series against Highly Skilled AI. In each case you'll need to top the final points table to win five points to your season total.
Grass Routes takes you to the rough stuff, with a Cross Country series. You'll need an A Class (701-800PI) Ford F-150 #11 Trophy truck to take part, and there's an F-150 Raptor 2011 awarded for victory.
The Track Time event is a Road Racing series, for S1 Class (801-900PI) Track Toys. You'll win a Shelby GT500 which, handily, is what you need for the next event…
That's a challenge for street racers, with an S1 Class (801-900PI) example of the Shelby GT500 2020 required for Shelby Street. There's a classic 1965 Mustang available for victory, which is the car for this week's Photo Challenge.
Danger Sign: Cannonball
Car: S1 Class, Ford
Location: Guanajuato, Cannonball Danger Sign
Challenge: 220m
Reward: 2 points, Super Wheelspin
Speed Trap: Bypass
Car: S1 Class, Ford
Location: Dunas Blancas, Bypass Speed Trap
Challenge: 170mph
Reward: 2 points, Super Wheelspin
Speed Zone: Atlantes de Tula
Car: S1 Class, Ford
Location: Atlantes de Tula, Atlantes de Tula Speed Zone
Challenge: 150mph
Reward: 2 points, Super Wheelspin
Seasonal Championship: Grass Routes
Car: A Class, Ford F-150 #11 2014
Location: Playa Tranquila, Costa Este Cross Country
Challenge: Win the Championship
Reward: 5 points, Ford F-150 Raptor 2011
Seasonal Championship: Shelby Street
Car: S1 Class, Ford GT500 2020
Location: De Otro Mundo, Castillo del Mar
Challenge: Win the Championship
Reward: 5 points, Ford Mustang '65
Seasonal Championship: Track Time
Car: S1 Class, Ford Track Toys
Location: Gran Caldera, Volcan Sprint
Challenge: Win the Championship
Reward: 5 points, Ford GT500 2020
Hot Wheels DLC owners have two additional events, which aren't required for 100% completion of the Playlist, but — in this Multiplayer-heavy week — give an extra option for seven more points.
For this week's PR Stunt you'll be heading to the inter-biome zone between Giant's Cauldron and Forest Falls for the Nexus View trap. Again using any S1 Class (801-900PI) Ford, you'll need to hit a blistering 190mph — best done north-to-south, even given the loop just before it — for two points and a Super Wheelspin.
Hazard perception is important for the Seasonal Championship, Sightseeing. It's another three-race event against Highly Skilled AI, open to any S1 Class (801-900PI) Ford, but with hazard track involved you might need something with forgiving suspension. There's five points and the Transit SSV for victory.
Hot Wheels Speed Trap: Nexus View
Car: S1 Class, Ford
Location: Hot Wheels Turbo Clef, Nexus View Speed Trap
Challenge: 190mph
Reward: 2 points, Super Wheelspin
Hot Wheels Seasonal Championship: Sightseeing
Car: S1 Class, Ford
Location: Hot Wheels Ice Cauldron, Volcano Pass Hazard Sprint
Challenge: Win the Championship
Reward: 5 points, Ford Transit SuperSport Van
The multiplayer offering swells to three events this week, and you'll need an Xbox Live Gold subscription — unless you play on PC — to access them.
Two out of three remain Ford-themed, starting with the ever-present Trial. This week's event, Time to Focus, naturally focuses on the… err, Focus. You'll need an A Class (701-800PI) Ford Focus RS 2017 to take part.
The Trial is a team event, pitting you and up to five fellow humans against a squad of six "Unbeatable" level AI Drivatars. Each player on each team earns 100 points for each opponent they beat, but there's no reward for beating team-mates.
Of course that means you should aim to help out your team-mates and hinder your rivals, rather than battering your way to the front through everyone. Block the reds, help the blues.
It's a tricky one this week, as it's a three-race Cross Country series with lots of loose-surface driving, usually meaning chaotic driving. However the AI is poor and apparently in standard tune so it's an easy two-race win — for ten points and a classic Ford Escort RS Cosworth.
Horizon Tour is a similar event, but has two crucial differences. Firstly, the AI are much easier, at Highly Skilled difficulty, and you'll need to drive across Mexico's terrain from the end of one event to the start of the next.
There's no bonus for doing so, just bragging rights, and you'll earn just three points for being first as a team. You can enter any Horizon Tour event with any car category available for this.
Finally there's a Team King set of Seasonal Playground Games. In this event you'll be on teams of up to six humans, competing in a small, geo-fenced arena in three games of Team King, for any B Class (601-700PI) Fords.
Up to two players on each team will start the match off with a crown. If you have a crown your job is to avoid being tagged by an opponent until your car is slowed down and then pass it on to a team-mate. For the crownless, you'll need to tag a crowned opponent to steal it or take it from your slowed team-mate.
The more crowns your team has, the more time you gain, and the first team to ten minutes with crowns wins. Complete — winning isn't necessary — three rounds of this to win the three points and a Ford RS200.
Horizon Tour: Co-Op Championships
Car: Any
Location: Horizon Festival, Horizon Tour
Challenge: Win the Championship
Reward: 3 points
Seasonal Playground Games: Team King
Car: B Class, Ford
Location: El Estadio Horizon
Challenge: Complete the event
Reward: 3 points, Ford RS200
The Trial: Time to Focus
Car: A Class, Ford Focus RS 2017
Location: Pantano de la Selva, Mangrove Scramble
Challenge: Win the Championship
Reward: 10 points, Ford Escort RS Cosworth
Series 16 Spring Playlist: Challenges
We're back down to a single challenge this week, which is naturally the ever-present Photo Challenge.
Once again called #FORDzathon, this week's subject is the original, 1965 Ford Mustang. Just grab a photo of this classic car at the Uxmal point of interest right on the south edge of the map to earn two points and a Wheelspin.
Photo Challenge: #Fordzathon
Cars: Ford Mustang GT Coupe '65
Location: Uxmal
Challenge: Photograph the Ford Mustang GT Coupe '65 at Uxmal
Reward: 2 points, Wheelspin
It's the final week for the two Rivals challenges, so if you haven't already done them it's time to get to it. You'll earn four points for each, with one distributed to each of the four seasons in the series even when those weeks have passed.
The two events each require a clean laptime at the tracks indicated, using the (Ford, of course) vehicle provided to you. Although they're marked as Rivals events, there's no need to beat any laptimes — just keep it clean by avoiding any contact with solid objects.
It's going to be a challenge though, with Monthly Rivals running on the dirt track at the Baja Circuit using the overpowered GRC Ford Fiesta, and Forza EV going even more overboard with the 1400hp Mustang Mach-E 1400 at the Emerald Circuit.
Forza EV: Emerald Circuit
Cars: Ford Mustang Mach-E 1400 (provided)
Location: Palacio Azul, Emerald Circuit
Challenge: Post a Clean Lap
Reward: 4 points (1 added to each season)
Monthly Rivals: Horizon Baja Scramble
Cars: Ford Fiesta #14 (Provided)
Location: Horizon Baja, Baja Circuit
Challenge: Post a Clean Lap
Reward: 4 points (1 added to each season)
Series 16 Spring Forzathon Shop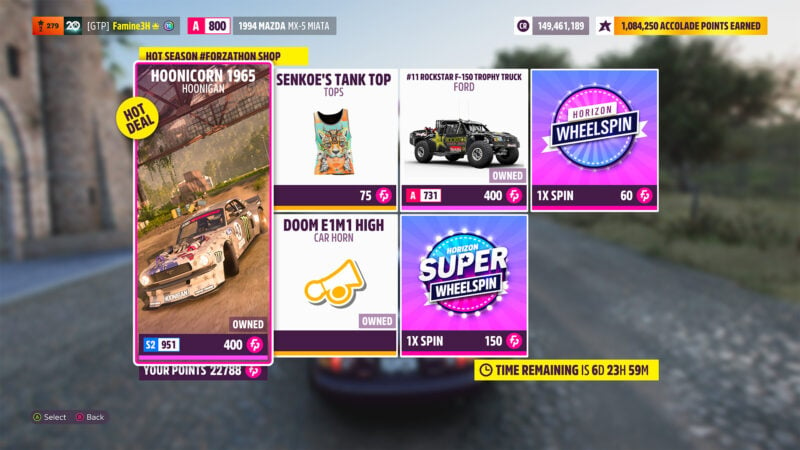 It's all about the modified Fords in the Forzathon Shop this week, with a Hoonigan headliner.
That's a clone of the Hoonicorn Mustang you can win on the overall Series playlist, but sporting a natty Stars and Stripes livery.
Like the other car, it produces an insane 1,400hp from a twin-turbo V8, delivering that to all four wheels to provide a truly scary car to drive.
It's available for 400FP, but as it's also just a 500,000cr purchase in the Autoshow maybe one where you spend the coin instead.
Also at 400FP — and 500,000cr in the Autoshow — is the F-150 #11 Rockstar Trophy Truck, needed for one of this week's Seasonal Championships.
Appropriately enough for the Mexican backdrop, this truck is a Baja 1000 winner. With an 850hp V8, it's certainly got enough under the hood to deal with pretty much anything the terrain can throw at it.
Store items this week are the Senkoe's Tank Top and Doom E1M1 High Horn, at 75FP each. The Wheelspin (60FP) and Super Wheelspin (150FP) remain in their usual spots.
See more articles on Forza Horizon 5 Season Change.