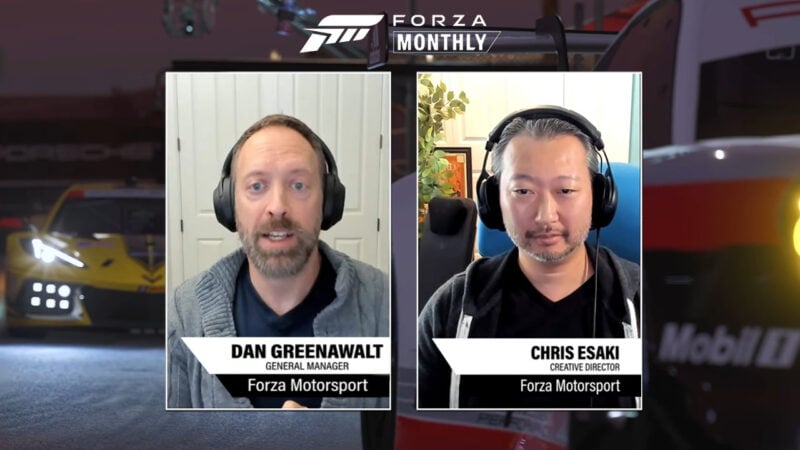 Fans hoping for more news on 2023's Forza Motorsport are going to have to wait a little longer, as Turn10's Dan Greenawalt and Chris Esaki have revealed in the most recent Forza Monthly stream.
It's been two years since the next Forza title was first revealed, and surprisingly announced as being titled Forza Motorsport rather than Forza Motorsport 8. Since then we've had bits and pieces of information covering things like the new tire and suspension physics, and multiplayer experience.
The game appeared on the Xbox & Bethesda Showcase this June, with a more complete announcement including a "Spring 2023" launch date, but we've all been on tenterhooks for more information.
Greenawalt, now the general manager of the Forza series, and the Forza Motorsport series' creative director Esaki appeared on the Monthly show in amongst the Forza Horizon 5 update news to talk to host Leah Alexandra about Forza.
However the over-riding message from the duo was for fans to "sit tight" and be patient. Esaki revealed that Forza Motorsport is now in the production phase and everyone on the team is "heads down" on this part of the process.
The production phase of game development is roughly in the middle, and is the longest and most intensive period. Pre-production covers all of the product management, including conception, research, resource allocation, and so on. After the production phase there's testing and quality assurance, before the title launches and enters post-production.
With all the studio's efforts on the production, there's no spare time to communicate externally, but Greenawalt did confirm that T10 would "re-engage" at the start of 2023 to "start talking about this amazing game".
Thankfully that's only a little over three months from now, and if Forza Motorsport is to hit its Spring 2023 launch date we only have a maximum of nine months to wait.