The latest update for Forza Motorsport, Update 2, is now available to all Xbox and PC users, bringing a substantial number of fixes and improvements along with some brand-new content.
Weighing in at 8.9GB on PC, and 9.5GB on Xbox Series X, this marks the first content update since release, with several new cars and events arriving as promised ahead of launch.
There's rather a lot to get through, so read on if you want to know about the major additions you can expect in Update 2.
Table of Contents
Forza Motorsport Update 2: Yas Marina
The first of the monthly track additions sees the return of the Yas Marina Circuit in Abu Dhabi. There have been some significant changes to the venue since it last appeared in Forza Motorsport 7.
Completed in 2021, some of the more criticized sections of the grand prix circuit have been altered. The chicane leading up to what was the Turn 7 hairpin has been removed, while the hairpin itself has been widened. Turns 11 to 14 have been removed and replaced with a sweeping banked corner. Finally, Turns 17-20 have been reconfigured to allow for better flow.
There are four layouts to choose from, including the main grand prix circuit;
Full Circuit
North Corkscrew
North Circuit
South Circuit
Forza Motorsport Update 2: New Cars
A wide selection of new cars will be available to purchase over the coming days and weeks. The Car Pass will also bring four new racing cars throughout November. Every week will also bring a different Spotlight car to the Showroom which can be purchased for a 30% discount using in-game credits. Each of the Spotlight cars will also serve as the stars of the latest Career series which we will cover separately.
Car Pass
Lotus Type 40 #1 Team Lotus '65 – November 16
McLaren 720S GT3 #03 '19 – November 23
Mercedes-AMG GT3 '18 – November 30
Peugeot 308 TCR #7 DG Sport Competition – December 7
Spotlight Cars
Aston Martin V12 Vantage S '13 – November 16-23
Lamborghini Aventador Superveloce '16 – November 23-30
Mazda MX-5 Cup '17 – November 23-30
Bugatti Veyron Super Sport '11 – November 30-December 7
Saleen S7 LM '17 – December 7-14
Spania GTA Spano '16 – December 7-14
MG MG6 XPower #20 '20- December 7-14
Gordon Murray Automotive T.50 '22 – December 7-14
With eight Spotlight cars on the way, players will recognise familiar returning models such as the Aston Martin V12 Vantage S and Bugatti Veyron Super Sport. The Saleen S7 LM and MG6 XPower TCR were previously added to Forza Horizon 5, and have now made the journey over to Forza Motorsport. Mazda's 2017 MX-5 Cup car will please those looking for an entry level racing car.
The most eye-catching addition is the Gordon Murray Automotive T.50, which will be making its virtual gaming debut. This analogue V12 supercar is one of the hotly anticipated new cars ever made thanks to its goal of being the complete antithesis of many modern hybrid rocket ships.
Forza Motorsport Update 2: New Events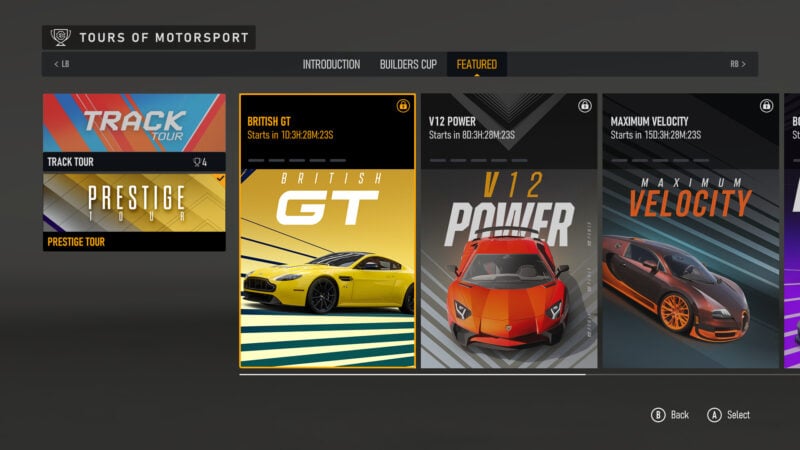 New events have been added to the Featured Section of the Career menu which will keep players busy over the next several weeks.
The Prestige Tour focuses on high-end premium manufacturers, where the Spotlight cars will be taking center stage over the next four weeks.
Prestige Tour
British GT – Aston Martin V12 Vantage S
V12 Power – Lamborghini Aventador SV
Maximum Velocity – Bugatti Veyron Super Sport
Boutique Builds – Saleen S7 LM, Spania GTA Spano, Gordon Murray Automotive T.50
British GT kicks off the Prestige Tour, with powerful grand tourers such as the Aston Martin V12 Vantage S being given a chance to stretch their legs. V12 Power is a celebration of all cars with 12 cylinders, including the Lamborghini Aventador SV.
Bugatti steals the show in Maximum Velocity with the Veyron Super Sport. The unique cars of Boutique Builds will give you a choice for tackling this series from the Saleen S7 LM, Spania GTA Spano and GMA T.50.
Once you complete each five race series, you'll be rewarded with a 2011 Lamborghini Sesto Elemento for use in the final reward showcase event. The new Tour begins on November 16, with each subsequent series being unlocked after a seven-day period. You'll have until December 28 to complete each of the series in question.
Open Class Tour
An new Open Class Tour series will be added to the Builder's Cup starting on November 16. Focusing on Italian manufacturers, players will have a free choice of machines to pick from as they work their way from C-Class up to S-Class.
Once each of the series has been completed, you'll win a Ferrari 488 GTB to use in the final Showcase. This tour is on a tighter schedule, meaning you'll have until December 14 to complete it.
Forza Motorsport Update 2: Multiplayer Events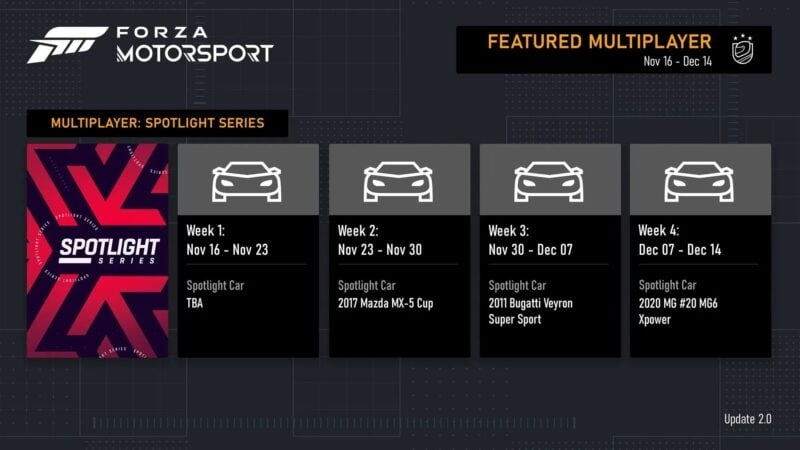 November's calender for the multiplayer Spotlight Series will each have a featured car for a seven day period. Notable cars include the Mazda MX-5 Cup, Bugatti Veyron and MG6 XPower. You can attempt these spotlight events as many times as you want during their availability.
There are also new open and spec series events for those seeking a different challenge;
Vintage Le Mans Sports Car Series – November 16-22
Subaru BRZ Spec Series – November 23-29
Birth of Grand Prix – November 30-December 6
Forza P2 Series – December 7-13
Each of the new featured series will only be available during these seven-day periods before being rotated.
Forza Motorsport Update 2: Rivals
A new set of Rivals time trials is set to accompany the latest batch of cars. Five Featured Rivals events will showcase a different Spotlight car every week. A special event will put Yas Marina in center stage as players try to tame the almighty Koenigsegg Jesko.
VIP players will also have the privilige of a month long Rivals event with the Hyundai Veloster N Forza Edition at Lime Rock Park.
Here's what to expect from Rivals throughout the latest series;
Featured Track: Yas Marina – Koenigsegg Jesko '20 – Yas Marina Full Circuit (Nov. 16 – Dec. 13)
VIP: High Velocity – Hyundai Veloster N '19 Forza Edition – Lime Rock Full Circuit Alt (Nov. 16 – Dec. 13)
Spotlight – Aston Martin V12 Vantage S '13 – Mugello Club Circuit (Nov. 16 – Nov. 22)
Spotlight – Lamborghini Aventador Superveloce '16 – Hakone Grand Prix Circuit (Nov. 23– Nov. 29)
Spotlight – Bugatti Veyron Super Sport '11 – Yas Marina North Circuit (Nov. 30 – Dec. 6)
Spotlight – Gordon Murray Automotive T.50 '22 – Silverstone International Circuit (Dec. 7 – Dec. 13)
Forza Motorsport Update 2: Other Changes
Turn 10 has noted that there's over 200 fixes and tweaks in this update, with a variety of changes across all platforms and some PC-specific alterations too.
The livery editor is at the center of a lot of changes, with some issues around some paint applications, likes, and the fact that shared tunes and vinyls could be unlocked and reshared by players who didn't create them.
Multiplayer has also received some attention, with tweaks to the fuel range estimation, automatic wet tire selection, custom livery display, and matchmaking.
General gameplay tweaks include some fixes for a couple of instances of infinite loops, a save data/progression loss bug, some Builders Cup exploits, and some other changes related to more specific issues with some tracks and cars.
You can check out the full list of patch notes here. If you also want to discuss other changes you've found that may not have been documented, be sure to head to our Forza Motorsport forums for more.
See more articles on Forza Motorsport Game Updates.