The Forza Racing Championship kicks off next month. But before that happens, 19 drivers from across the globe will descend upon Turn 10 HQ in Seattle for the Pre-Season Invitational.
Earlier in the week, Turn 10 hosted a quick livestream to break down what Forza fans can expect from the season. The team brought in one of the franchise's fastest drivers, Evan Thorogood (aka Raceboy77, fresh off a GT Sport esport event podium) to explain some of the changes. The stream also covered the upcoming exhibition event, which will take place on March 24.
The Drivers
Being an invite-only event, the pre-season exhibition reads like a who's who of the fastest drivers in Forza. Plenty of these names are found at the pointy ends of the leaderboards, and the list includes two previous ForzaRC winners in Laige and Roadrunner.
The full list:
bbb0x (Individual Races)
ChicPizza (Individual Races)
Chriz (Individual Races)
Commando (Team Races for JSR)
Craviator (Team Races for JSR)
Europa (Team Races for AMS)
ForceOne (Individual Races and Team Races for F4H)
Harmonic (Individual Races)
Hydr0gen (Individual Races)
Hard BR (Individual Races and Team Races for TX3)
Laige (Individual Races)
Lightning (Individual Races and Team Races for TX3)
McQueen (Team Races for AMS)
MisterJack (Team Races for TX3)
Ne (Individual Races)
Racerz (Team Races for F4H)
RoadRunner (Individual Races and Team Races for AMS)
Rossi (Individual Races and Team Races for JSR)
Venom (Team Races for F4H)
Individual Races
This is the one part of the Invitational that should sound familiar. 12 players, all racing for the overall win. Sounds simple enough, right?
Well, yes and no. These are the car/track combos that could happen next Saturday:
2014 Mazda #70 SpeedSource Lola B12/80 @ Virginia International Raceway
2016 Ford #66 Ford Racing GT Le Mans @ Road Atlanta
2013 Lamborghini Veneno @ Sebring International Raceway
2016 Cadillac ATS-V @ Daytona International Raceway
2016 Aston Martin Vantage GT12 @ Road America
1989 Audi #4 Audi 90 quattro IMSA GTO @ Mazda Raceway Laguna Seca
Wait… did we say could? Not will?
Viewers Choose the Driving Conditions and Car/Track Combos
Yes, you read that right. During the invitational, live stream viewers will be able to vote on a variety of aspects of the competition. If the Mixer crowd wants prototype racing, then prototype racing is what it shall get.
The viewers will be able to throw another curveball competitors' ways too. At tracks where it's possible, they'll be able to select the weather conditions.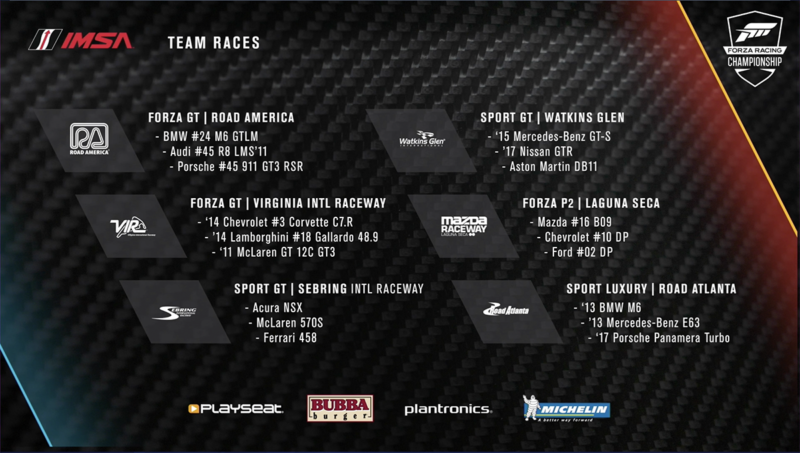 New Team Challenge
In addition to the usual individual competition, there will be a team-based component. This will once again feature a dozen drivers, some of which will be pulling double-duty in the singles event.
Each of the four teams (AMS, F4H, JSR, and TX3) will field a three-driver squad. The catch? Each car listed above can only be used by one driver per team.
This should introduce a whole new level of strategy. Look at Watkins Glen: the DB11 has the power advantage, but the AMG should be the most nimble. How the teams divvy up each race's offerings should be interesting, especially as they'll be qualifying the day of the races themselves.
Season One
The first season for the rest of the Forza fanbase kicks off April 2. We'll have more details on that soon, as Turn 10 will reveal more in its usual Friday live stream. In the mean-time, you can sign-up here.
You'll be able to catch the Pre-Season Invitational at the ForzaRC Mixer channel.
See more articles on Forza Racing Championship.