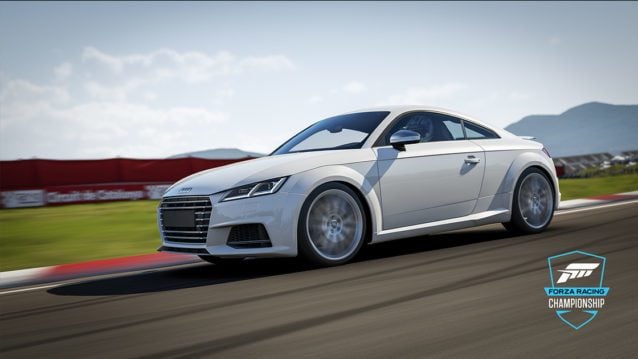 The Forza Racing Championship started its second season last month in the open-world arcade racer that is Horizon 3. This week, the competition returns to Turn 10's sim-oriented Motorsport title, offering players the first challenge that could lead to one lucky person finishing the year off $10,000 USD richer.
This week's starring car is the third-gen Audi TT. In FM6, players have until the end of tomorrow (November 9, 23:59 PST) to set their best time in a Rivals event at Catalunya National. Once that's wrapped up, the top 160 racers will be entered into two separate one-on-one elimination tournaments: 1st-3rd into the Weekly Showdown, 33rd-160th fighting it out in the Weekly Consolation Cup.
The remaining 16 in each event win cash prizes — $100/$50 USD, respectively — while the Showdown winners will run 3 16-player races to determine the fastest four, who will qualify for the Season 2 Grand Finals in Early December. Sound confusing? Check the chart: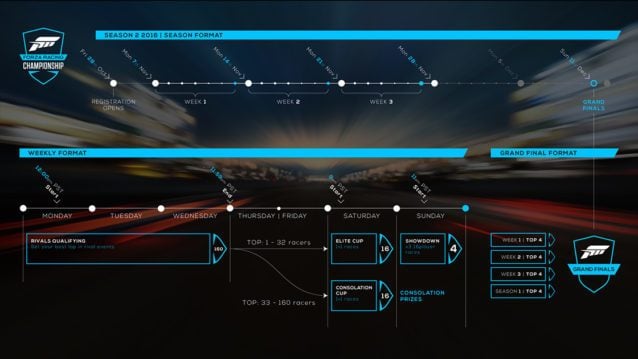 The Recreation Series, held in both FM6 and FH3, is far simpler. Rivals events await players in both games, featuring the same car (2015 Audi TT-S), at Catalunya Grand Prix and Yarra Valley Circuit, respectively. At the end of the week, the top ten drivers in FM6 will receive "ForzaRC Swag", valued at $25 USD.
Horizon 3 players can win quite a lot more. For starters, every qualified driver that takes part will win a Jaguar F-Type Project 7 Horizon Edition. Placing from 11th-25th will earn the same prize offered in FM6. 5th through 10th will win the FH3 Car Pass, which covers six months of DLC car packs (valued at $30 USD). 3rd and 4th both will win Logitech products ($300 USD), while 1st and 2nd bag a Playseat Gaming Seat ($400 USD).
Looking to get stuck in, and want to discuss tactics with other players? Head on over to our Forza Motorsport 6 or Forza Horizon 3 forum sections! Don't forget to register over at Forza ESL page, too.
See more articles on Forza Racing Championship.