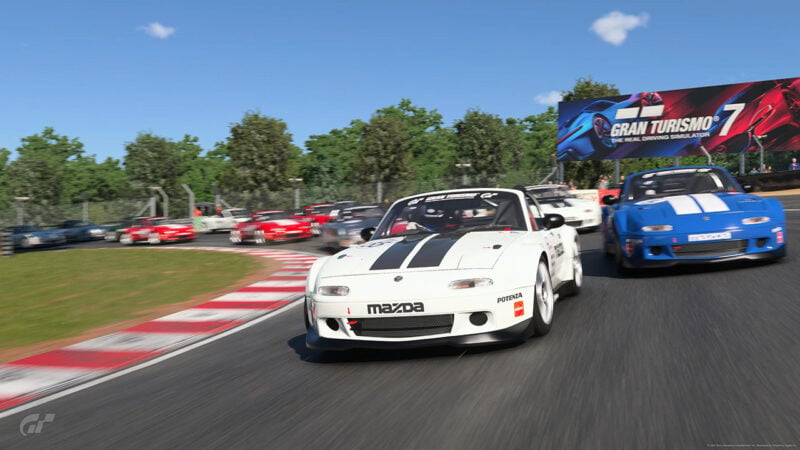 There's another new set of Gran Turismo 7 Daily Races now available for the next seven days, taking players to three of the game's real-world circuits.
As is so often the case, all three races use the Balance of Performance (BOP) system to more closely match different vehicles within the same category, although this prevents players from tuning and tweaking their own cars for the race. It's the first event with the new high/medium/low-speed track BOP too.
Players can rent a vehicles for each race, allowing you to try out a car you might not already have or keep the miles and wear off your own cars, although you will be limited to standard liveries if you do so.
It's an unusual event choice for Race A this week, which usually sees one-make events for slower, road-legal machinery. Instead, you'll be heading to Mount Panorama in Gr.3 cars.
Naturally it's still a short, sprint race, taking place over five laps and with cars equipped with Racing Hard tires. It also remains unranked, so it's a good event to practice as neither Driver nor Sportsmanship Rating points are affected.
Race B this week fills the one-make brief, with the Mazda Roadster Touring Car the weapon of choice at the short layout of Autopolis.
This version of the track cuts out the final sector, switching back onto the main straight with a right-handed curve instead of the left-handed hairpin — and is likely to catch people out early in the week for this seven-lap race on Sports Hard tires.
Finally you'll be heading to Brands Hatch, and the full Grand Prix circuit, for a 12-lap race in Gr.4 cars.
While usually the preserve of the four-wheel drive cars, there's a special consideration this week by way of a 7x fuel multiplier. That means your fuel will drain seven times faster, so each lap will result in seven laps of fuel consumption.
You'll need a car that's more frugal then in order to make the end of the 12-lap race without stopping for fuel, which brings some of the lightweight cars into the mix.
However you'll also need to be aware of tire requirements. Although Racing Hard and Racing Medium are both available, the Hard option is a required tire and you'll need to use it at least once during the race as a result. Failing to do so will result in a one-minute post-race penalty.
That brings a whole bunch of strategies into play, as the 1x tire wear multiplier means barely any wear will occue either. There'll doubtless be some interesting solutions this week.
In order to access the Daily Races, you'll need to unlock Sport Mode, by completing Menu Book 9 ("Championship: Tokyo Highway Parade") in the GT Cafe single player hub.
As GT7's Daily Races update on the same weekly schedule as GT Sport's did, the next new set should arrive on Monday August 8.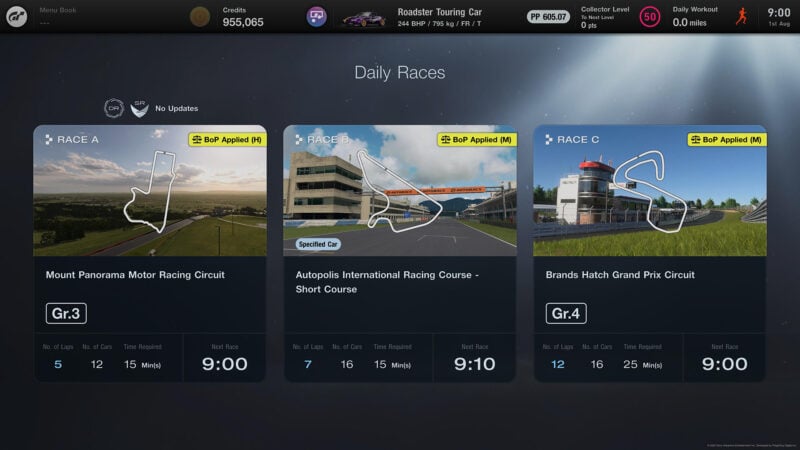 Race A
Track: Mount Panorama, 5 laps
Car: Gr.3 – Garage/Rental Car
Power/Weight/PP Limit: BOP (H)
Tires: Racing Hard
Settings: Fixed
Start Type: Grid Start
Fuel use: 1x
Tire use: 1x
Race B
Track: Autopolis International – Short, 7 laps
Car: Mazda Roadster Touring Car – Garage/Rental Car
Power/Weight/PP Limit: BOP (M)
Tires: Sports Hard
Settings: Fixed
Start Type: Rolling Start
Fuel use: 1x
Tire use: 1x
Race C
Track: Brands Hatch Grand Prix, 12 laps
Car: Gr.4 – Garage/Rental Car
Power/Weight/PP Limit: BOP (M)
Tires: Racing Hard*, Racing Medium, Racing Inter/Wet
Settings: Fixed
Start Type: Rolling Start
Fuel use: 7x
Tire use: 1x
See more articles on Gran Turismo 7 Daily Races.