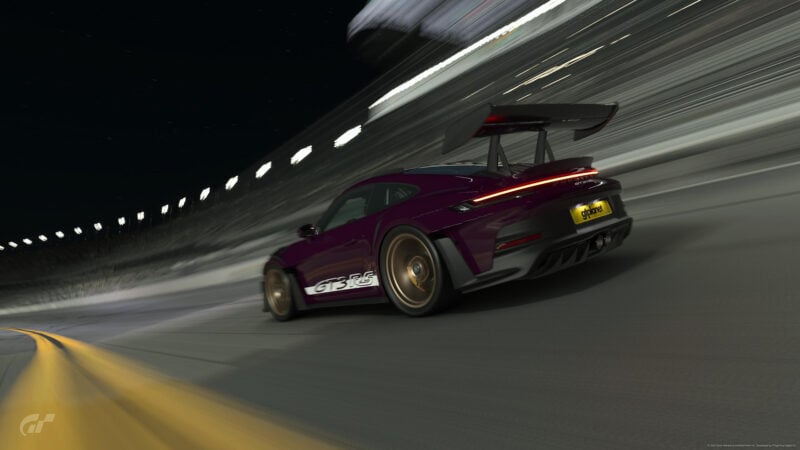 Gran Turismo 7's newest Online Time Trial event is now available, with a new lap time challenge for players to fight it out to set the best time globally.
The Online Time Trials are time-limited events, each running for two weeks and offering credit rewards according to how close a player's time is to the world record time when it ends. That means that the boundaries for each prize are dynamic, with times falling as the global best improves — and a time good enough for Gold one day may not be so the next.
Each event is worth 250,000cr if you set a time within 10% of the best time (Bronze), 1,000,000cr for coming within 5% (Silver), and the maximum of 2,000,000cr for being within 3% (Gold).
The new Lap Time Challenge for the next two weeks — until 0659 UTC on Thursday November 30 — again features some of the new content added in the Spec II/1.40 update earlier this month, as you'll take charge of the 992-generation Porsche 911 GT3 RS.
Your goal is to set the fastest time you can at Daytona's Road Course, scene of an annual 24-hour race for LMDh prototypes, in a rare night-time event.
As usual, you'll be able to use a borrowed vehicle if you want to keep the miles off your own Porsche or a car from your garage, with cars being adjusted for power and weight under "High Speed" Balance of Performance regulations.
The only specific requirement is that the car is fitted with Racing Hard tires, which makes the already pretty grippy 992 rather difficult to unstick.
Notably, this GT3 RS has a Drag Reduction System (DRS) feature, so you'll want to assign this to a button on your controller or wheel and keep it mashed in for all the high-speed banking sections to secure the best results.
Track limits will be a consistent gripe this week too, as the Bus Stop — now called the Le Mans Chicane — is not only a hot spot for coloring outside the lines but if you push it too far will invalidate your next lap too…
The Lake Louise Lap Time Challenge which began last week remains in place for another week too. For this you'll need to take the Toyota GR Yaris, on Snow Tires, to the fastest lap possible around the Long Track. The current world record is 1:43.574, requiring a 1:46.681 for Gold at present.
In order to access the Online Time Trials, you'll need to unlock Sport Mode, by completing Menu Book 9 ("Championship: Tokyo Highway Parade") in the GT Cafe single player hub. PlayStation Plus is not required, as they are not multiplayer events.
The events update every Thursday, with each individual challenge remaining available for two weeks and the oldest of the two events being replaced each week. That being the case, the next new Time Trial should arrive at 0700 UTC on Thursday November 23.
Lap Time Challenge November 16 – Daytona
Track: Daytona International – Road Course
Car: Porsche 911 (992) GT3 RS '22 – Garage/Rental Car
Power/Weight/PP Limit: BOP (H)
Tires: Racing Hard
Settings: Fixed
Lap Time Challenge November 9 – Lake Louise
Track: Lake Louise – Long Track
Car: Toyota GR Yaris '20 – Garage/Rental Car
Power/Weight/PP Limit: BOP (H)
Tires: Snow
Settings: Fixed
See more articles on Gran Turismo 7 Time Trial.