The latest update for Gran Turismo 7, v1.40, is now available, bringing the Spec II version of the game to all consoles.
Depending on your platform of choice, it's the biggest single update in the game's history — coming in at 6.6GB on PlayStation 4 and a whopping 8.6GB on PlayStation 5 — and given what we already knew about the Spec II features and contents that's little surprise.
However, as always, there's even more going on than even what was revealed over the last few days, as well as some fine details on the known changes. Deep breath…
Table of Contents
Gran Turismo 7 Spec II Update 1.40: New Cars
The thing we've known about for longest is that the update adds seven new cars, in the largest content drop to date, and their identities were revealed yesterday. Now that the update is available though, we know the pricing and availability for all seven.
Brand Central
Dodge Challenger SRT Demon '18 – 200,000cr
Lexus LFA '10 – 1,500,000cr
Porsche 911 GT3 RS (992) '22 – 340,000cr
Tesla Model 3 Performance '23 – 55,000cr
Legends Cars
Dodge Charger R/T 426 Hemi '68 – 158,000cr
Mercedes-Benz 190E 2.5-16 Evolution II '91 – 300,000cr
NISMO 400R '95 – 1,800,000cr
Although there are three vehicles in the Legends Cars dealer — all three of which are temporarily available as "Hot Picks" — it's actually not that expensive a fleet to collect. The Nismo 400R, a special and vanishingly rare, 400hp version of the Nissan Skyline R33 GT-R, is the most expensive of all at 1.8m credits.
If you fancy the classic Evo II version of the Mercedes-Benz 190E, designed to homologate the car for DTM racing, it's a snip at 300,000cr. Meanwhile the new-but-returning '68 Charger, now in R/T 426 guise, is even less expensive at 158,000cr.
Surprisingly one of the Brand Central cars runs the Nismo pretty close. Although its original sticker price was $345,000, the Lexus LFA will set you back a whopping 1.5m credits. That roughly aligns with the Hagerty Valuation Tool's pricing for a mint Nurburgring Package car in the real world…
You can swipe the remaining three cars, combined for a third of that. The all-new 911 GT3 RS, as seen driven by the hero in the Gran Turismo movie, is 340,000cr, with the Demon edition of the Dodge Challenger just 200,000cr, and only 55,000cr needed for the Tesla Model 3 Performance EV.
Gran Turismo 7 Spec II Update 1.40: New Track
One of the surprises in yesterday's announcement was the addition of a new circuit. That's not only because it's been eight months since the last one, but because it's an offroad ice course — the first to use such a setting since Gran Turismo 6's Chamonix.
It's called Lake Louise, and it's based at a location of the same name in Alberta, Canada — continuing GT7's trend of adding tracks in North America — which hosts a famous ski resort. There's three versions in total, each with a reverse course variant:
Lake Louise Long Track & Reverse – 2.30 miles
Lake Louise Short Track & Reverse – 1.60 miles
Lake Louise Tri-Oval & Reverse – 1.91 miles
You'll need to equip studded Snow Tires in order to race on the circuit, and you can see the courses in VR in the video above.
Gran Turismo 7 Spec II Update 1.40: New Events & Extra Menus
There's a significant increase in the number of races available, both as unique races added to the World Circuits and new Bonus Menu Books, and through the addition of a new and important game mode which we'll deal with separately.
The two new books, 48 and 49 are both high-level and high-value race events, for some of the fastest cars in the game. In each case you'll need to finish the three required races in third or better, to earn the bonus prize which consists of a five-star and six-star Roulette Ticket respectively.
You will need to be at a high enough Collector Level (39 and 50 respectively) in order to start the books, and you won't be able to see the races until you do so:
Bonus Menu Book 48 – World Touring Car 900
Autopolis International Racing Course – 10 laps, 150,000cr
Nurburgring GP – 10 laps, 135,000cr
Suzuka Circuit – 10 laps, 170,000cr
Bonus Menu Book 49 – X2019 Nations Cup
Autodromo de Interlagos – 12 laps, 150,000cr
Dragon Trail Seaside – 14 laps, 190,000cr
Sardegna Road Track A – 13 laps, 175,000cr
A further 14 new races are available too, dotted about the World Circuits menus, including three at the new Lake Louise location and eight "chilli" races that feature enhanced difficulty:
Clubman Cup+ – Fuji Speedway – 5 laps, 75,000cr
Clubman Cup+ – Monza Circuit – 5 laps, 85,000cr
Clubman Cup+ – Special Stage Route X – 1 lap, 35,000cr
Clubman Cup+ – Watkins Glen Long Course – 4 laps, 70,000cr
GT Cup Gr.3 – Daytona Speedway – 7 laps, 56,000cr
GT Cup Gr.3 – Deep Forest Raceway – 7 laps, 90,000cr
GT Cup Gr.3 – Mount Panorama – 10 laps, 200,000cr
GT Cup Gr.3 – Red Bull Ring – 7 laps, 125,000cr
Japanese 4WD Challenge 600 – Lake Louise Short – 4 laps, 38,000cr
Pickup Truck Race – Lake Louise Tri-Oval Reverse – 5 laps, 50,000cr
World Rally Challenge Gr.B – Lake Louise Long – 4 laps, 85,000cr
World Touring Car 900 – Trial Mountain – 10 laps, 160,000cr
X2019 Nations Cup – Autodrome Lago Maggiore – 14 laps, 200,000cr
X2019 Nations Cup – Trial Mountain – 14 laps, 200,000cr
Extra Menu Books 31-33
Three new Extra Menu Books are also included, each of which is a car collection challenge. Again, you'll need to be a high enough Collector Level already in order to access them, with the books being available at levels 30, 34, and 49 respectively.
Book 31 is Road-Going Racers and will require you to pick up three track-day toys in the shape of the BAC Mono, KTM X-Bow, and Radical SR3 SL, with a six-star Roulette Ticket as a reward. Lexus is the focus of Book 32, requiring the RC F, LC500, and new LFA to be in your garage to earn a five-star Roulette Ticket. Finally the Red Bull X Series features in Book 33, needing the X2014 Junior, X2014 Standard, and X2019 Competition for a six-star Roulette Ticket.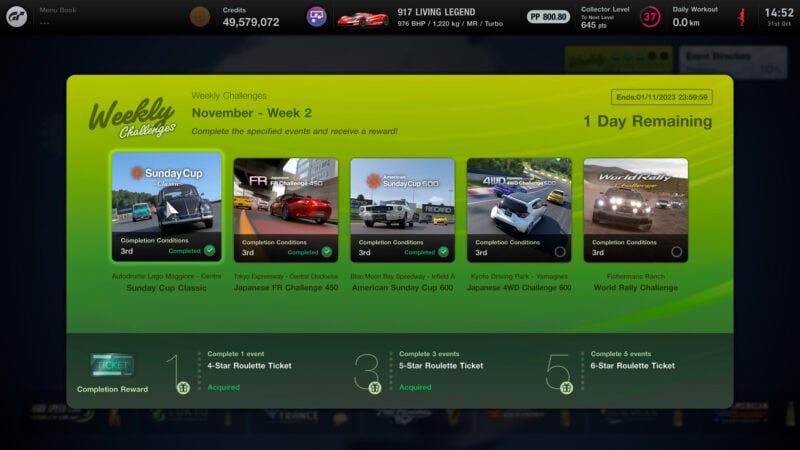 Weekly Challenges
One particularly notable change is the addition of Weekly Challenges to the World Circuits. This appears as a new menu icon in the World Circuits overview and gives players bonus rewards for completing specific races.
The rewards and the races change each week, switching out at midnight UTC each Wednesday. In each case you'll need to finish the race in third to pass, and the selection includes not just existing races but some unique "limited time online event" races (although they're not multiplayer events). They can be done in any order you wish.
For the first week the races cover the new Pickup Truck race at Lake Louise, Ferrari and Nissan GT-R events at Dragon Trail and Deep Forest, and a European FR Challenge 550 race at Nurburgring GP. There's also a special event one-make race for the new 911 GT3 RS at Laguna Seca.
Prizes this week are a 100,000cr ticket for completing one race, a 200,000cr ticket for completing three, and a five-star Roulette Ticket for all five. Of course you can also split the racing across multiple days to earn Daily Marathon tickets too!
Event Directory
One final change to World Circuits is the new Event Directory. This is also located under a new icon in the top-right and shows you all of the various events available in one place — as well as your completion status.
You can select races directly from here, meaning that you can located races you haven't finished, and jump straight to them to fill in the blanks. A new "Change Car" option on all race entry screens in single player also means you don't need to get the right car first.
Gran Turismo 7 Spec II Update 1.40: Gran Turismo Sophy (PS5)
The most significant race addition is that of a new, permanent GT Sophy mode, allowing you to race against what's termed "a prototype" of the machine-learning AI, but only for players on PlayStation 5. This is available at nine of the tracks in the game so far, although we'd expect that to expand with future game updates too.
Heading to any of the tracks marked with the GT Sophy heart icon — 24 Heures du Mans, Circuit de Spa-Francorchamps, Deep Forest, Grand Valley Highway, Laguna Seca, Red Bull Ring, Road Atlanta, Suzuka Circuit, and Tsukuba Circuit — will give you the option of racing Sophy rather than the regular AI.
Sophy's cars will be selected automatically, with up to 19 opponents available. The game can choose around 340 cars for Sophy, allowing for races against around 460 of the 490 possible player vehicles.
Notably, whether you choose Sophy or the standard AI, the rewards for these races can be up to four times higher depending on your overall Collector Level and your Circuit Experience completion for the chosen circuit. This applies across all tracks in the new Quick Race feature.
Gran Turismo 7 Spec II Update 1.40: Master License
A new "Master License" area has been added to the License Center, giving players who've already passed their Super License the opportunity to access more challenges. In fact it's a whole new suite of license tests, with five levels from National B to Super, each with ten tests.
As the name might suggest, they're at an enhanced difficulty level compared to the normal tests; even the first, standard straight-line challenge uses a wet track. Just like the standard tests, you'll need to pass tests 1-9 to access the "final exam", and you can't access the next license without at least passing that.
There's credit rewards for each, starting at 10,000cr for gold on the Master B licenses, as well as bonus ticket and car prizes for completing them all at bronze and gold standards.
Gran Turismo 7 Spec II Update 1.40: Engine Swaps
The update also contains the biggest single range of new engine swaps since the game's launch, with ten new swaps, five of which feature an entirely new — and extraordinary — engine.
That's the W16 quad-turbo from the Bugatti Chiron, which can be applied to the Chevrolet Corvette ZR1 (C6) '09, Dodge Viper GTS '13, Lamborghini Huracan LP 610-4 '15, Lexus RC F '14, and Nissan GT-R Nismo '17.
The remaining five all involve fictional "homologation" models, with the Chevrolet Corvette C7 Gr.3 Road Car taking the Rampage Camaro engine, the Ford Mustang Gr.3 Road Car using the GAC Maverick engine, the 787B quad-rotor slotting into the Mazda Atenza Gr.3 Road Car, the NISMO GT-R engine available for the Mitsubishi Lancer Evolution Gr.B Road Car, and the Subaru WRX Gr.B Road Car gaining a Ruf CTR3 option.
Gran Turismo 7 Spec II Update 1.40: Other Changes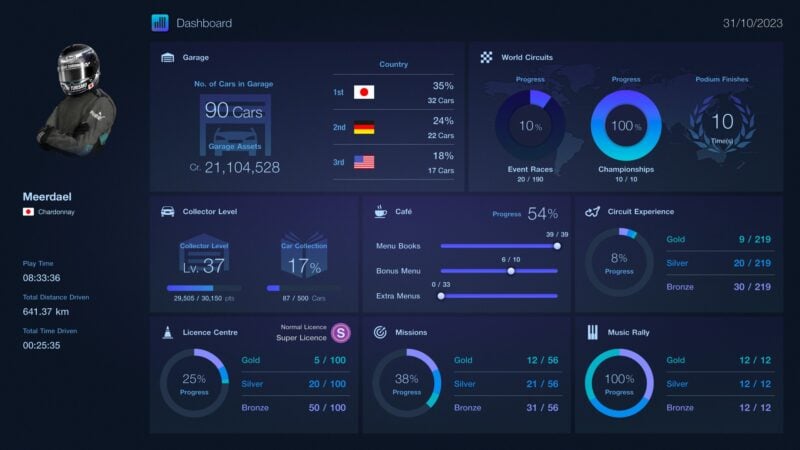 Dashboard
There's still plenty more beside all of that too, starting with a new Dashboard. This is available from the GT menu in the top-left corner of most screens and gives you a one-stop overview of your entire Gran Turismo 7 career across all of the various race types — from Music Rally to Sport Mode. You can even see a summary of your vehicle collection.
Scapes & Photomode
To mark the 3,000th Scapes location, a new "Polyphony Digital" Scape has been added, allowing you to photograph your car in the studio's event space. A new curation of "Players' Favorites" has also been added, with 30 of the most popular spots used by all players available (including the mandatory location for GTPlanet's Livery Editor Competition…).
Another photography enhancement is the addition of new, lower shutter speeds to the choices for race photos, making speeds from one to 1/30th second available. That will allow for a more interesting range of shots from replays.
Additionally you can now take photos from a higher position in free walk mode, and there's a new rendering quality option which can be used to adjust how images of moving cars — particularly at the new low shutter speeds — render.
Paddocks
The Meeting Places feature, an ad hoc online multiplayer mode available at some tracks in World Circuits, has changed into "Paddocks". This now allows the for Sophy-esque emoticons to be used for communication between players in addition to text chat, and the ability to take a closer look at some of the other player cars.
2/4-Player Split Screen
Another PS5-exclusive change comes to local split screen, which now allows for up to four players to race at once on the same console. Notably the 2P Split Screen has finally been removed from the Known Issues page; although there's no specific mention in the patch notes of any changes to address the assist settings bug, it appears that this has now been resolved.
Opening Movie
Lastly, although likely the first thing you'll encounter, there's a new opening movie for the game which now features a new video in the second half of the intro that includes a lot of the post-launch content we've seen over the past 18 months. Don't worry, it's still set to Moon Over the Castle.
As ever, there's likely to be a significant number of changes not specifically flagged in the patch notes which our community will discover in due course. Keep an eye on the Undocumented Changes thread for all the latest!
See more articles on Gran Turismo 7 Game Update and Gran Turismo 7 Spec II.