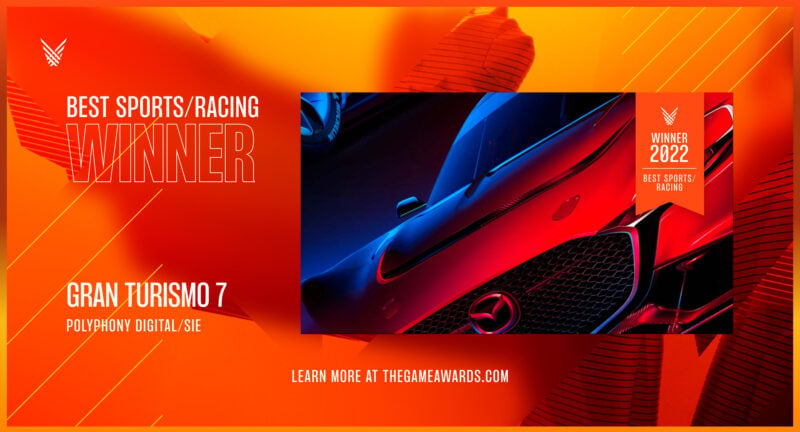 Polyphony Digital's Gran Turismo 7 has taken top honors in the Sports / Racing category at The Game Awards, the gaming industry's premiere annual awards event held in Los Angeles, California.
The category featured stiff competition from some of the largest sports game franchises in the world, including FIFA 23 and NBA 2K23. It also beat the only other racing game, EA Sports' F1 22, and the upstart of the category, OlliOlli World, a side-scrolling skateboarding game.
GT7 was also nominated for Best Audio Design, but ultimately lost the category to God of War: Ragnarok.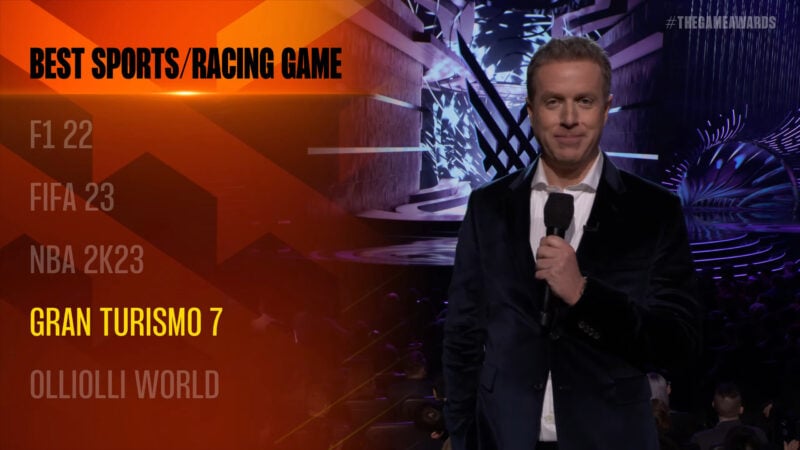 This is the first time a Gran Turismo title has received multiple nominations and the first time the franchise has won a category at The Game Awards since the show began in 2014.
The only other nomination for Gran Turismo came in 2017 after the release of Gran Turismo Sport, but it ultimately lost the Best Sports / Racing Game award to Forza Motorsport 7 which also released that year. The Forza franchise typically performs well in the category at the show, with Forza Horizon 3 winning in 2016, Forza Horizon 4 winning in 2018, and Forza Horizon 5 winning in 2021.
Nominees for The Game Awards are chosen by an "international jury" of "over 100 global media and influencer outlets", whose editorial staff is invited to organize and submit their picks for games released in each category over the past year. Once the nominees are determined, The Game Awards' Advisory Board allows the jury to vote on a single winner of each category. Finally, the jury's votes are blended with the public's votes from TheGameAwards.com (with the jury's votes carrying 90% of the weight), and the winners are chosen.
Gran Turismo creator Kazunori Yamauchi has already acknowledged the award on Twitter. Congratulations to Yamauchi-san and the team at Polyphony Digital!
See more articles on Kazunori Yamauchi, Polyphony Digital, and The Game Awards.