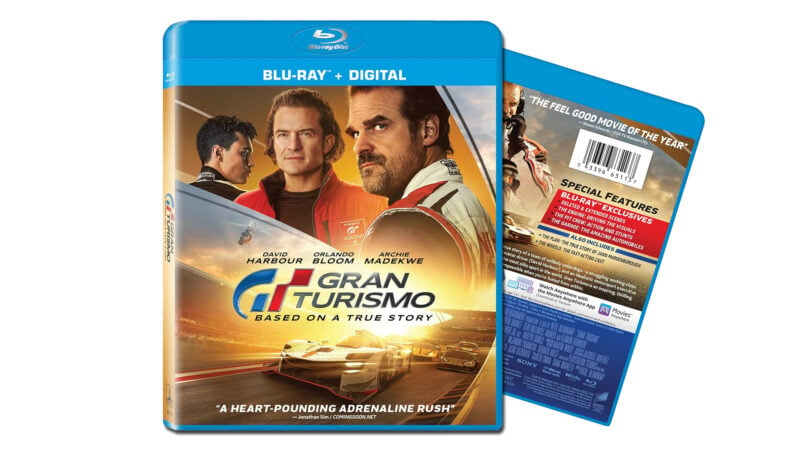 Fans of the Gran Turismo movie, or those not able to catch it during its run in the cinema, can now pick up the film on physical media from today in North America, with other regions to follow soon.
Officially launching today, November 7, in Canada and the USA, Gran Turismo is available from any store where you might pick up movies, including Amazon, Barnes & Noble, Best Buy, Target, and Walmart.
There are, of course, several different versions available to suit a range of budgets and viewing experiences, as well as some collector editions for those who like to pick up Gran Turismo memorabilia of all types.
DVD is of course the basic viewing experience, but may not be the cheapest option, and comes with a handful of special features such as the true story of Jann Mardenborough featurette. The BluRay version adds more special items, including several making-of features and some deleted and extended scenes — as well as adding Dolby DTS support for an enhanced audio experience.
4K Ultra BluRay is the bells and whistles version, with full 4K visuals and Dolby Atmos with 7.1 surround sound support, but requiring a 4K BluRay player (like your PlayStation 5, unless it's a Digital Edition) to take advantage. In all three cases, there's also a digital movie entitlement too.
If you fancy something a little snazzier, there's also a limited edition steelbook version of the BluRay title — which appears to be a Walmart exclusive — and another steelbook version of the 4K Ultra HD, seemingly exclusive to Best Buy.
Viewers in other territories will have to wait a little longer for the film to become available, with a Europe-wide release scheduled for next Tuesday, November 14, and Japan set to get the film in early December.
For those unfamiliar with the film, which is the latest collaboration between PlayStation Studios and Sony Pictures to produce film and TV media based on gaming IPs, Gran Turismo takes a dramatized look at the career of Jann Mardenborough.
It's based on the real life story of Jann's journey from avid racing gamer to professional racing driver via the GT Academy competition, and stars Orlando Bloom, David Harbour, Djimon Hounsou, Geri Halliwell Horner, and Archie Madekwe as Jann Mardenborough.
You can see our full review of the movie here, or via the video below:
See more articles on Gran Turismo Movie.