You can hardly have missed the news that Sony Pictures was producing a feature film based on the Gran Turismo franchise: we've been covering it here on GTPlanet from when it was first floated back in 2013.
Fast-forward a decade and it's finally coming to fruition. Although it's been delayed a couple of weeks from its originally intended slot, fans around the world will be seeing Gran Turismo on the big screen later this month.
As the tag line, "Based On A True Story", hints, it's actually a dramatized account of the story of Jann Mardenborough. Jann won GT Academy in 2011 and went on to have a career at some of the highest levels of motorsport. It's one of the most compelling stories of the Gran Turismo franchise and definitely worth telling in this format.
Though the film won't be widely available until later this month, we were able to get a look through a limited early public screening.
Table of Contents
Before We Get Started…
Before we get to the review, I want to quickly mention two things.
For those of you who might not know me, I started GTPlanet.net all the way back in 2001. I am, of course, very close to the Gran Turismo series and I have known almost everyone portrayed in this movie personally for many years. However, neither I nor GTPlanet was involved in its production.
Additionally, this review — and video above — is divided into two parts. The first part will not have any spoilers for the movie itself, while the second half will.
Due to the more specific nature of the negative things I do have to say, these will mostly be in the spoiler section. There will be a clear warning before the spoiler section begins, so you can keep reading as far as you feel comfortable.
Overall Impressions
To put it simply, this is a great movie. It's highly entertaining, and it's going to be fun for anyone to watch, even if they are not into cars, or racing, or don't know anything about Gran Turismo.
It's clear that no expense was spared in achieving a very high production value and it shows. The production, cinematography, sound, and music is all top-notch and extremely well done.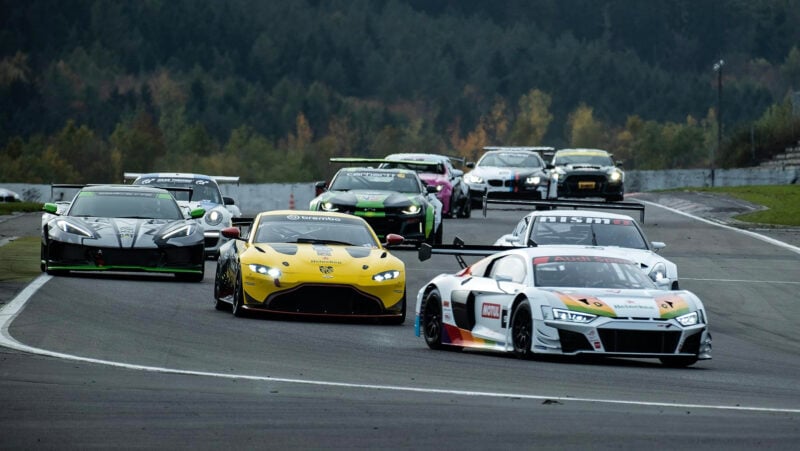 Cinematography
This is, without a doubt, the most exceptional part of the movie. There have been some very good modern racing movies over the last few years, but I think Gran Turismo sets a new standard here.
The FPV drone shots really take things to the next level and gives us some perspectives that we just have not seen before.
In various interviews, director Neill Blomkamp has talked about his commitment to sticking with practical effects and showing cars driving at true speeds in this movie, and it has really paid off for him. It looks spectacular.
Fortunately the sound design is also up to the same high standards, with the cars actually making the noises that they should.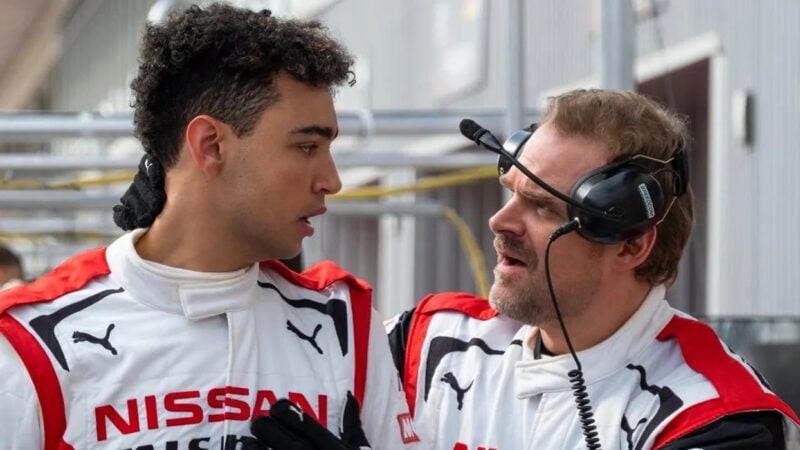 Acting
When I first saw the trailer, I was a little concerned the acting might be a bit "cheesy", but once the movie got started I was pleasantly surprised.
Some of the writing in the earlier parts of the film doesn't do David Harbour's character, Jack Salter, any favors, but overall he does a great job in this role. His character becomes a central part of the story and he really hits his stride as the movie progresses. By the end, he's basically stolen the show.
It's a little strange to review Archie Madekwe's portrayal of the main character, Jann Mardenborough. I know Jann personally, so I can't help but compare Archie to the real guy. Jann is a pleasure to be around; he is calm, collected, self-confident, yet humble. Archie manages to pull this off to a degree, but he's not quite as "likable" or friendly in the role as Jann is in real life.
Orlando Bloom, as Danny Moore, was a bit too effervescent for my liking, but like David Harbour in his role, Bloom seemed to get more comfortable as the movie and his character progressed.
Creative Liberties
As someone who is very familiar with the true story being told in this movie: yes, I can confirm they did take a lot of "creative liberties" and shortcuts in order to make this a more compact and exciting story that fits into the movie's two-hour runtime.
If you are a GT Academy alumnus, or you're into motorsport, or you have followed Jann's story closely, there are indeed going to be a lot of times where you'll be saying to yourself "that definitely didn't happen". The main villain, Nicholas Capa, is a horrifically dirty driver who would probably be banned from just about every form of motorsport if he drove like this in real life. However, if you can manage to turn that critical part of your brain off for a few hours and go into it with an open mind, you will enjoy it a lot more.
For the vast majority of people who don't care about all those details and just want to see a good flick, this is a slam dunk.
Spoiler Alert!
Of course we're not the vast majority of people, and as someone who has been associated with the games, community, GT Academy, and most of the people depicted for more than two decades, many of the things I didn't like about the movie are connected to that.
*** Minor spoilers are, from this point on, going to be unavoidable. If you don't want to see that, stop reading, bookmark this page, and come back to it later. ***
Easter Eggs
Maybe I just didn't catch many of them on my first viewing, but I really wanted a lot more "Easter Egg" surprises in this movie. Of course, this is just me speaking as a "super fan" and it won't have an impact on most viewers, but there is over 25 years of Gran Turismo lore this movie could have tapped into, but it just… doesn't.
There are literally a hundred million Gran Turismo fans out there who would have been delighted spotting notable cars from old GT games, or references to popular original tracks.
Additionally there are hundreds of real people in what insiders call the "Gran Turismo family", including other GT Academy alumni, people involved with the Gran Turismo esports, or famous Polyphony Digital employees who would have been so fun to spot in the background — Translator-san, for example, or the voice of Tom Brooks on race commentary.
That said, there are some Easter Eggs, though. For example Jann is briefly shown watching a video by YouTuber and occasional GT World Series co-presenter Steve Brown, also known as Super GT, and my favorite surprise is a cameo appearance by the actual creator of Gran Turismo himself, Kazunori Yamauchi. I won't spoil that one for you — I will let you catch that one on your own — but I couldn't help but laugh out loud when I saw it.
Kazunori Yamauchi
Speaking of Kazunori Yamauchi, I was surprised and a bit disappointed with how his character was integrated into the film. The movie begins with the Polyphony Digital team testing and scanning cars for the game, and we are introduced to Yamauchi-san for the first time as he is played by actor Takehiro Hira.
It seems to imply that we will be seeing more of how their efforts to produce the game contributed to Jann's ability to make the jump from virtual to reality, but the movie never really goes anywhere with this. Yamauchi's character somewhat awkwardly and briefly appears at various stages in the movie, but it feels clunky.
That's a shame, because I know for a fact that Jann's story and the success of GT Academy is a tremendous source of pride for Yamauchi and one of the crowning achievements of Gran Turismo. Of course, this movie is not supposed to be about Yamauchi, but I think it could have done a better job of acknowledging how Jann's success helped validate Yamauchi's life work.
Lucas Ordonez
The Gran Turismo movie is being heavily marketed and portrayed as a "true story" — and it basically is! — but it's not a story which can be entirely attributed to Jann himself.
The movie makes the process look very clear cut: GT Academy was conceived, Jann wins, and he forges a new path in the racing world. While he certainly played a part — and was arguably the biggest success — in that story, it omits a very important fact: he wasn't the first to do this.
Jann was following in the footsteps of the first GT Academy champion, Lucas Ordonez, who won the first iteration of the competition all the way back in 2008. Lucas was also incredibly successful on and off the track, and it was the path he forged that proved the GT Academy program could actually work.
The movie, however, portrays Jann as the original GT Academy champion. It frames his ability to get on the podium at Le Mans as a critical factor in proving GT Academy's viability, yet Lucas was on the podium at Le Mans in 2011, before Jann even stepped foot in GT Academy Race Camp. In fact, Jann's only Le Mans podium came in a car he co-drove with Lucas (and Michael Krumm) in 2013.
Sadly, the movie makes no mention of Lucas or his accomplishments at all. Instead, it attributes much of his success as a trailblazer to Jann, which doesn't seem very fair — or accurate — to either party.
To be clear, none of this is Jann's fault. He is someone I consider a friend; he is incredibly talented and his story absolutely deserves to be told. I just wish the movie had done a better job of acknowledging Lucas and some of the other GT Academy champions who helped make the program such a success. Jann does not deserve to have this awkward footnote on his movie, and Lucas does not deserve the snub. It's really too bad.
Conclusion
Despite my criticisms, I really enjoyed the film and I think it does a great job telling a story that a lot of people don't know. Having this story told in the form of a polished and entertaining movie goes a long way to legitimize and publicize sim-racing. It's pretty amazing that this movie actually exists, and to be honest, I am relieved that it was executed at such a high level. Go see it!
What Do You Think?
I'm sure many of you watching may have already seen the movie, so what do you think? Share your thoughts in the comments or, better yet, head over to the GTPlanet Forums where our community will be discussing everything about the movie in great detail.
And, stay tuned: we are going to have a lot more coverage over the next few weeks, so click the subscribe button to be sure you don't miss a thing.
See more articles on Gran Turismo Movie and Review.