The first DLC pack for GRID Legends, Classic Car-Nage, is now available alongside the v3.1 game update that brings a number of tweaks and bugfixes.
Classic Car-Nage is the first of four planned DLC packs for the title and adds, as we reported last week, a demolition derby mode.
The mode features four new courses at the Havana and Yokohama Docks locations. They include ramps, obstacles, and — for maximum destruction — crossover points to bring speeding cars across each other's paths.
Each vehicle has a life bar which gradually reduces with each collision. When it reaches zero you're out and, naturally, that means that the last car still going will be the winner.
In addition, there's five new fictional cars added to the game specifically created for the chaos. There's the Beltra Frostbite and Hot Rod, Jupiter Freighter and Eagleray, and Dumont Ute Titan, all of which are ruggedized for the demolition derby circuit and feature "enhanced damage models".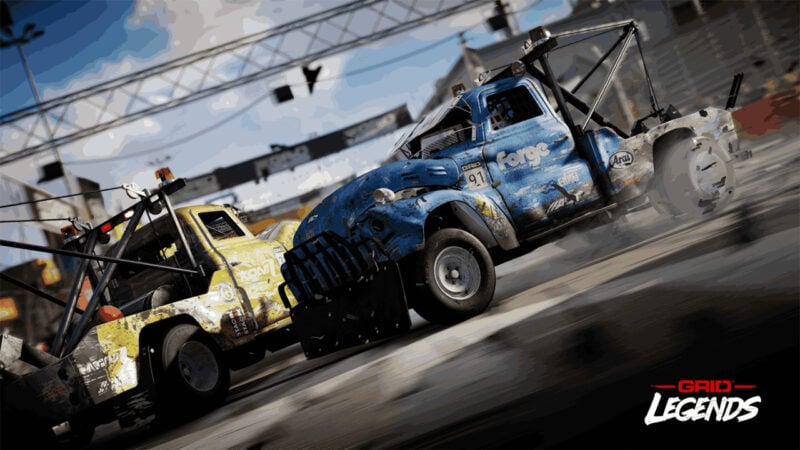 Interestingly, the track and cars all feature in Race Creator too, and that means you don't actually need the DLC to play the DLC. You can jump into online lobbies featuring the Demo Derby class cars and/or courses and effectively try before you buy.
There's eight new story events, presented by Valentin Manzi — played by new Doctor Who actor Ncuti Gatwa — along with three career mode special events featuring the Destruction Arena courses and cars. The DLC pack also adds ten new Achievements/Trophies, along with new team icons, banners, and livery patterns.
Players who already picked up the GRID Legends Deluxe Edition will have access to Classic Car-Nage as part of the edition benefits. It's also available separately for $/€9.99 (£7.99) — with a 10% discount for EA Play subscribers — on PlayStation, Xbox, and PC, or as part of the Deluxe Edition upgrade.
See more articles on GRID Legends.