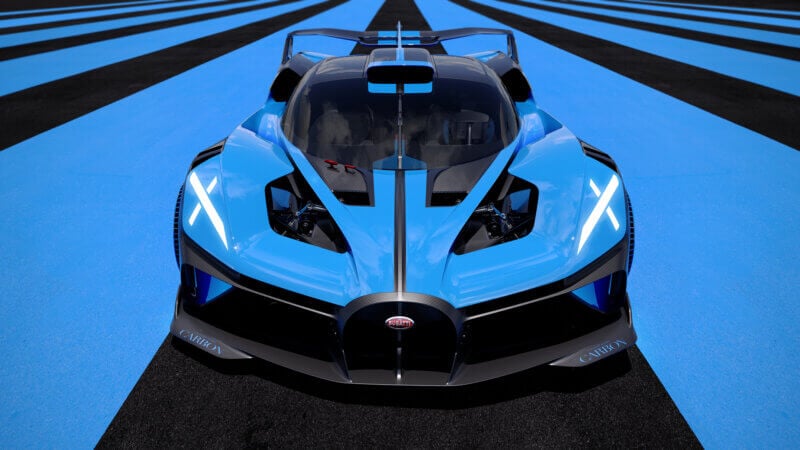 The official social media accounts for GRID Legends have confirmed that the Bugatti Bolide will be joining the game's list of cars when the fourth and final DLC pack arrives next week.
It confirms one of the details contained within a leak earlier in the month, which saw the Bolide name-checked alongside two other new cars for an as-yet unnamed set of expansion Achievements.
The social media post reveals the Bolide through a close-up shot of its rather hard-to-miss headlights and surrounding French Racing Blue paintwork unique to the Bugatti brand:
While stopping a little short of announcing a date for the pack, the post very strongly implies that it will be available during the week commencing January 23. Each of the three previous packs — Classic Car-Nage, Enduring Spirit, and Rise of Ravenwest — has arrived on a different day of the week, so it's hard to estimate a precise date.
As for the pack's contents, the Achievements list includes mention of a drift-tuned SRT Viper GTS-R and the BMW 2002tii Race Car. There's no mention of new locations, though a drift stage for Okutama Sprint — to join the one at Okutama GP — appears in the Achievements.
Along with five of the ten Achievements referencing drifting, it all rather suggests a drift-themed pack — into which the track-weapon Bolide doesn't exactly fit, but then nobody's going to complain about a 1800hp, W16-powered time attack car.
We'll have to wait a little to see what else the pack brings, along with the name and date. Pricing is likely to fit into the pattern of the previous three packs, at $/€9.99 (£7.99) — with a 10% discount for EA Play subscribers.
See more articles on GRID Legends.