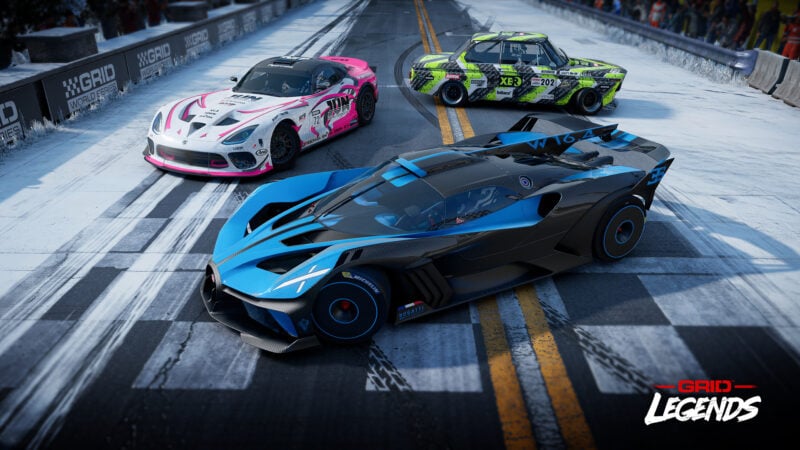 Winter Bash, the fourth and final planned expansion for GRID Legends, is now available to players on PC, PlayStation 4/5, and Xbox One/Series.
Following on from Classic Car-Nage, Enduring Spirit, and Rise of Ravenwest, Winter Bash brings along new cars, new story events, and new circuits for players to get to grips with. Or, in this case, very much not…
Sliding is the name of the game here, as the ice and snow lays on the race track and players can drive new drift routes with a new drift car.
Okutama Sprint hosts the majority of the action, with five new drift routes on the point-to-point circuit, for what EA calls "authentic touge action". 45 other circuit layouts have been updated to allow boost gates and ramps in the race creator mode too.
You'll be sliding about in a new Drift Tuned version of the SRT Viper GTS-R, as one of the three cars added to the game. The others are a similarly slippery BMW 2002 TII race car, and the Bugatti Bolide as teased last week.
Alongside that you'll see eight new story events, with Seneca's team mechanic-savant Ajeet Singh taking the lead role next to Valentin Manzi.
Winter Bash arrives alongside the 6.0 update of GRID Legends, which addresses a number of issues with the game but also adds the ability — first seen in Rise of Ravenwest — to play the game with the visual style of TOCA: Race Driver (2002) or Race Driver: GRID (2008).
Like the previous three packs, Winter Bash is included in the Deluxe Edition, or available separately for $/€9.99 (£7.99) with a 10% discount for EA Play subscribers.
See more articles on GRID Legends.