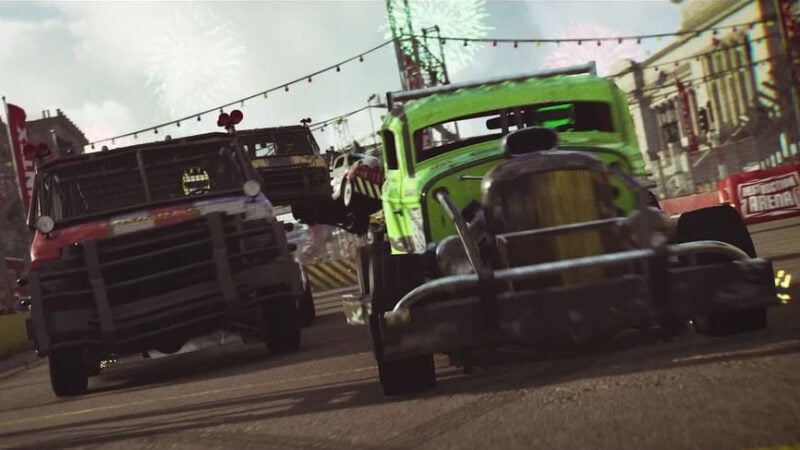 Four months after it launched in February 2022, GRID Legends is finally about to get its first DLC pack — on June 21.
As yet there's no name or specific contents for the pack, but official GRID social channels have been teasing it and revealed quite a bit about what it should entail: demolition derby.
Update: A PlayStation Store leak has confirmed the pack will be called "Valentin's Classic Car-Nage", and feature five new cars, four course, and three career mode events.
The most recent teaser appears to have let the cat out of the bag, showing a number of remedially strengthened vehicles — which look to include the Duke Coupe, DMG Titan, and Kessler Stowaway from Codemasters' 2012 release DIRT: Showdown — smashing into each other around a course bearing the name "Destruction Arena".
Along with the tagline "be prepared for Car-Nage", and an earlier teaser showing an airborne ice cream truck (which also appears in this teaser), it seems pretty clear that we're going to see Wreckfest-style, last-man-standing vehicular destruction as the theme for the new pack.
Interestingly, the "Destruction Arena" branding appears on what looks like several different circuits in the teaser, with Yokohama Docks along with what we think are the London and Moscow circuits. That suggests the Destruction Arena will be a new race type in various existing locations rather than a new location itself.
While we still have to wait for confirmation of the precise pack details and price (although we know it is included in the Deluxe Edition), the teasers all firmly ink in the date as June 21 — so we won't have to wait much longer!
Update: The PlayStation Store in Japan briefly listed the pack at ¥990, equivalent to around $/€6.99.
See more articles on GRID Legends.