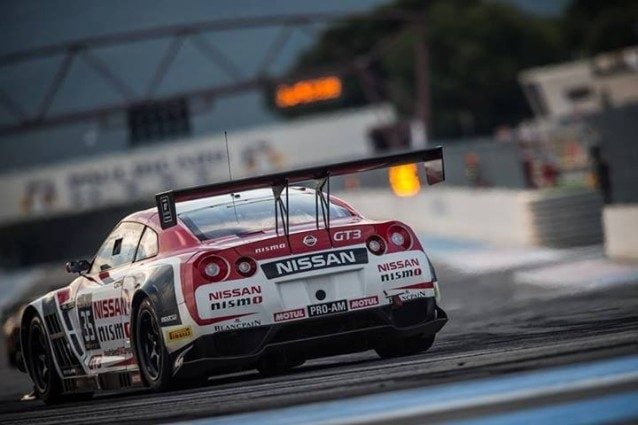 While not the busiest weekend of the summer for the Nismo Athletes, there were still seven men and four cars doing their day jobs around Europe yesterday.
At the Paul Ricard circuit in France, the 2013 winners faced another round of the Blancpain Endurance Series with a day-night challenge. Qualifying went well, with Alex Buncombe putting the #80 GT-R onto class pole – third overall – and Katsumasa Chiyo two places behind him in the #35.
However, Alex's fastest time was cancelled out as the red flag had been waved just before the end of his lap – and the #80 had to fight a long battle up from 32nd on the grid with Florian Strauss nominated to take the start. The German winner had clearly been learning from Alex, as he made up sixteen places in his stint before a costly off saw him slip back behind ten of those cars again.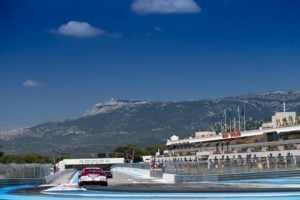 Nick McMillen and Alex Buncombe's hour each in the hot seat saw them clamber up to 22nd overall – 12th in class. A far cry from the victory last time out, but fine damage limitation considering the qualifying issues.
With no such issues, the #35 had a mighty race – fighting for the overall lead at points in Katsumasa's stewardship, but eventually finishing in 10th place overall for a 3rd place Pro-Am finish and a deserved podium celebration for Chiyo, Aksenov and Faisca.
The team sit pretty at the top of the Blancpain Pro-Am standings with 50pt, 4 clear of Scuderia Villorba Corsa, while the driver trios are 3rd and 8th respectively, ahead of next month's Spa 24 Hours.
Meanwhile in the UK, Jann Mardenborough was having a little more fun at the Goodwood Festival of Speed.
As Vision GT Concept cars were unveiled around him, Jann was busy with the race to the top of the famed Goodwood hill climb – itself updated in Gran Turismo 6 this week.
First on the menu for Jann was Michael Krumm's 'Ring lap record time attack 2014 Nissan GT-R, pedalled up the hill for the Michelin Supercar Sunday. In the face of competition from Porsche, Pagani, Koenigsegg, McLaren and Noble, the 2011 GT Academy winner topped the timesheets with a stunning 49.27s run, destroying the standing supercar record, while fellow Nismo Athlete Chris Hoy merely destroyed a few hay bales as he put his GT-R off the top of Molecomb corner.
The main event followed, with the Nismo GT-R GT3 taking part in the open challenge. The rear-wheel drive race car was only around a second faster than the road car, but it proved good enough for Jann to take 4th overall – a couple of seconds adrift of Sebastien Loeb's ludicrous Peugeot 208 T16 Pikes Peak car.
See more articles on Blancpain Endurance Series, Florian Strauss, Goodwood Festival of Speed, GT Academy India, Jann Mardenborough, Miguel Faisca, and Nick McMillen.