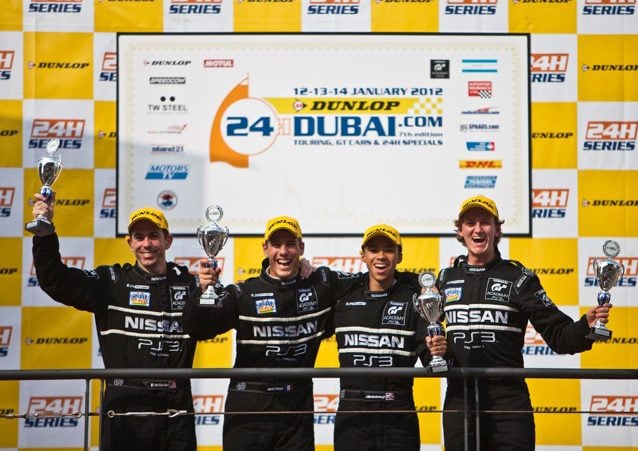 After 24 hours contending with the heat, dark and fireworks of Dubai, the all-GT Academy team of Lucas Ordoñez, Jordan Tresson, Bryan Heitkotter and Jann Mardenborough managed to bring their RJN Motorsport Nissan 370Z home in a creditable 3rd place in class and 26th overall:
The Nissan PlayStation® GT Academy all-gamer team took a podium finish at the Dunlop 24 Hours of Dubai this afternoon, marking the end of the 'Road to Dubai' for the two 2011 winners, Jann Mardenborough and Bryan Heitkotter. They couldn't have had more appropriate team-mates as they were joined by the 2008 and 2010 GT Academy winners, Lucas Ordoñez and Jordan Tresson in a 370Z race car.

It was Gran Turismo®5 expert turned real racing driver Jann Mardenborough who took the chequered flag after 24 hours of competitive racing where all four gamers showed their skills behind the wheel and brought home a race car without a trace of damage; an amazing feat after an endurance race.

"That was without doubt the weekend of my life," said Mardenborough. "The only thing that compares to it is winning GT Academy last June. It feels like pure joy. This is just the first step for me and now I hope that my performance in Dubai can take me further."

"I'm so pleased that we got a good result in our first international 24 hour race," added Bryan Heitkotter. "We've worked hard during the last six months to get to this point and I would say to anyone who wants this as much as I did that you can reach your goals if you focus on them and work hard."

The first winner of GT Academy, Lucas Ordoñez, started his international racing career in Dubai three years ago and so far his journey has taken him all the way to a class podium in the Le Mans 24 Hours.

"This is a great moment," said Ordoñez. "We have really proved that GT Academy works as to get four gamers to a podium finish at this race is amazing. I am very impressed with my new team mates who have only been racing for six months. They came here and were fast, consistent and didn't make any mistakes."

"It was pretty tough in the car and 24 hours is a long time to have to hold it all together," said second GT Academy winner, Jordan Tresson. "If any of us had made just one slip at any point during the race it could have been game over for us. I want to say well done to Jann and Bryan who were still bedroom gamers just one year ago."

The boss of the RJN GT Academy team, Bob Neville, was delighted to see the graduates that he has trained achieving an incredible result today.

"This is the first time that all four of my graduates have raced together so it is a special moment for me," he said. " I couldn't have asked for two better guys when Jann and Bryan won the European and USA competitions last summer. Like Lucas and Jordan before them they came into this with their eyes and ears open and absorbed everything we taught them. It's particularly nice that we should do this in Dubai as it was here three years ago that an idea formed by Darren Cox of Nissan and Mark Bowles of Sony Computer Entertainment really came to life. This race was the toughest test and they all passed with flying colours. I'm proud of them all and proud to be part of GT Academy."
The team qualified the #100 car 4th in class,
behind the GT3 Racing Dodge Viper, the Guttroff Corvette C6 and the Las Moras Renault Megane and endured a troublesome first quarter of the race as all four drivers struggled with braking issues, until they finally had to be changed on Jann's stint to lose them 20 minutes overall. The team still managed to take the Nissan – called "The Gamer Car" by radiolemans – up to 3rd in class until, at the start of hour 7, the car developed a power issue and had to be recovered to the pits. After this fault was repaired – traced to a blocked air filter – it was a race-long battle with the recovering Guttroff Corvette, the GC GC10 V8 and the VDS Racing Adventures Mustang while the Viper and Megane lead the class ahead.
At the halfway stage, the Viper developed a severe gearbox issue which immobilised it for hours, while the Guttroff Corvette and GC10 had a recurrence of their early reliability problems. The GT Academy team drove on into the night and early morning, with Bryan and Jann even getting seat time in the second #120 RJN Motorsports car, an SP3 class 370Z GT4. With ninety minutes left, Jann took over the drive for the final stint and collected two more places to bring the car home in a formation finish with the #120 car.
GTPlanet sends our congratulations to Lucas, Jordan, Bryan, Jann and the RJN Motorsports and GT Academy teams!
See more articles on Bryan Heitkotter, GT Academy, Jann Mardenborough, Jordan Tresson, and Lucas Ordonez.