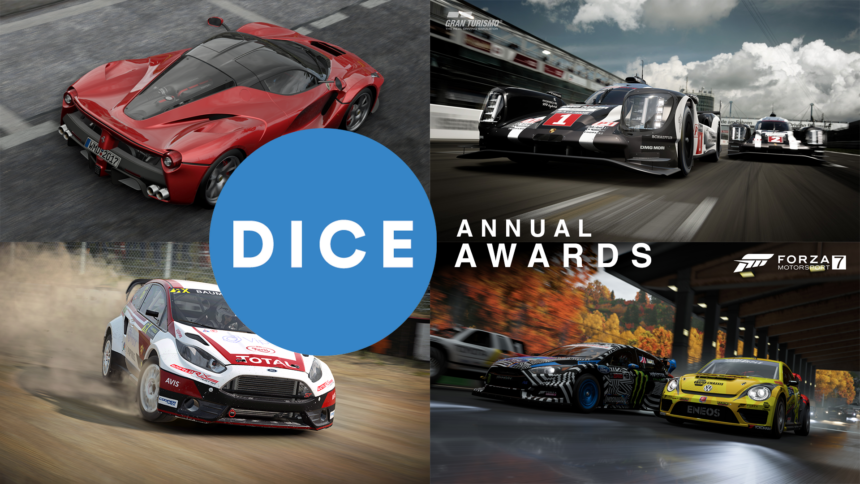 We've said it a few times already: 2017 was a fantastic year for racing games. The latest proof? No less than four sim racing games will vie for the title of Racing Game of the Year at the D.I.C.E. Awards later this year.
The D.I.C.E. Awards show (Design, Innovate, Communicate, Entertain) is an annual peer-based gaming awards show. Think of it as the Oscars of video games. Now in its 21st year, it's part of the week-long D.I.C.E. Summit in Las Vegas.
This year's Racing Game of the Year category is chock-full of talent. The nominees include:
DiRT 4
Forza Motorsport 7
Gran Turismo Sport
Mario Kart 8 Deluxe
Project CARS 2
It's hard to argue with the broad appeal of the shortlist — yes, including Mario Kart. Perhaps the most shocking thing about the list is DiRT 4's inclusion over a certain other Codemasters title: F1 2017. We certainly enjoyed DiRT 4 in our own review last summer, but the yearly Formula One title earned higher praise from our team, something reflected in the Metacritic scores for the titles.
The remaining titles are what we've referred to as the "Big Three". Slightly Mad Studios' PCARS2 was first out the gate (read our review here), with Forza Motorsport 7 (review) only a week behind it at the end of September. By mid-October, Gran Turismo Sport was also available (one more review). All three wowed us in their own ways.
Of the five nominees, two would be looking to make this their first franchise wins (DiRT 4 and Project CARS 2). The non-deluxe version of MK8 took home the prize in 2014, while Polyphony Digital's franchise — which recently celebrated its 20th birthday — has taken top honors twice: Gran Turismo in 1998 and GT3: A-Spec in 2001.
Forza has an impressive five wins to its name, tied with Need for Speed for the most in the racing category. Turn 10 will be looking to defend the title too; the Motorsport series has won each year its been eligible since 2009. To add to that, Horizon 3 picked up the gold last year.
The awards ceremony takes place February 22. IGN will live stream the entire event, which kicks off at 2000 PST.
More Posts On...