As the online portion of the 2023 Gran Turismo World Series Nations Cup draws to a close in the coming days, Polyphony Digital has announced the schedule for the Manufacturers Cup which begins next week.
The championship retains the format we've become familiar with over the last couple of seasons. Players will sign up for a brand, receiving a Gr.4 and a Gr.3 car from that manufacturer to use in the seven-race series — although you can drive other cars from the brand if there are multiple options.
Each round has several slots running on each race day, with three entries available for elite players and ten for those with lower Driver Ratings. However many you choose to enter, only your last entry each round counts towards your score — even if you disconnect and score zero.
The full calendar for the online portion of the championship is as follows:
2023 Gran Turismo World Series Manufacturers Cup
Round 1 – 7 June – Circuit de Barcelona-Catalunya National/Gr.4 – 23 laps
Round 2 – 10 June – Road Atlanta/Gr.4 – 20 laps
Round 3 – 14 June – Nurburgring Endurance/Gr.3 – 7 laps
Round 4 – 17 June – Sardegna Road Track – B/Gr.3 – 25 laps
Round 5 – 21 June – Circuit de Spa-Francorchamps 24h/Gr.4 – 16 laps
Round 6 – 28 June – Watkins Glen Long Course/Gr.3 – 20 laps
Round 7 – 7 July – Autodromo de Interlagos/Gr.3 – 30 laps
At the conclusion of the series, the top 12 manufacturers — including the series sponsors Genesis, Mazda, and Toyota — will qualify for the two live finals: the World Series Showdown in Amsterdam in August, and December's World Finals at an undisclosed location.
There, each brand will be represented by its best player in each of the three regions — Americas, Asia-Oceania, and EMEA — as determined by each player's highest three scores across the seven rounds. The three-driver team will then fight it out for World Series points, with the champion team being that with the highest overall score.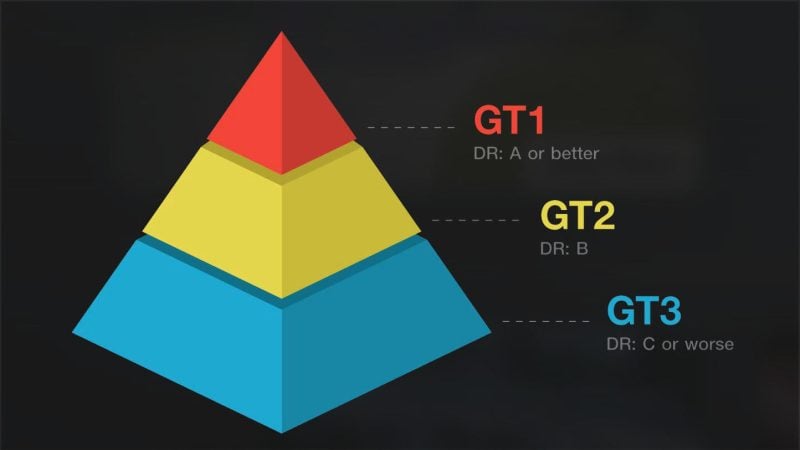 As noted above, the championships will be divided into three leagues, with players slotting into one of the three depending on their Driver Rating when they first enter the event. This is a fixed assignment, so whether you gain or lose DR you'll remain in the same league throughout.
Players in the GT1 League — those with a Driver Rating of A or higher — are the only ones eligible to reach live finals, and they'll face longer online races with fewer entry slots each round.
Those with a Driver Rating of B head into GT2 League, and players rated at C or lower will be placed in GT3 League. There are slightly different qualification regulations here, and the races will be between a third and a half shorter than in GT1 League (except Round 4 which is 25 laps in all cases), with more chances to take part.
See more articles on Gran Turismo World Series.