After I had the opportunity to be one of the first people to play Gran Turismo 7 with PSVR 2 last week, I also had the chance to speak with Gran Turismo creator Kazunori Yamauchi for a one-on-one interview to discuss the new hardware.
It always seemed inevitable that GT7 would support PSVR 2, but since it was announced that the entire game would be playable in VR, a tremendous amount of excitement has grown as the game appears to be one of the flagship launch titles for Sony's newest headset — and for good reason.
Check out my video below for hands-on impressions and gameplay video, if you haven't already.
GT7 Was Built for PSVR 2
Making the entire game compatible with PSVR 2 — via free online update — is something that Polyphony Digital had been planning all along.
"At the end of developing GT Sport, we started on GT7 and our intent was that we would make the entire game playable in PSVR 2," said Yamauchi-san. "GT7 natively supports 4K/60, but when you set targets like that you naturally also end up supporting things like VR as well."
Polyphony's experience developing high-fidelity games has apparently made the transition to VR support fairly simple. "This is just what I would assume, but I think a lot of titles would probably have a pretty hard time adjusting themselves to PSVR 2 but for us it was very easy," Yamauchi revealed.
Visual Effects and Foveated Rendering
During my demo, one of the most notable things was just how overwhelmingly smooth the whole experience was. GT7 runs at a reprojected 120 frames-per-second on the PSVR 2. Surely, some visual effects had to be turned down, but it was not immediately clear to me what was missing. When I asked Yamauchi-san about it, he was rather coy.
"In that respect, there hasn't been anything done to cut anything down in any major way," he said. "We obviously have a huge focus on frame rate and resolution when we make Gran Turismo, and I think it was just a matter of really good timing because the power of the PS5 and the specs of the PSVR 2 really worked well together."
One method for GT7 to increase performance is through a process called "foveated rendering", made possible by the eye-tracking technology inside the PSVR 2 headset. It was, apparently, a rather straightforward thing for Polyphony Digital to implement.
"[Foveated rendering] is something that we've done really by the book. You have the resolution of the rendering at the center of your eyesight very high, as opposed to the peripheral area around the focus of vision which is rendered at a slightly lower resolution," Yamauchi-san explained.
"That's not anything special for GT7. It's kind of a textbook application of that feature. Of course we didn't actually think it would come out this natural. We thought, the technique really works, we thought maybe that if you really kind of focused, you might be able to notice the lesser resolution around the outside, but you really can't. That's something we discovered while working on developing all of this."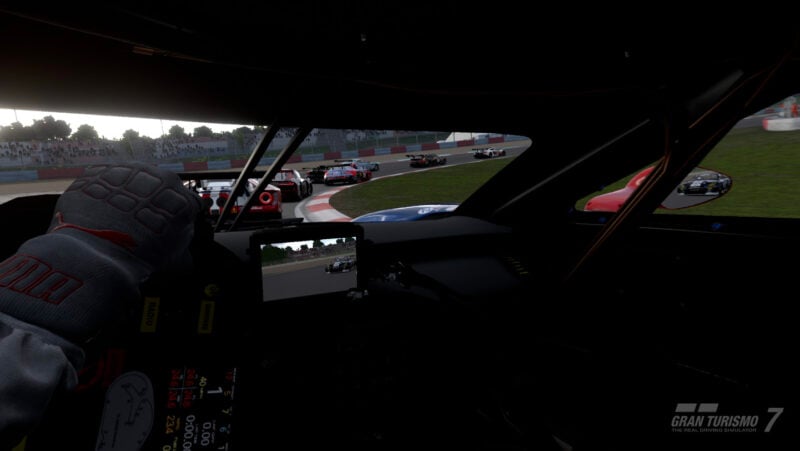 Driving Experience
Playing a racing game in virtual reality is a lot more immersive, but does it make you faster?
It's a frequent topic of discussion and debate in the larger sim-racing community, and I was curious to hear what Yamauchi-san, who has plenty of real-world racing experience himself, had to say about it.
"I do think [it can make drivers better]," Yamauchi-san replied. "For example, finding the braking points is much easier in VR. It matches your senses – you know that if you're going *this* fast you have to brake around *here*, at least, in order to be able to slow the car down in time. VR really allows you to sense that very well.
"When you're driving you're always thinking I want to brake over there, and turn in, and in VR you can do that process very naturally. It does make it easier for you to drive."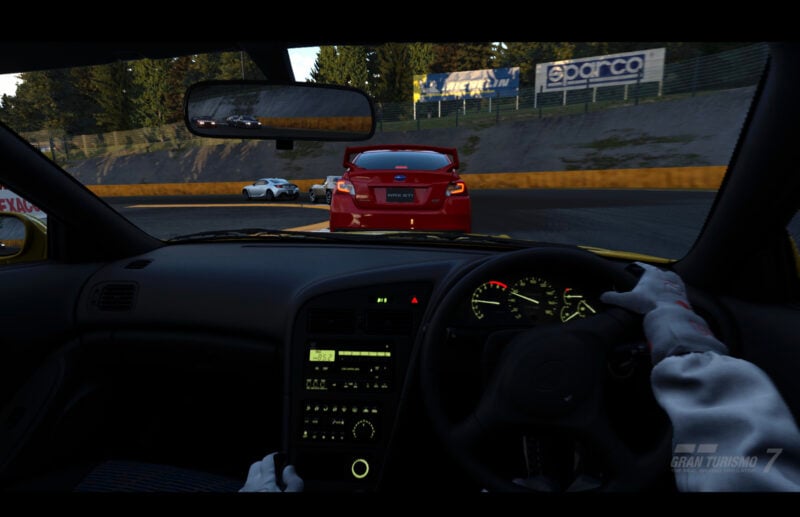 VR as a Training Tool
Although the ability to "look around" your environment is the most obvious benefit of VR, the fact that it puts you into a three-dimensional space is just as important to the immersion. It gives you a sense of place, which can be especially helpful if you are trying to learn a track in real life.
"I do think so," said Yamauchi when asked if GT7 is a better training tool with PSVR 2.
"You can also really understand the ups and downs, the undulations on the track. When you're driving on tracks like the Nurburgring, the hills that really look like walls to you when you're driving, it does look like that when you're driving VR. The drop-off at the Corkscrew at Laguna really feels like as if you're going over a cliff."
Stay tuned. We'll have more to share from our chat with Kazunori Yamauchi in the coming days.
See more articles on Kazunori Yamauchi and PlayStation VR.