Gran Turismo 7's new 1.34 update is now available, bringing some new cars and a surprise new feature which expands the game's tuning options.
The update comes in at 1.52GB on PlayStation 5 and 1.16GB on PlayStation 4, and while we already knew a lot of what to expect there's some details that have been under wraps until now.
With the update and the patch notes now available there's plenty to get through.
Gran Turismo 7 Update 1.34: New Cars
Of course the three new cars were among the information we already knew, but now that the update is available we can see how much they'll cost and — importantly — how to acquire them:
Alfa Romeo Giulia Sprint Veloce GT '67 – 180,000cr – Legends Cars
Greening Auto Company Maverick – 300,000cr – Brand Central
Nissan Skyline (R32) GT-R NISMO '90 – 400,000cr – Legends Cars
The most modern car of the bunch is technically the Maverick, which was built for the 2018 SEMA Show using the shell of the 1971 compact. It combines a Roadster Shop chassis with a twin-turbo, 351 Windsor V8, so it should be a riot to drive.
We already had an R32-generation Nissan Skyline in the game, but the NISMO model is a particularly special example of the breed. Nissan built the car specifically to homologate the platform for Group A racing, with enhanced aerodynamics and suspension and use of aluminum to keep the weight down.
Finally there's the sporty little Alfa Romeo Giulia Sprint, appearing as the Veloce GT version rather than the GTA of older Gran Turismo games. That means a heavier steel body instead of aluminum, though it still comes in well under a ton and with a fizzy 1.6-liter twin-cam engine.
It's worth noting that, at time of writing, the two cars that ought to be in Legends Cars are in fact currently available in Used Cars
Gran Turismo 7 Update 1.34 – Engine Swaps & Special Parts
The big new feature in 1.34 is the change to how players can acquire and apply new engines and special parts for their cars.
Until now they've been essentially locked behind random chance, appearing as rewards for certain Roulette Tickets and with no control over what item you get or for what car.
As of 1.34 you can simply buy the parts you want or need, opening up the full breadth of GT7's car tuning potential to all players — so long as they've reached Collector Level 50.
Engines will be available for any compatible car directly through GT Auto at a cost of 100,000cr in addition to the value of the new engine, and have a simply breathtaking new animation. Special Parts can be bought for your vehicle from within a new "Ultimate" section of the Tuning Shop.
New restrictions for engine swaps and special tuning parts have also been added to multiplayer lobby settings, and although it's not explicitly mentioned in the patch notes this could easily apply to Sport Mode too.
Gran Turismo 7 Update 1.34 – New Events & Extra Menus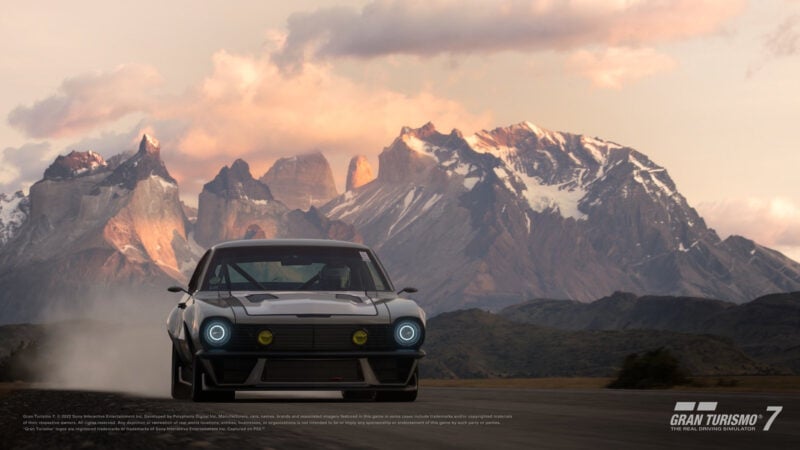 Two new Extra Menu Books are available, rewarding players for collecting vehicles that share a common attribute — and both feature cars newly added in this update.
For Extra Menu Book 22 you'll be collecting SEMA Gran Turismo Award winners — the new Maverick, the GReddy FuguZ, and the Eckert's Mach Forty — while Extra Menu Book 23 focuses on Group A homologation specials, starring the BMW M3 Evolution, Ford RS500, and the new Nissan Skyline R32 Nismo. Both give a five-star Roulette Ticket
Extra Menu Book 22 – SEMA Gran Turismo Award – Five-Star Roulette Ticket
Extra Menu Book 23 – Group A – Five-Star Roulette Ticket
There's also five new races available in World Circuits, covering the spread from the entry-level Sunday Cup Classic and up to Super Formula:
Autodromo Nazionale di Monza (2 laps) – Sunday Cup Classic – 30,000cr
Autopolis, Full Course (15 laps) – Super Formula – 200,000cr
Blue Moon Bay, Infield A Reverse (5 laps) – Nissan GT-R Cup – 70,000cr
High Speed Ring, Reverse (5 laps) – American Clubman Cup 700 – 65,000cr
Michelin Raceway Road Atlanta (15 laps) – Super Formula – 160,000cr
Gran Turismo 7 Update 1.34 – New Scapes and Other Changes
There's a total of 31 new Scapes locations in this update, which for the second update in a row cover locations in Japan and the north of England.
Tokyo's new National Stadium, which hosted the delayed 2020 Summer Olympic Games is the subject of one set, while the other is based around the picturesque Lake District National Park in Cumbria.
Other changes include a new calculation in the Used Car Valuation Service to account for the new tuning options and engine swaps. There's also a UI change which will flag any vehicle that players already own in a specific color, across all three dealerships.
There may be other changes not listed in the patch notes which the community will discover in due course. Check out our Undocumented Changes thread which will evolve as players dig them out.
See more articles on Gran Turismo 7 Game Update.