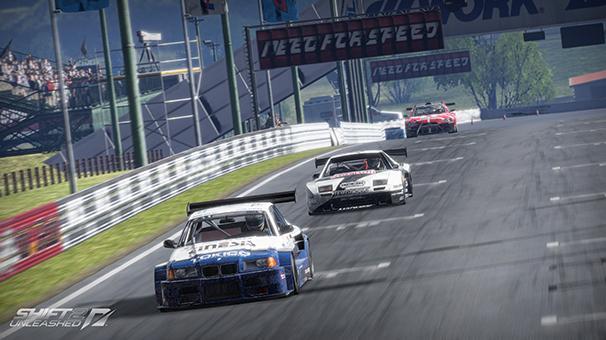 As I announced a few weeks ago, Electronic Arts invited GTPlanet to a "community day" event for their latest driving game, Shift 2: Unleashed. I took them up on the offer, and I'm eager to share my impressions of the game. There's a lot of eyes on Shift 2 after the series' first title, billed as a realistic simulator, was highly criticized by "sim racers" for its too-friendly physics. According to EA's marketing, these issues have been addressed, going so far as to call it "the most realistic racer ever".
Where I'm Coming From
First, some perspective. I consider the most important thing about any driving game to be its physics model and how it communicates what the car is doing via force-feedback in the steering wheel. I spent my time with Shift 2 on a PC with a Logitech Driving Force GT, and my following impressions have all been derived from that experience. I played the game exclusively in "Elite" physics mode, all driving aids off (with the exception of ABS). Gameplay will be significantly different with a controller, so please take that into consideration before reading further.
What Shift 2 Is Really All About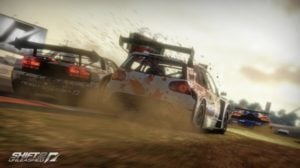 Since the game was first announced, EA has claimed it wants Shift 2 to provide an "authentic driving experience". This is best summed up in a quote by EA's Colin Blackwood during an interview with MCV:
"With Shift 2 Unleashed, we aim to redefine sim racing so that fans get as close to the feeling of real racing as possible. […] The game will still embody the core values of Need for Speed but we want to establish Shift as our clearly defined simulation racer."
This sort of language is a source of confusion among sim-racing fans, because we all have such a wide range of expectations for what a "racing simulator" is. Many, for example, consider games such as Forza or Gran Turismo to be on the far end of the "simulation" scale. Others, who have played PC simulators such as rFactor, iRacing, and netKar PRO, expect a "simulator" to provide tire pressure settings, laser-scanned tracks, and extremely challenging physics that demand your full attention.
Shift 2's lead developer Andy Tudor touched on this while talking with us at this media event. On the scale of "racing games", he placed Shift 2 somewhere between the more arcade Need for Speed titles and games such as Forza and GT. After spending a significant amount of time with the game, I think that's a spot-on description. This game doesn't match their driving physics, but it's not really supposed to. Shift 2's "realism" instead focuses on the gritty, violent, rough experience that is driving a race car around a race track, and it does an amazing job of it.
Who This Game is For
I can already see the comments from smug "hard-core sim racers" on blogs and forums around the web: "So this game is just the same **** as before? **** that **** ******* *******". If you're expecting the game to "feel" like GT5 or your favorite PC sim of choice then, yes, you will be disappointed. If you're looking for a fun, immersive racing game you can pick up and start playing, you're in for a treat.
Dismissing this game for its physics is akin to throwing the baby out with the bath water – it introduces some very cool new features to the genre that other developers would be wise to take note of.
So Much to Love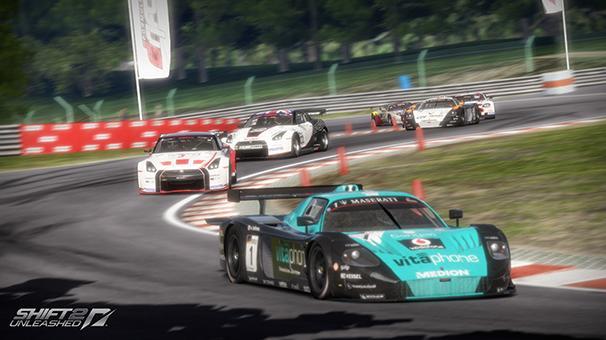 You've got to hand it to Slightly Mad Studios' for their selection of cars in Shift 2. Have a look over the complete list and you'll find Caterham, Porsche, Alpina, Radical, classic M3's, the new Pagani Huayra, and nearly every other contemporary sports car you'd expect (with the exception of Ferrari). All of them feature fully-modeled interiors and all can be upgraded to race-spec "Works" editions. The damage is extremely impressive, featuring cracked glass, crumpled, detachable body panels, and wheels torn off in violent shunts. The graphics – on the PC version at least – are among the best I've ever seen.
The track list is also well rounded, featuring classics such as the Nurburgring (the GP course and the Nordschleife), Laguna Seca, Suzuka, and Monza, and other popular real-world circuits such as Mount Panorama (Bathurst), Road America, Silverstone, Brands Hatch, Spa Francorchamps, Circuit de Catalunya, and many more.
The menus are fast and easy to navigate, and there's a wide range of tuning options. Players coming from GT5 will particularly appreciate the ability to save multiple setups for each car, for each track. The game's new "Autolog" functionality is also a slick implementation of the game's social features, which allow you to directly compare your own progress and hot laps against friends. Better yet, EA is about to bring Autolog to your mobile phone via an iOS application that will alert you if a friend bests your lap time on a given track.
AI in Shift 2 is extremely impressive – they're aggressive, but clean. The other driver's performance is "dynamic", and will adapt to your performance. If you're struggling, your competition will also make more mistakes to keep the competition close, but they'll pick up the pace as your skill improves.
The Driving Physics
There's been a lot of discussion of the new "Elite" physics mode introduced in Shift 2. Unfortunately, I didn't find it particularly challenging with a steering wheel. With a Logitech Driving Force GT, cars often felt "floaty", as if it was difficult to keep the car pointed straight. I found this to be less of an issue with older, heavier cars, which provided a more rewarding driving experience.
Regardless, it was difficult to "feel" where the tires were at in terms of lateral grip. There was little communication through the wheel's force feedback in corners, and the surprisingly unpleasant tire squeal sound was either "on" or "off" – as if it was activated only after the tires had exceeded their limit. These are two of the most important indicators of how hard you're pushing a car in a video game, and they're sorely missed in Shift 2.
I also found there to be a general lack of oversteer in the physics model, most noticeable in powerful, rear-wheel drive cars. I took a Shelby Cobra 427 to Road America with stock tires, for example, and found it difficult to create any power-induced oversteer. I experienced this same unnatural level of grip while testing the Corvette C6R and many other cars.
It's Fun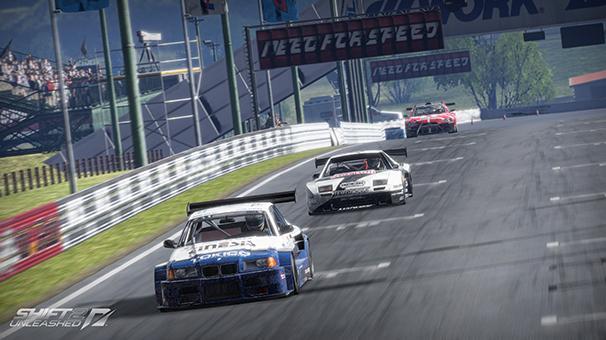 Despite a physics engine which will leave sim-racers wanting more (ok, a lot more), this is a fun, exciting, and intense driving game. Without doubt, the Shift series is definitely headed in the right direction. I had an absolute blast racing with other members of the press during the many LAN races held in the EA offices, and that's what really matters.
Head on over to our Shift forum for more discussion!
More Posts On...
The original comments for this post are no longer available.