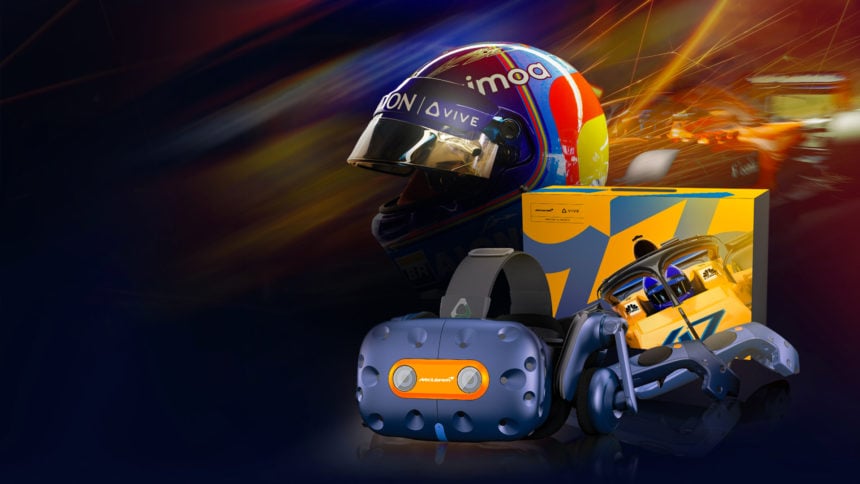 Automotive branded electronics are nothing new. From the Ferrari Thrustmaster headset to the Porsche Xbox One controller, there are options galore. Now for those looking to get a branded VR headset, HTC has introduced the Vive Pro McLaren Limited Edition.
Spec-wise the Vive Pro and the McLaren Limited Edition are the same. Both offer Dual AMOLED 3.5″ screens with 1440 x 1600 resolution per eye and a field of view of 110 degrees.
The controllers are also similar too. Both use the SteamVR Tracking 2.0 along with improved triggers, buttons, and sensors.
So what sets the McLaren Limited Edition apart? For the most part, it's a few minor cosmetic differences.
The standard Pro comes in Vive Bleu. The McLaren headset improves on this slightly by offering McLaren Orange accents along with the company's badging. Put them side-by-side though and they look pretty much the same.
The box the McLaren Limited Edition comes in is also a bit different. Instead of the run-of-the-mill HTC box, it instead gets unique McLaren artwork.
Besides the cosmetic difference, the LE also comes with two games as well. The first is the McLaren Garage VR Experience which allows you to take a look around the team's F1 car. You can also take on the role as a tire gunner during an F1 pit stop.
The other game is the McLaren Edition of rFactor 2, which pairs up nicely with the McLaren Shadow competition.
Even though the differences are rather small, the price isn't. The Vive Pro currently retails for $1,200. The McLaren Edition bumps the price up considerably though to a whopping $1,550.
An increase of $350 seems rather high considering what you get. A splash of color, a fancy box, and two games. It's all a bit disappointing.
You do get a six-month subscription to VivePort (its app store), which is a $39.99 value.
Still, if you're in the market for a VR headset and are a huge McLaren fan it might be worth it.
More Posts On...