The second qualifying event for the 2021 International GT League World Series, the Americas Classic, will get underway later today and you can catch it live right here on GTPlanet.
2021's World Series follows on from the successful 2020 event. IGTL itself is a collective of GT Sport's best drivers, and it has organized this championship for players who have reached the top A+ ranking in the game. As we saw in 2020, that made for high quality, high speed racing, and the first event of 2021 last week showed that this year will carry on where it left off.
Today's race is the second of six Selection Events which will determine which 12 drivers will advance to the World Series itself later this year. Each Selection Event has its own theme, which takes in a wide range of different car classes to give players the chance to qualify, and takes the form of a 12-car race after a hotlap qualifying session.
Last week we saw Quinten Jehoul and Nicolas Romero from the Euromaster Esports team qualify through the GT Nostalgia race, coming out first and third respectively in the 30-lap main event. Will Murdoch split the two Euromaster cars, but as he's under 18 he isn't eligible for the main GT3 championship. Instead he'll race in the GT4 undercard this year.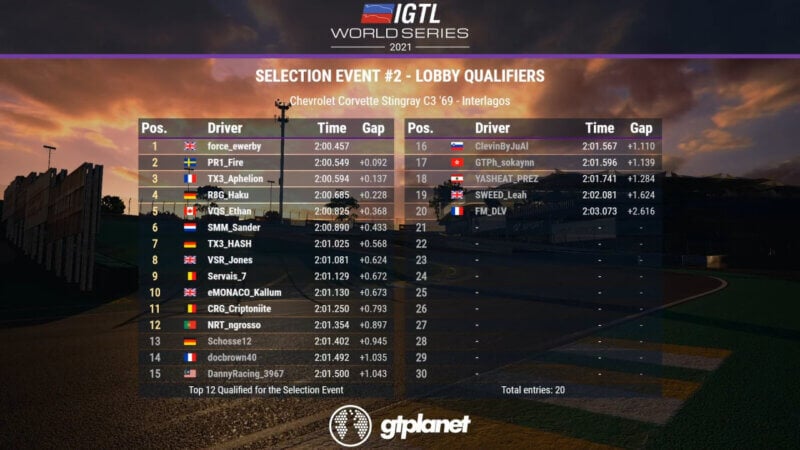 This week's event will thrust drivers even further back in time, and challenge them in a different way. The Americas Classic race puts the qualified players into a 1969 Chevrolet Corvette, wearing Comfort Medium tires — an unusual choice of rubber for any esports event! It'll be a 20-lap race at the Interlagos circuit, with the top 12 qualifiers from yesterday's hot lap sessions (as above) taking part in the race.
Unlike regular online GT Sport events, fuel and tire use multipliers are low, at x1 and x2 respectively, and there's an unusual 20-liter initial fuel tank cap. By our calculations, that will mean everyone will have make a stop before half way unless they do a little bit of fuel saving.
All eyes this week will likely be on Edward Williams. The GT Sport World Tour driver won the playoff race last week, but couldn't battle through the pack from 12th in the feature race. This week he's qualified on pole, although lightning fast Swedish driver Christian Malkii is right beside him.
The race broadcast starts at 19:00 UTC today, and you can catch all the action below:
If you fancy trying your hand at the IGTL World Series, there's another hotlap qualifying session in two weeks, on May 13, with the third Selection Event race on May 14. All you need to take part is a Driver Rating above 50,000 (A+) and a Sportsmanship Rating of 80 or more (S).
See more articles on IGTL and Live Stream.
Related Posts