Forza fans will get their hands on the latest installment in Microsoft's billion-dollar franchise at the end of this week. With the game's release so close at hand, we're revisiting its predecessor.
In a way, FM6 was a surprise. We knew it was coming — Turn 10 has been on a two-year release cycle practically from the beginning — but its initial announcement came much earlier. Way back at the Detroit Auto Show, in the opening weeks of 2015, Ford announced the new GT supercar. Right there alongside it was Dan Greenawalt, confirming the bold new halo model would be the FM6 cover star.
When it launched later that autumn, Forza 6 came with over 460 cars and two dozen tracks, boasting well over 100 variations. After the introduction of dynamic weather in Horizon 2, Turn 10 added rain to the Motorsport franchise. The main difference, one it shared with the night time racing also included, was that it was static.
By the end of its life, FM6 played host to over 600 cars, including Porsche and NASCAR. Turn 10 added two new tracks, and made useful multiplayer improvements for the Forza Racing Championship. This final FM6 form is the one we've sat down with here.
What It Did Right
First and foremost, FM6 erased the bad taste FM5 had left in our mouths. Had that game launched with no prior franchise history, it would've been fine enough. But compared to the sprawling variety of last generation's FM4, the fifth game felt tiny. In reality, it was huge for a launch title racing game in 2013 — its car count (200) was still higher than Gran Turismo Sport (150+) or Project CARS 2 (180+).
The FM6 car list more than doubled the figure from two years prior. It also increased the diversity: in came powerful Group 5 cars, and a whole host of '60s F1 racers. Pre-war streamliners rubbed shoulders with GT3 cars. Modern day hypercars could take on Australia's V8 Supercars. One DLC pack even brought the Pontiac freakin' Aztek to the game. The FM6 car list is a celebration of car culture that will only be topped this generation by its successor.
Forza 5 had also suffered from a dearth of racing circuits. The new game improved on this, bringing back multiple circuits from the franchise's past. Not only that, it introduced Lime Rock Park, Watkins Glen, and Circuit of the Americas to the mix. While the addition of weather was a little heavy-handed at times — you could sail a boat across the pond at Brands Hatch's Paddock Hill — it helped shake things up.
The controls were tidied up after the previous game's seemingly constant lack of grip. Forza's always been a controller-friendly franchise (that's what the majority uses), and the XB1 pad's rumbly triggers contributed to the balance between approachable and fairly realistic physics.
"Stories of Motorsport" was your usual career mode approach, but what really bumped FM6 up in terms of single player content were the Showcases. Here you had the return of endurance races, as well as passing challenges and autocross. High-Speed Chases were a particular favorite, thanks to the game's large lineup of cars. A one-lap sprint around Monza in an Aventador, with staggered starts from every notable V12 car in the company's history? Yes please.
Finally, as a sign of things to come, Turn 10 introduced multiplayer Leagues. With a ranking system and a long-format scoring approach, it provided players with a response to one of the worst aspects of the game…
What It Did Wrong
Online racing is a struggle in FM6. Turn one carnage is so common it's become an in-joke within the community. Leagues helped a bit, as you could graduate to higher, cleaner classes. But that didn't save the public lobbies. What's worse, there was no real punishment for griefers. Turn 10 made the vote-to-kick requirements even tougher in this game, so they've got more time to wreck you.
While we praised FM6's pad handling up above, wheel implementation is not its strong point. The rim always felt unnaturally heavy for the first few degrees, until you suddenly broke through the wall. Then, it got gloopy. Force feedback felt canned. You could fight the wheel and perhaps derive some enjoyment from successfully navigating the Green Hell — but it didn't feel like driving an actual car. What makes this even more frustrating is that Horizon 3 is an all-around better wheel experience!
That massive car list came with its own drawbacks. Today's modern LMP cars were massively simplified in terms of their alternative power systems. In addition, many of the cars in FM6 shared similar (read: minimal) levels of customization.
For those used to Forza and Gran Turismo style of games, it could get pretty disappointing to see the same terrible Forza Aero wing applied to every hatchback. When Need For Speed launched a month later, it highlighted the inherent advantages of a tiny car list.
Audio was a mixed bag too. Some cars in FM6 sound stellar, like the thunderous Merc-AMG GT. Then there's the Super GT Nissan GT-R, which sounds like it's carrying an extra two cylinders under the hood. Or the copy-pasted sounds on most of Lamborghini's modern range.
And then there's the Drivatars. It's a great idea in theory: AI draws from players' performances, and allows their friends to race "against them" even if they're not online. But in practice, it had a bit of a domino effect. If you played a race against some ram-happy Drivatars, you'd end up battered — and that "aggressive driving" would transfer to your own Drivatar. Whoops.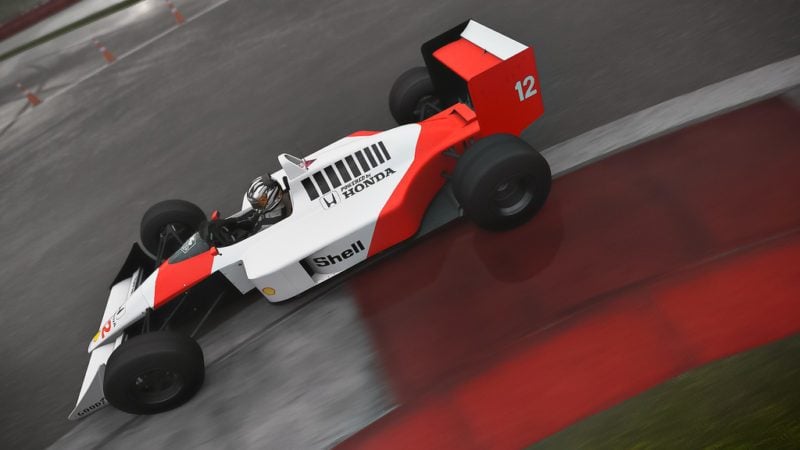 What Forza Motorsport 7 Will Do Better
The big news this year is dynamic conditions. Weather will change over the course of a race, forcing players to adapt. Surprisingly, Turn 10 has done this without sacrificing the 50% bump in grid size (to 24 cars) that it first made in FM6.
Career Mode is getting another facelift, too. With GT Sport chasing the esports world, FM7 is in a encyclopedia-style game class of one, and is embracing that. Car collecting has become a key part of the progression in the game. Luckily, it sounds like the new Homologation system means players will be able to drive a wider variety of these cars without being out-classed.
FM7 doesn't bring a lot of new tracks to the table (in fact, there's just one). But it does bring back multiple favorites from the franchise's past: Suzuka, Mugello, and Maple Valley all return, with dynamic weather. Mercifully, there will also be on-track penalties for corner cutters.
With it looking basically impossible any other franchise will match Forza's car count this generation, we hope Turn 10 looks at improving the individual car experiences. Bumping up customization is important: some players want to build their digital dream garage, and Forza has a solid foundation for that. The expanded customization of Horizon 3, like widebody kits and more aftermarket wheels, will be present. Turn 10 has promised even more additions, too.
The recent FM7 demo gave us a taste of what to expect. The handling model felt refined, if not a huge jump from what's come before. There's a much larger compatible wheel list, especially for PC players (good), but it still doesn't feel natural (less good). Word is Turn 10 is already working on improving the wheel experience, though it's unlikely changes will make FM7's October 3 release date.
With early access starting this Friday, we'll know much more about the game in only a few days. Stay tuned for more Forza 7 news on the run up to release.
Featured image courtesy of AnimaVesta.
See more articles on Retrospective Reviews and Turn 10.