Late last year, McLaren revealed its latest stunning creation. The division of opinion over its looks were as nothing compared to the reaction when McLaren announced its name: Senna.
The car is still a month away from its public debut, on March 6 in Geneva. However McLaren has today gone ahead and revealed all, along with a huge image dump.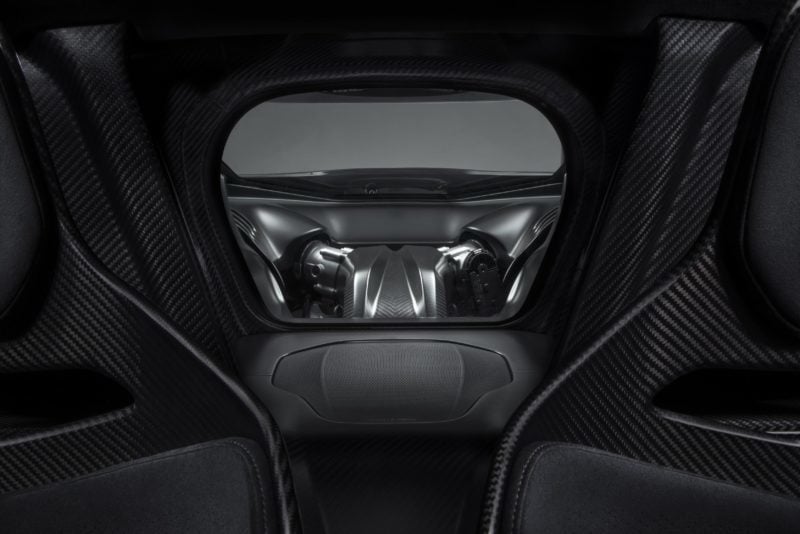 Powertrain
The Senna uses a traditional McLaren engine: a twin-turbo V8 engine. This unit, named M840TR, produces 789hp, at 7,250rpm. It's the most powerful internal combustion engine McLaren has ever made.
Unsurprisingly, it uses race-derived technology. The M840TR is a flat-plane V8 with dry sump and lightweight pistons to reduce the moving mass. Many of the components, like the low inertia, twin-scroll turbos and lightweight camshafts, are unique to the Senna.
Nearly 90% of the engine's torque is available from 3,000rpm, with the full 590lbft coming in from 5,500-6,700rpm.
The engine drives a dual-clutch, seven-speed gearbox, sending power to the rear wheels only. It's fully automatic by default, but the driver can also use carbon fiber shift paddles.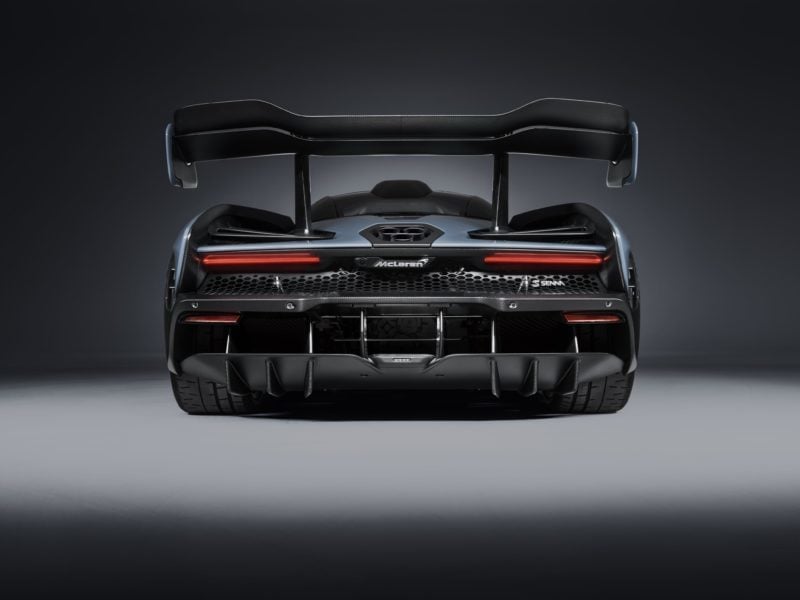 Aerodynamics
Part of the reason the Senna is a bit of a trial to look at is that McLaren has designed every bit of it to control the air. McLaren says you can't follow any design line from front to rear without it disappearing into an intake or vent.
When the air meets the front of the car, it's immediately channeled by various body components. The splitter, active aero vanes and fixed winglets all redirect air to press the Senna into the ground. There's also slots in the headlight cowls for managing turbulent air.
The rear wing is a little more obvious. This carbon fiber, double-element blade constantly adjusts to maintain the aero balance. You'll also spot the huge rear diffuser, a single piece of carbon fiber that helps accelerate the air and create a low pressure zone.
Even the exhausts form part of the car's aerodynamics. Their position and design, like the louvers in the car's rear deck, spit out the car's waste hot air in such a way that it doesn't disturb the airflow over the rear wing or diffuser.
Body
The Senna is the lightest road car McLaren has built since the F1. It tips the scales at 2,641lb dry.
This is largely down to extensive use of carbon fiber. Like all McLarens, the Senna uses a carbon fiber monocoque, but the Monocage III is unique to this car. McLaren says it's the strongest carbon fiber tub it's ever made for a road car, and the lightest structure possible — despite including a double-walled rear section that acts as a roll cage.
It's not just underneath though. Even the Senna's body panels are carbon fiber. In total, all of the exterior pieces of the car's body weigh just 130lb. We're surprised McLaren even paints it, but as standard there's five colors: Stealth Cosmos black; Trophy Kyanos blue; Trophy Mira orange; Vision Pure white; and Vision Victory gray. Of course you may select from any shade in McLaren's catalog, and if you have enough money, MSO will paint it any color you want.
McLaren doesn't bother with much interior trim. There's extensive use of suede and some leather if you like, but much of the car is stripped back to reveal the carbon fiber shell.
There are some creature comforts though. An eight-inch touchscreen, angled toward the driver, controls audio, media and navigation. You can also fit parking sensors, a rear-view camera and a lightweight, seven-speaker audio system, if you fancy a bit of civility. The latter item weighs just 16lb.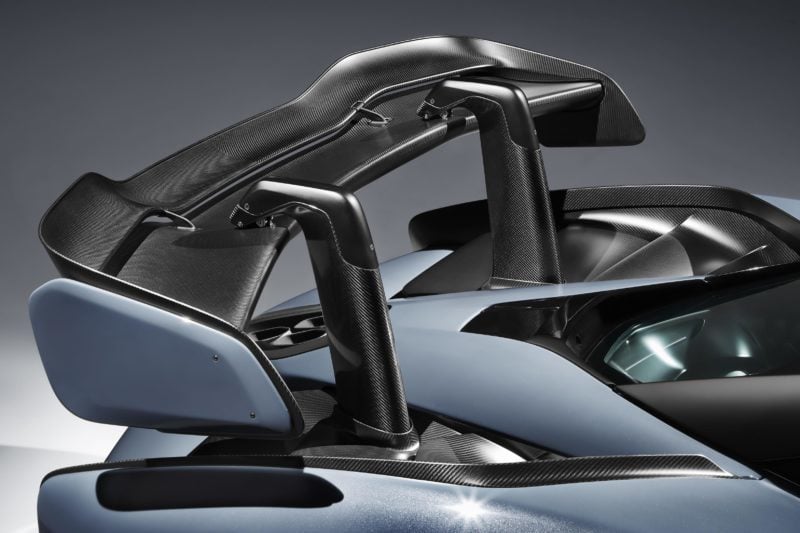 Exhaust
McLaren fits a unique titanium/Inconel exhaust system. It's available as either a twin-exit or the triple as seen above.
Along with its positioning to enhance the aerodynamics, the exhaust has a novel sound. At full throttle it increases by 10dB for every 2,000rpm, increasing sound intensity by an order of magnitude and sounding roughly twice as loud to passers-by.
We can't imagine that's going to amuse many busybodies, or circuit owners…
Suspension, Brakes and Tires
The Senna uses an advanced version of McLaren's adjustable suspension technology. The RaceActive Chassis Control II system features active dampers, connecting all four wheels. This system continually monitors conditions and will adjust, in 2ms, to deliver the correct damping response.
It's a similar system to that found in the 720S, but adds a Race Mode, which lowers the car and stiffens the suspension.
Pirelli worked with McLaren to develop tires unique to the Senna. These P Zero Trofeo R items feature an asymmetrical tread pattern and are designed for dry race tracks. They're approved for road use too, but it's one to bear in mind if you're thinking of heading down to the shops in the pouring rain.
Each of the Senna's carbon ceramic brake discs takes seven months to create. The discs feature machined, rather than molded, cooling vanes. They're wrapped in six-piston, ventilated monobloc calipers.
Performance
So what does that all add up to? Well, the Senna can hit 60mph in 2.7 seconds from rest. 120mph comes up in just 6.5 seconds, while the quarter-mile is done in 9.9 seconds. Given a decent straight bit of track, it will keep on running up to 211mph.
You might notice that top speed is a little down on its 720S sibling, despite the extra power. That's largely because all of the aero work generates over 1,750lb of downforce at just 155mph. McLaren designed the Senna for the race track, so the focus is on getting it round corners. No doubt there'll be a Nürburgring lap time in the near future.
If you want one of the 500 examples, you'll need to stump up £750,000 ($1.04m), but you're already too late. Every single one of the 300-hour build slots is allocated, despite the fact that McLaren hasn't even shown the car in public yet!
More Posts On...