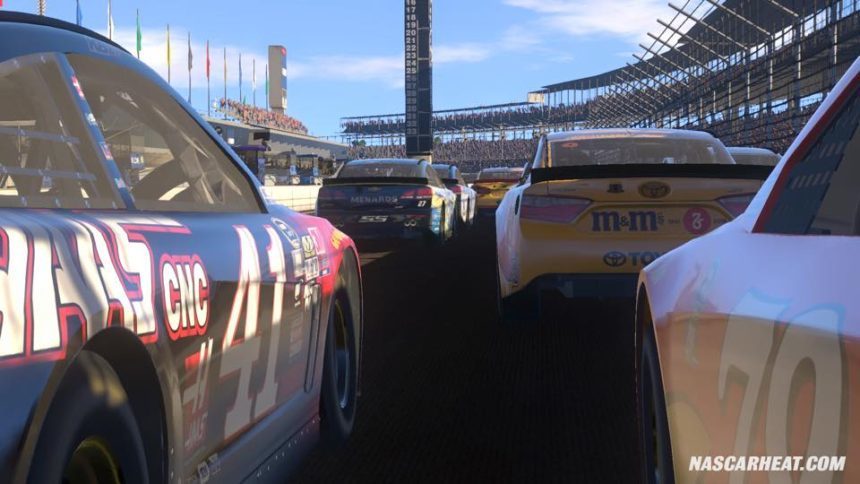 Despite showing up in numerous titles over the past few years — Gran Turismo 6, Forza Motorsport 6, Project CARS, iRacing — NASCAR has yet to enjoy a dedicated game on current consoles. That will finally change in less than two months, with NASCAR Heat Evolution set to arrive on PS4, XB1, and PC September 13. Check out the trailer above.
Monster Games — the developer behind Viper Racing, NASCAR Heat 2002, NASCAR: Dirt To Daytona — is once again working on America's most popular motorsport after a 14 year hiatus. The previous game (NASCAR '15) was largely a reskin of the 2014 edition originally developed by Eutechnyx, and suffered a cool reception from both critics and the public. With the new (old) team now behind the game, hopes are high for a return to form.
The trailer itself is a bit of a mixed bag. On the plus side, a brief glimpse of the tuning menu confirms a four-point tuning approach, a necessity in a NASCAR title. There's a noticeable fluctuation in frame-rates in the clips, however. Since NHE (as we're now going to refer to it) is still a work-in-progress title, we'll have to wait and see if that's strictly limited to the video.
The game will feature over 40 drivers from the Cup series, as well as a Create-A-Driver mode. 23 tracks from the championship will feature, including a handful of road courses. According to the game's official Instagram, time of day will also be accurately represented:
As mentioned above, NASCAR Heat Evolution lands on the PlayStation 4, Xbox One, and PC platforms on September 13.
More Posts On...
The original comments for this post are no longer available.