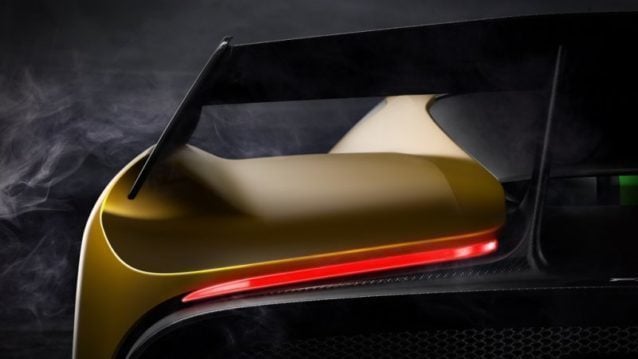 After legendary Italian coach builder Pininfarina's surprise announcement that they would be collaborating with Emerson Fittipaldi to create a new Vision GT car, we've eagerly been waiting the latest news on it's reveal. The car has been tipped for an official debut at the Geneva Motor Show in March, but in the mean time, small factoids and a new teaser image have been shared online.
Brought to our attention on the GTPlanet forums, Tassie_tiger has shared some new technical specs around the fantasy VGT and what it could offer as a product of the programme. Found on the manufacturer's website, the entire chassis and outer-frame of the vehicle will be made entirely from carbon fiber, thus giving it a 'unique advantage in speed and safety'.
As a result of the light material being utilized in this fashion, the EF7 will only weigh around 1000 kilograms. This ensures that pace on straightaways and corners will impress whilst also bearing in mind safety due to the strength of the carbon fiber body.
The actual engine — which produces over 600BHP — and gearbox will be one-off 'Fittipaldi Motors' creations which are 'seamlessly integrated' into the vehicle's design. The placement of these also provides a center of gravity which will feel unique to the car due to it's naturally low position.
Alongside the new facts posted on the website, the Pininfarina Twitter account posted a new teaser image of the fantasy racer on their feed yesterday as per a post on the forums by bdj57:
Another sneak peak of @fittipaldimotors EF7 Vision Gran Turismo by #Pininfarina. Passion, technology, safety. Unveiling March 7 @gimsswiss pic.twitter.com/j0FeNj1bj3

— Pininfarina (@PininfarinaSpA) February 13, 2017
The previous teaser image showed off the rear end and spoiler for Fittipaldi's VGT entry, but we now get a glimpse at the front which seems to indicate some radical aesthetic design. A blurry capture of the car in it's entirety was also shared.
With just 3 weeks to go until the doors of the Geneva International Motor Show open, we expect Fittipaldi and Pininfarina to continue and tease the latest entry in the 'not even half way done' Vision GT programme.
Thanks to both Tassie_tiger and bdf57 for bringing this information to the forums.
See more articles on Emerson Fittipaldi, Pininfarina, and Vision GT.