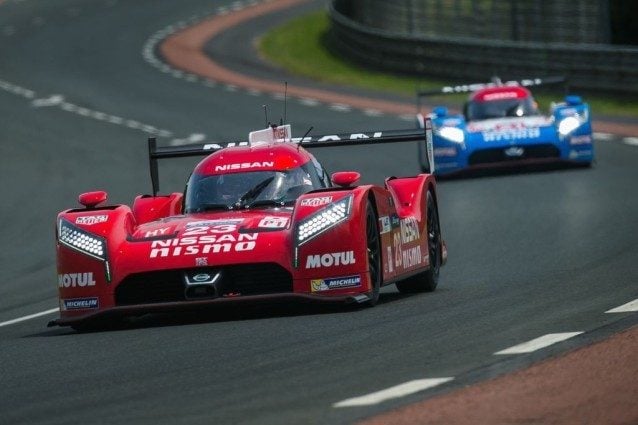 It didn't exactly have the most successful start to life, but hopes for 2016 were much higher.
The Nissan GT-R LM P1 was another attempt to take on the rules of top level endurance racing with a slightly different angle from Ben Bowlby, the man behind the original and beloved DeltaWing. Exploiting a blindspot in the regulations, the car was created as a front-engined and front-wheel drive effort to take on the established and less imaginative mid-engined cars.
However, it was beset by technical problems from the start, with an extremely short gestation period between its first reveal and the start of 2015's FIA WEC season, which lead to the car being withdrawn until the 24 Hours of Le Mans.
It became a fan favourite thanks to Nissan's engagement on social media and openness about the project's technical aspects – against the usual secrecy and guardedness – even being added to Gran Turismo 6 in June 2015 as part of the GT Academy competition, but this didn't help it on track.
The teething problems hadn't been fixed by Le Mans, and the car had to run hamstrung without any electric power. It didn't slow it down much, as the car was hitting speed traps at the same pace as its peers, the clever aero proving to do exactly what Nissan had said. What did slow it down was accidents and reliability – none of the three cars reached a classified finish.
Nissan didn't enter the car in the remainder of the FIA WEC and Darren Cox, Nissan's motorsports director, reminded us that it was always a 2 year project to bring the Le Mans title back to Japan. However Darren himself left in November, leaving question marks over the project's fate and GT Academy itself.
The plug has now sadly been pulled:
The teams worked diligently to bring the vehicles up to the desired performance levels. However, the company concluded that the program would not be able to reach its ambitions and decided to focus on developing its longer term racing strategies.
Without the three Nissans on the grid and only two-car teams from Porsche, Audi and Toyota, the LMP1 class is looking a little bare for 2016's Le Mans 24 Hours, especially with the grid increasing from 56 to 58 cars. The Nissan was a big draw for the fans too, something Le Mans will miss.
More Posts On...
The original comments for this post are no longer available.