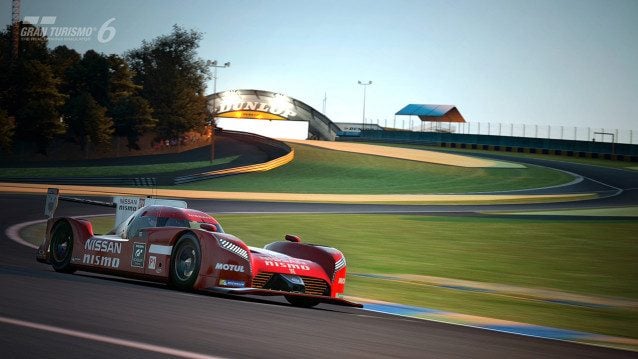 It's been one of the worst kept secrets in the game for the last 6 weeks, but today the final round of GT Academy's online qualification section gets underway with players at the wheel of Nissan's fearsome new hybrid LMP1 car around the Le Mans circuit it will shortly be calling its home.
This is the part where the competition gets serious and players will need to have completed and submitted a valid lap in each of the previous three rounds during the ranking registration period for each round (the first two weeks of availability) and then agree to the Academy's terms & conditions before they can turn a wheel in anger.
Round 4: Event Details
Availability: 2/6/2015 07:00 UTC – 16/6/2015 06:59 UTC
Prizes:
Gold (3'37.000) 900,000 Cr.
Silver (3'42.000) 400,000 Cr.
Bronze (4'05.000) 200,000 Cr.
Any completed lap of any kind will award you the car in Gran Turismo 6, so again pay attention to those irritating traffic cones which will instantly disqualify you should you give them even the merest of nudges. To learn more about the official rules and regions for GT Academy 2015, click here.
GTPlanet's GT Academy forum contains hints, tips, video and discussion on how to improve lap times from players and Academy finalists of the past – and a good place to keep an eye on where the benchmark times are – so be sure to head over there to stay on the ball. Good luck!
Win a Trip to Abu Dhabi
Don't forget – if you're living in U.K., France, Belgium, the Netherlands, or Germany, you're eligible to win a free, all-expenses-paid trip to GT Academy 2015 Race Camp at Abu Dhabi! It's free to enter; just click here and complete the quiz.
More Posts On...
The original comments for this post are no longer available.