If you want to own a piece of Gran Turismo history, now's your chance. At the upcoming Barrett-Jackson auction in Scottsdale, Arizona, the Art Morrison Enterprises (AME) 3G Corvette will cross the block. This makes it a perfect candidate for this week's Want.
The story of the AME 3G Corvette goes back to 2006. During that year, it made its debut at the SEMA show in Las Vegas, Nevada. As part of the show, it also entered to compete for the coveted Gran Turismo Award.
Despite stiff competition, it ultimately took home the title of "Best Hot Rod" along with the "Best of Show." As a result, the 3G Corvette earned the right to be immortalized in a Gran Turismo game.
It didn't take long for the car to show up either. Just a year after winning the award the AME Vette found its way into Gran Turismo 5: Prologue in 2007. From there it also made it to the full release of GT5 and even made the cut for GT6.
Upon its release into the game, it ate up the competition and rightfully so. See, the AME Vette is no ordinary Vette. Instead, it's packing a 427ci Bill Mitchell V8 pumping out 538 horses and 517lbft of torque, all on pump gas.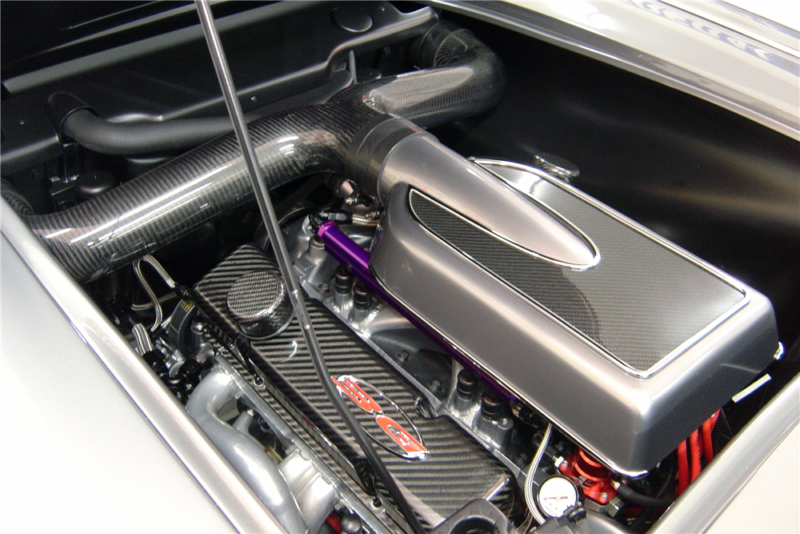 It's not just a big engine either. There's plenty of other changes to the Vette to help it slay track times too. It sits on an AME GT Sport chassis and features custom suspension from a C5 Corvette. It also runs a set of Strange Engineering coilovers.
The brakes are six-piston 14-inch Wilwood upfront and four-piston units out back to help it stop on a dime. Further helping with the braking power is a set of Michelin Pilot Sport Cup tires wrapped around Boyd Coddington wheels.
The drivetrain uses a Rockland-Standard T56 six-speed that goes back to a nine-inch rear end.
In addition to the performance changes, both the exterior and interior were overhauled as well. However, AME tried to maintain the classic shape of the 1960 C1 Corvette. This meant doing minor nipping and tucking but still making it stand out.
To do this AME changed up the chrome trim, added cooling ducts, and even made a set of custom project HID lights. The interior had largely the same treatment too with custom red leather and a splash of carbon fiber for an accent.
It works to some degree, but it's not a style that's for everyone. It also hasn't aged particularly well since the hot rod industry trends are off in a new direction now. But one can appreciate the work that went into it.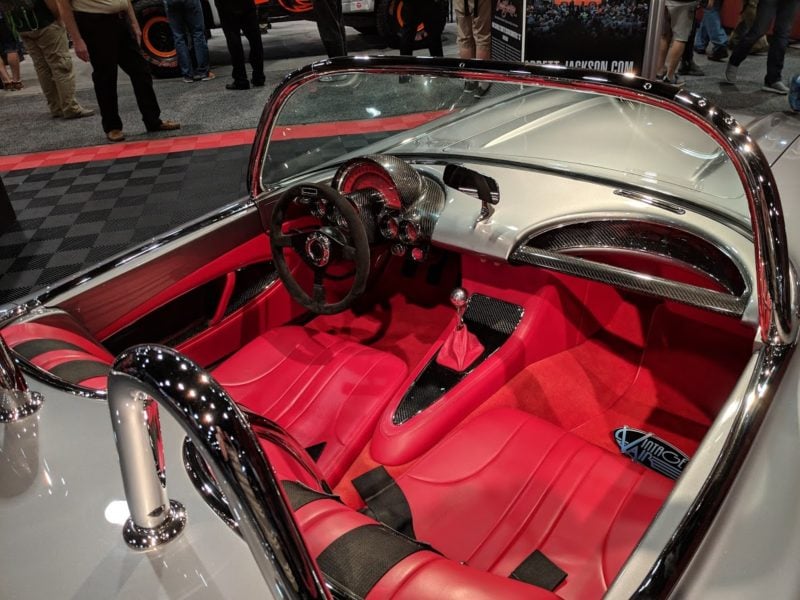 The most remarkable thing for us is its faithful recreation in the game. We had a chance to see this very Corvette at SEMA 2018. Comparing in-game images to the real thing give you a good sense at the level of modelling that goes into the cars of Gran Turismo.
Unfortunately, Barrett-Jackson did not give an estimated price for the AME 3G Corvette. For something so unique, we imagine it's hard to figure out what it's worth.
You can check it out for yourself though when it hits the block Saturday, January 19. There it will also join the first production Toyota Supra that's up for auction for charity.
If you want to catch the action on TV, the Barrett-Jackson auction will make its rounds on the Discovery networks. Over the course of the event, it will stream on Motor Trend On Demand, along with Velocity and Discovery Turbo.
See more articles on GT Awards and Wednesday Want.