We first told you about the Polestar spinoff from Volvo back in June. Back then we knew the company planned to bring out several electrified models including a sports car. We just didn't expect it to get going so quickly, or for the car to be a rocket ship.
Polestar has now unveiled its first car as an independent company. Dubbed the Polestar 1, it's everything we expect from a Volvo offshoot combining Swedish styling and loads of power.
The car is a plug-in hybrid and the power is split between a fuel engine in the front and two electric motors in the rear. The gas-powered engine, a twincharged, 2-liter four-pot, drives the front wheels and puts down 377hp. Powering the rear wheels are a pair of electric motors good for 215hp. The combined system output is 592hp, with 731lbft of torque.
Polestar hasn't made any performance data available for the car, but we wager the 0-60mph time starts with a two. Top speed is probably limited with battery power in mind, but expect it to hit 155mph.
The performance doesn't just end with the horsepower though. The Polestar 1 is a sports coupe through and through.
The suspension uses the Öhlins Continuously Controlled Electronic Suspension system. This trick suspension adapts to road conditions as you drive along making sure you get the most performance and comfort possible out of the car. The driver can also adjust the system from inside the car too.
To stop the car, Polestar has fitted some monster brakes at all four corners. Using a set of 400mm Akebono rotors and six-piston monoblock calipers, the Polestar should stop on a dime.
Moving on to the design, there's obvious similarities to the Volvo S90. However, Polestar has adapted that car's classic Scandinavian styling to a coupe form — like the Volvo P1800 of old. It's simple, but really works and makes the car nice to look at without being flashy.
One of our favorite parts on the car though is the headlights. Polestar stuck with the Volvo lamps that use a stylized Thor's hammer design for the running lights — that's pure Sweden.
Another unique feature shows itself when you pop the trunk. Polestar used a clear display panel to show off all the electrical connectors. Standing out in bright orange it gives the car a sci-fi feel. It's gimmicky for sure, and it serves a safety purpose as all high-voltage lines in cars must be orange, but we love it.
The only real major downside to the car is its purchase model, or rather lack thereof. Upon its release, you won't actually buy a Polestar one, but rather subscribe to it. With no down payments or even the need to set foot in a dealership, you can simply subscribe to the Polestar using your smartphone. Once your subscription is placed, a Polestar 1 shows up at your house much like the Sunday paper.
The subscription fees include not only the car though, but all maintenance too. Using an app you can call for any repairs or general maintenance you might need and someone will swing by and take care of it for you. You can even request a car wash if you so choose.
For a small additional charge, you'll also be able to get accessories when needed. Polestar states that if you plan on taking a ski trip for the weekend and need a roof rack, simply order one and someone will fit it. Once you return home simply let Polestar know and it will collect the car from you.
The subscription period will be either two or three years. However, it does include the ability to request a short-term use of larger Volvo vehicles so you aren't stuck with a sports coupe if you're planning a family trip.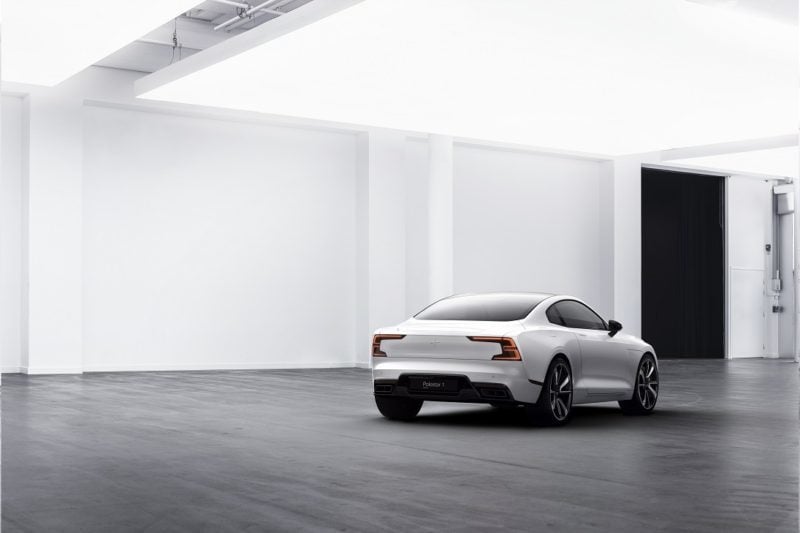 It's not a model for someone who prefers to own their car or even modify it in any way. But this will attract those who lease vehicles or also want the latest and greatest.
There's no word on what the monthly fee is, but since insurance and everything else comes with it, don't expect it to be cheap. Fuel economy is also under wraps for now. However, the car shares a platform, its petrol engine and part of the hybrid system with the Volvo S90 T8, so figure on something close to that car's 142mpg rating, or about 40mpg in the real world. Still, that's not bad with 600hp on tap.
On electric power only, the Polestar 1 totes a range of around 90 miles. That's nearly four times further than the Toyota Prius Prime. You also get the added bonus of not driving a Prius too!
The car will use a Phone-as-Key technology which means your smartphone acts as a way to access your vehicle. We told you about the dangers of this when Ford briefly forgot about its app for iOS 11. The likelihood for issues here is very real, however, we are sure Polestar will work it out prior to release.
The Polestar 1 will start production around mid-2019, but you can get your name on a list now.

In addition to the Polestar 1, the company gave a preview of their future roadmap as well. Towards the end of 2019, the Polestar 2 will start production. This will be a smaller, less expensive fully electric car set to compete with the Tesla Model 3. After the Polestar 2 debut, Polestar will roll out a model called — you guessed it — 3. This will be a full EV SUV that will set its sights on the Tesla Model X.
Thankfully, Polestar is using a naming convention that isn't confusing. Even if it's a little dull, it's still better than the mess Audi uses.