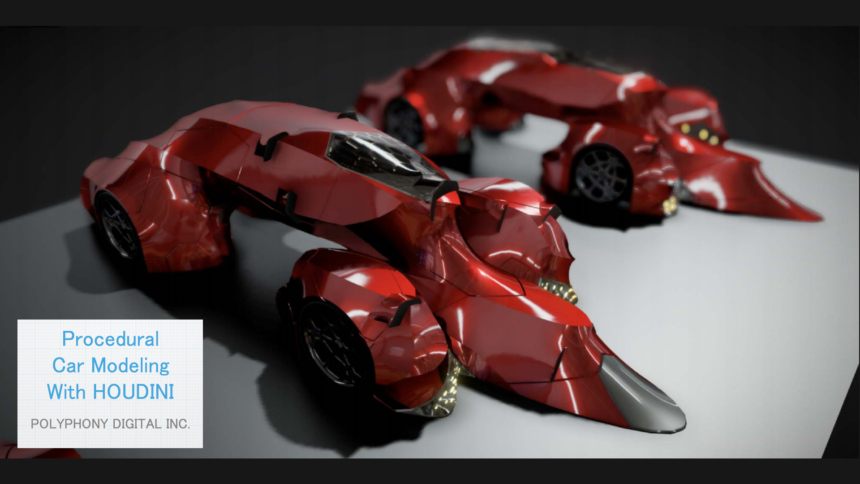 As we recently reported, Polyphony Digital has published slides from two presentations given by employees at CEDEC 2018 in Tokyo. The first covered "Iris", the ray-tracing lighting system developed in-house exclusively for Gran Turismo Sport.
The second presentation, which we'll take a closer look at now, is a bit more intriguing, but its relation to Gran Turismo is the real mystery.
Of course, caveats apply: the slides themselves are in Japanese and intended to be accompanied by a speaking presenter, which makes them difficult to translate and fully understand. You can download the original PDF file here (9.23MB).
This presentation was given by Polyphony Digital landscape artist and course designer Akira Saito. His talk focuses on 3D graphic software called Houdini, which specializes in procedural generation.
"Procedural generation" enables a computer to randomly generate a 3D object or space within an established set of parameters. Nobody really knows what a procedurally generated 3D model will look like beforehand: it's entirely up to the computer.
Procedural generation systems are difficult to create, but very powerful, as they allow the computer to create a seemingly infinite number of things without requiring a human to sit there and design it all themselves.
It is a technique that has been used in video games before, but most recently came to prominence in 2016 with the release of No Man's Sky.
No Man's Sky lets players fly a spaceship to a seemingly infinite number of planets and galaxies in an endless virtual universe. Every planet is different, with its own unique landscape and life forms. Although No Man's Sky was a controversial game, it brought procedural generation into the mainstream.
Procedural generation has also appeared in the Gran Turismo series. The "Course Maker" in Gran Turismo 5 allowed players to generate tracks within a set of parameters, frustrating many until the Gran Turismo 6 Course Maker introduced more control.
Given Akira Saito's work as a landscape/course designer for Polyphony, you might expect his presentation on procedural generation to focus on how the old Course Maker worked, or perhaps hint at its return to Gran Turismo games in the future… but that's not the case.
Instead, the presentation discusses procedural generation of metallic objects, like mechs (giant robots), space ships, and cars. The slides discuss the objects' various attributes which have been proceduralized, like curved surfaces, cable placement, engine nozzles, air intakes, panels, and internal structures.
The generated objects are fascinating to look at, especially when you consider they were not designed by a human, but it begs the question: how is any of this applicable to Gran Turismo? Why would the company famous for producing "the real driving simulator" be interested in procedurally generating giant robots and spaceships?
Although it's tempting to suggest Polyphony is about to reboot Omega Boost — the mech-spaceship-shooter it released after the first Gran Turismo back in 1999 — these are likely personal interest projects created by Saito for his own research.
The procedurally generated cars are more related to Polyphony's usual line of work, but they are no less fantastical and would not have a place in a Gran Turismo title. Nevertheless, it is puzzling why such a talented landscape designer at the company has spent so much time developing a system to generate these objects.
As is visible in the screenshots from the slides, the names of the procedures which generate the cars are all prefixed with "pdi" — a common abbreviation of "Polyphony Digital, Inc." — which suggests this project is associated with the company in some capacity.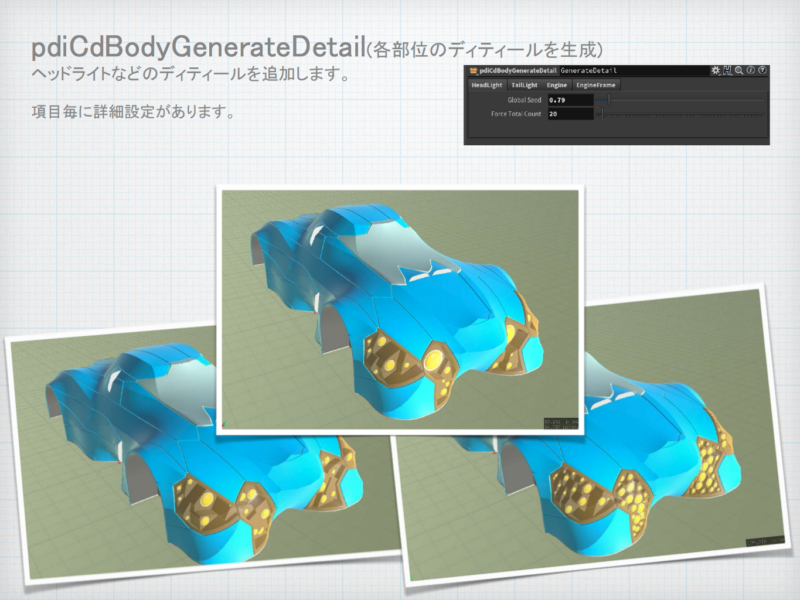 To take a closer look at Saito's highly detailed, procedurally generated models, check out his profile on Sketchfab.
As always, we'll keep an eye out for more technical publications from Polyphony Digital in the future.
More Posts On...