A few years back there was something of a war going on for the fastest front-wheel drive car at the Nurburgring. Three manufacturers — SEAT, Honda, and Renault — were heading to the Green Hell almost weekly to claim the title.
Then Honda showed up with a new Civic Type R and set a new benchmark. That seemed to put everything to bed for a while. Aside from the incredible pace, SEAT was having to turn the wick down on its hot models to meet new emissions regs, and Renault didn't seem interested any more.
Well, it turns out that Renault was just biding its time. It's been working on progressively hotter versions of its Megane and today revealed the top dog, the Trophy-R. How else was it going to reveal that, but with an assault on the Civic's lap?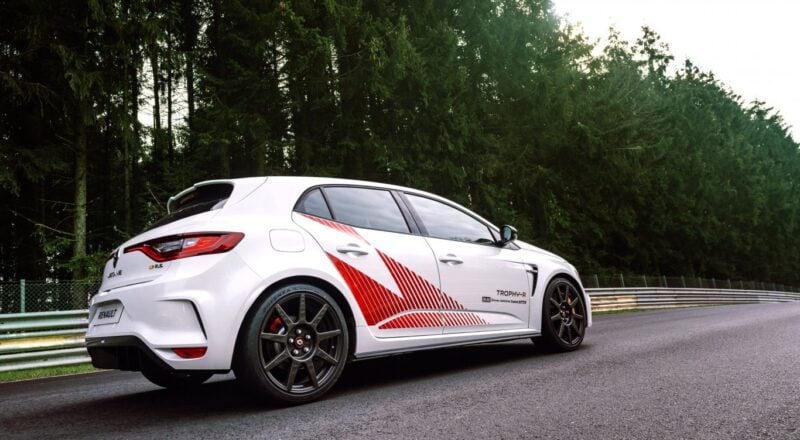 The Trophy-R heads down the same path as previous Ring Renaults. That means it uses the same 296hp, 1.8-liter turbo as the Trophy model, but gains extra seconds from work on the chassis, aerodynamics and weight reduction.
Renault hasn't said exactly what it's done to the Trophy-R, other than "a more radical development of its drive axles". If it's stuck to its usual recipe, the car is likely to sport some pretty serious chassis bracing in the cabin — don't bank on having any rear sears — and plastic windows. In total, Renault has shaved off more than 285lb (130kg) from the Trophy, which should set the Trophy-R at just over 2,800lb.
Laurent Hurgon, who'd previously earned bragging rights in two earlier Meganes — including the first sub-eight minute car — had the task of driving the Trophy-R. Hitting 160mph in places, he set a recorded time of 7:40.1, 3.7 seconds faster than the Civic Type R.
Of course nothing is ever quite that simple. As of 2019 there's a new "official" lap of the Nurburgring, measuring 12.95 miles. The Megane's lap time, just like the Civic's, is for the shorter, 12.80-mile loop which misses around 250 yards on the pit straight. Renault clocked the Megane in at 7:45.389 for the full lap, just for good measure.
The car will make its full, public debut at the Monaco Grand Prix on May 24. It'll go on sale towards the end of the year, on what Renault terms "an exclusive limited edition of a few hundred units".
As Honda's working on an updated Civic Type R and busy conquering lap times around the world, we don't imagine this will go unanswered. In the meantime, sit back and watch the new front-wheel drive champion:
More Posts On...