Sim-racing continues to grow as a hobby world-wide, and more companies than ever before are introducing high-quality racing seats at increasingly affordable price points. One of the latest products on the market is the rSeat RS EVO V3, and they've sent me a complementary unit to take a look at for myself.
About the EVO V3
The "rSeat RS EVO V3" is, as its name implies, the third generation of rSeat's flagship product, the RS EVO. The V3 brings several refinements over the V2, and is now being distributed in over 40 countries, including the United States and Canada. It's priced at $549 USD, and supports most popular steering wheels and pedal sets, including:
Thrustmaster T500RS / TH8RS shifter
Fanatec Porsche GT2
Fanatec Porsche GT3
Fanatec CSR
Fanatec CSR-Elite
Fanatec Clubsport Pedals & Shifters
Logitech G25
Logitech G27
Unboxing & Assembly
My review unit was shipped via FedEx from Apopka, Florida, and arrived in just a few days. The box was tightly wrapped in plastic and its contents were well protected.
All of the tools necessary to assemble the unit were included, along with all of the screws needed to properly mount compatible wheels, pedals, and shifters. Note, however, that corresponding hex keys are not supplied for the various sizes of accessory mounting screws. I didn't find this to be a problem, but I still recommend having a small hex wrench on hand when you're ready to attach your equipment.
The illustrated instructions were brief, and the assembly was straightforward and uneventful. With a friend helping out, I was behind the wheel in less than an hour.
Build Quality
My first impressions of the unit were excellent. Its utilitarian design confidently places function over form, and the materials appear to be of high quality. The frame is thick and heavy and the synthetic leather is tightly fitted over the seat, leaving few concerns about long-term durability.
The unique design of the C-shaped wheel arm makes it easy to get in and out of the seat, and all of the components can be configured to simulate a left or right-hand-drive configuration.
Adjustability
Just about everything can be moved, tilted, or adjusted on the EVO V3, from the angle and height of the steering wheel, to the position of the shifter.
The sheer range of adjustments – and the ease in which they can be made – is my favorite aspect of the V3's design. Without getting out of the seat, you can loosen the appropriate knobs to slide different sections of the frame around. Each segment moves independently, so the pedals, wheel, shifter, and seat can be placed wherever you prefer.
This also allows the seat's length to be "shrunk" when not in use, greatly reducing its overall footprint for storage while simultaneously increasing its chances of spousal acceptance.
Be forwarned, though: if you haven't fully tightened the adjustment knobs, certain pieces of the frame can shift around. Super-human strength is not required; just make sure the knobs are completely secure before your gaming session.
Gameplay
Thanks to the seat's flexible positioning capabilities described above, all but the tallest amongst us will have no trouble getting comfortable in the EVO V3. As it should be with any good racing seat, I quickly forget it was there as I focused on my driving. The thick frame and the wheel's hefty support arm remained sturdy, even during aggressive steering inputs.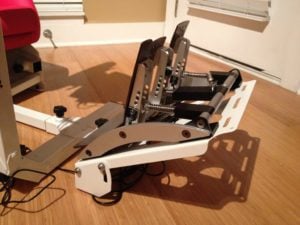 My only concern about the unit's stability lies with the adjustable pedal plate. As you can see in these photos, it can be tilted upward to provide a more accessible position. Only two screws hold the plate in this position, and after just a few hard presses on the brake, the plate dropped back down.
Fortunately, a quick email to rSeat's support resolved the issue; they recommended removing the plastic washer from between the screw and pedal plate to increase friction between the two. Sure enough, after doing so – and replacing the screws using as much torque as I could manage – the pedals have not moved since.
GTPlanet user "333hp", who has also taken delivery of his RS EVO V3, went a step further in resolving this problem by inserting a second bolt of his own below the plate's mounting screw. As he notes in this forum post, this can be implemented for less than a few dollars, and I would recommend it as the most permanent, long-term solution if you have any concerns about the pedal's stability.
I also found the seat's bottom cushion to be quite thin, and it wasn't long before my backside became uncomfortable. Fortunately, the cushion can easily be replaced with a thicker piece of foam or a small, spare pillow; an upgrade I would certainly recommend for anyone using the seat more than a few hours.
Conclusions
At $549 USD, the rSeat RS EVO V3 hits a very sweet spot in the mid-range sim-racing seat market. It forgoes the sleek lines found on more expensive rigs in exchange for an adjustable, stable, and utilitarian design, offering practical flexibility that lower-end products simply can't provide.
The seat's comfort and the pedal plate's permanence – my only two concerns – can so quickly and easily be resolved that I do not consider them to be significant drawbacks of an otherwise exceptional product. If you're looking for a versatile racing seat at this price point, you really can't go wrong with the EVO V3.
How To Buy (or Win!)
You can purchase the RS EVO V3 directly from rSeat.net (or try to win it in the GT5 World Super GT Championship!). As always, visit their website for more details.
The company's U.S. distributor will also be participating as an approved sponsor in GTPlanet's forums, answering questions, and providing support directly to our community here.