If you've been waiting for an official "pro" controller from Sony, today's your day. Sony has revealed the "ultra-customizable" DualSense Edge at Gamescom Opening Night for the PlayStation 5.
As you can imagine, the Edge is the first of its kind developed by Sony Interactive Entertainment, and aims to give players an edge in gameplay with custom controls, tailored to your gameplay style.
While the trailer only reveals the controller itself without diving into specifics, we'll take a closer look at what the DualSense Edge sets out to offer.
Customizable Controls
It wouldn't be a "pro" controller without the ability to customize controls, and players can do exactly that. Players can remap or deactivate specific button inputs, as well as tuning your aim by adjusting stick sensitivity and associated deadzones (the distance the analog stick moves before an input registers in-game). Each trigger will be adjustable travel distance and deadzones to suit your tastes. This will pay dividends with the likes of Gran Turismo 7 as you'll be able to reduce the deadzones of the triggers for better, more precise throttle input and control.
Controller Profiles and User Interface
Of course, you'll be able to save your preferred settings to unique profiles and will be able to swap between them on the fly. The dedicated Fn (function) button allows players to easily adjust things without breaking concentration. Whether it be to swap between the aforementioned controller profiles, adjust game and chat volume balances, or to access the controller profile settings menu to setup and test new configurations — it's all there at the touch of a button.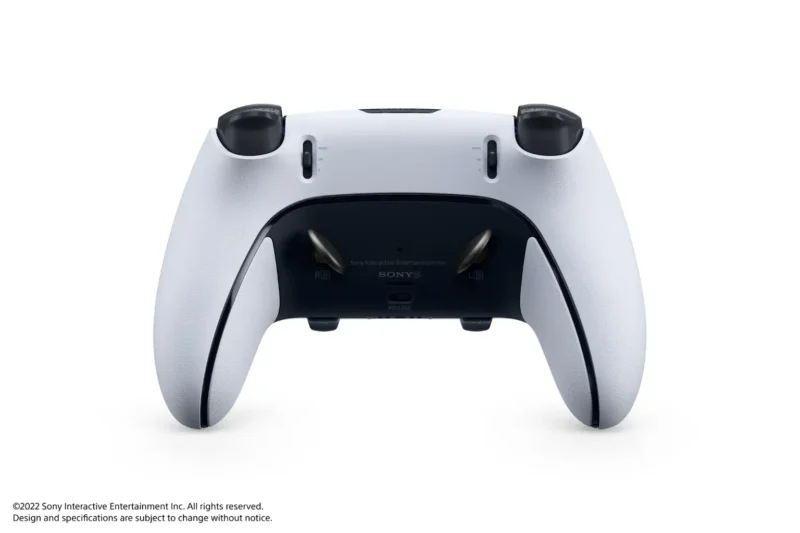 Swap Out the Sticks and Back Buttons
Customization doesn't end there as players will also have the option to swap or outright replace buttons on the controller. For example, the Edge comes with three options for the stick caps: standard, low dome, and high dome. All three will pertain to the high of joystick cap, the top of the stick your thumbs rests on, for better comfort, grip and stability.
Additionally, there's two set options for the back buttons: half-dome (pictured below) and lever, and they can be configured as any other button input, giving players more freedom. In racing games, for example, you could assign gear changes here for a more immersive experience.
If that weren't enough, the joystick module itself can be replaced outright without the need to purchase a new controller. The likeliest cause for this will be stick drift, and while it would have added to the Edge's allure if it included electromagnetic sticks, it undoubtedly would have added to the cost as well. Replacement sticks will be sold separately.
Finally, there's the braided USB Type-C cable and carrying case. The Type-C cable will use a locking feature when connected to the controller, making it less likely to disconnect. The included carrying case will also serve as a charging cradle, while stored, via USB connection.
No pricing or launch details are currently available, but it sounds like the DualSense Edge won't see the light of day until sometime in 2023. Stay tuned for more!
See more articles on DualSense, DualSense Edge, PlayStation 5, and Pro Controller.